Similarly to becoming a merchant, there are also four steps to start your journey as an affiliate marketer.
First, you need to start reviewing products in your niche. That can be done on a YouTube channel, on a blog or even just using live streams on Periscope.
Second, you have to collect emails, so you can connect with your audience at any time you want and don't have to hope for them to see your content.
Third, you can use joint venture webinars to make a lot of sales in a short period of time, while simultaneously growing your email list and creating new content.
Finally, once your affiliate marketing business starts making money, you can scale your growth with pay per click advertising.
Step 1: Review Products in Your Niche
It's easier to get started as an affiliate because you're skipping the 'have an idea' and 'creating an idea' parts of becoming a merchant.
You already use and like plenty of products, so all you have to do get started is to publicly talk about them.
Start by looking at the partners in step 4 for becoming a merchant, because that's what you're trying to start in this step.
Any product works.
Really.
Take a look at this guy, who reviews Hot Wheels tracks and cars: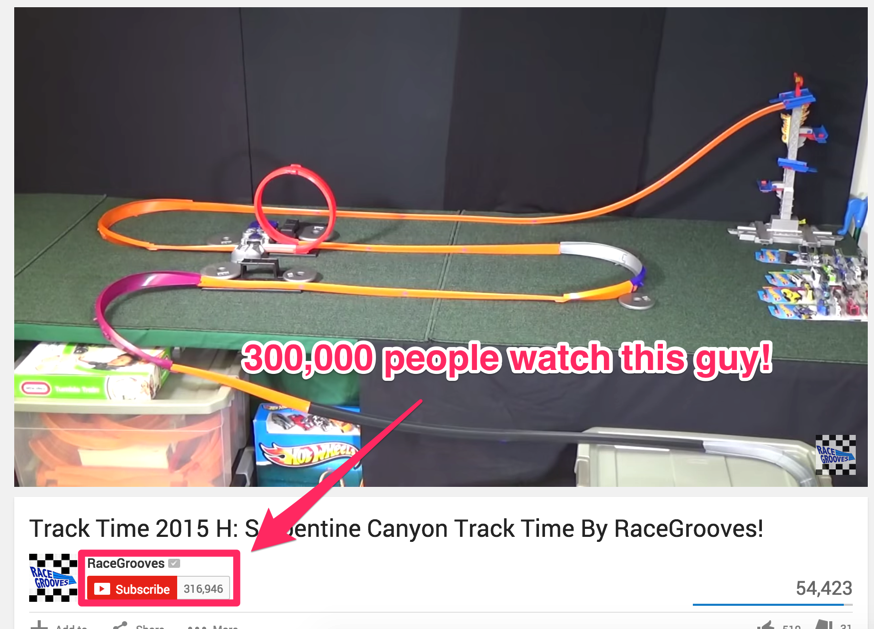 Over 300,000 subscribers for Hot Wheels? I'm sure whatever your niche is, it's less specific.
If you like reading, review books: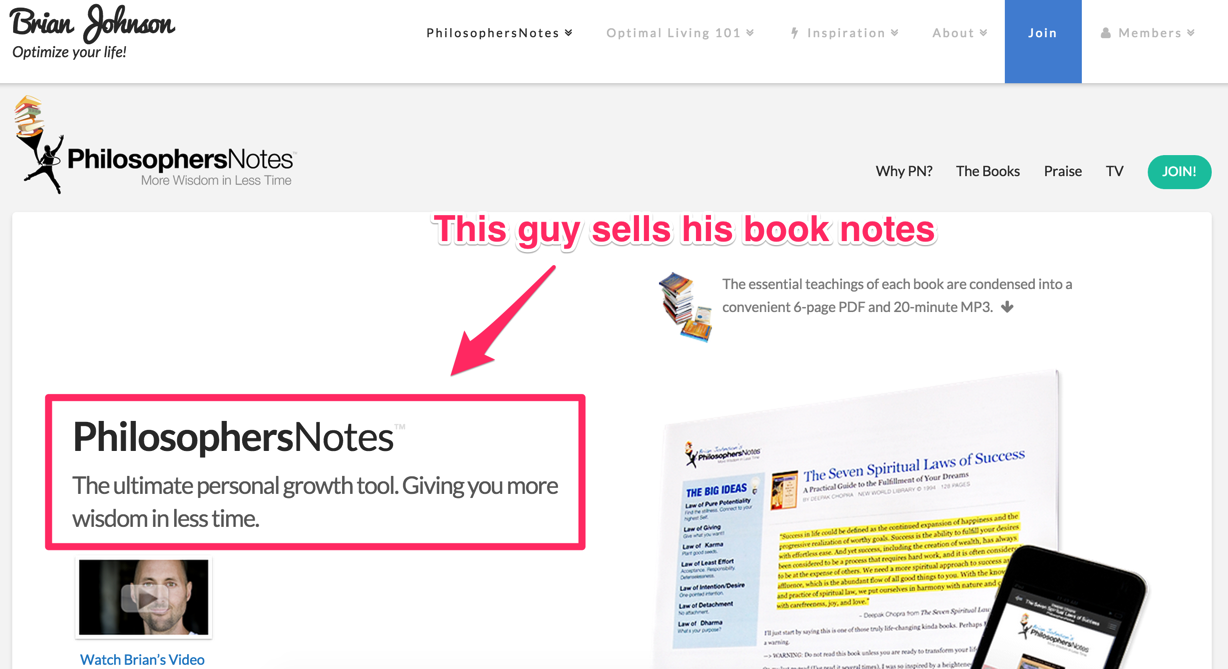 Note:A special kind of review, that usually does really well, is the comparison with a direct competitor.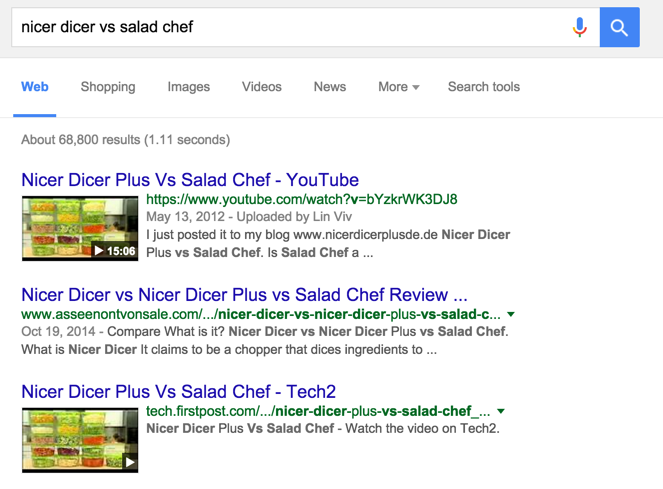 Whatever you're reviewing, make sure you are honest and even handed.
If your reviews aren't genuinely helpful, people will sense immediately that you're just trying to make a quick buck.
As Pat Flynn points out, in his affiliate marketing guide, involved affiliate marketing is by far the most profitable, because you can relate to the product, instead of just promoting something that might make you a lot of cash.
When you don't even know the product, how can you credibly promote it?
Note: This is a little different for consumer products than it is for online courses or books created by individuals. If you've known a person for a long time and trust them and know their work is great, then that's a different thing.
When you write reviews on your blog, you can use an affiliate link to link to the products you promote.
You can recognize them on other blogs by the long "/ref…" tail, at the end of the regular link.

This is usually the first step to start making commissions.
Simply sign up to Amazon Associates and you can then proceed to get your own affiliate link to any product on Amazon.
Just go to the product page and click on "Share affiliate link." You'll get a link that'll give you a commission if people purchase through it.

However, if you only rely on people using the affiliate links in your reviews, you need lots of traffic to start making serious money.
If you can contact your audience directly, you can market to them whenever you like, not just when they come to your website.
This is where step two comes in.
Step 2: Build an Email List of Your Prospects
Email is still one of the best marketing channels today, so don't miss out on it.
I'll show you a few super easy ways to collect email addresses from your website visitors.
The first is Hello Bar
Hello Bar puts a call to action on top of your website. Whenever someone visits your website, they'll see this bar at the top.
You can offer them an ebook (maybe bundle together your 3 best product reviews) or a special review video.

Once they click on your Hello Bar, you can redirect people to the page where they can enter their email in exchange for the content.
You can also use Hello Bar to create an exit gate. This is a popup that will lay over the screen when visitors are about to leave your website.
It is triggered by their mouse moving to the top area of the browser.
I use it to get more Facebook likes on Quick Sprout: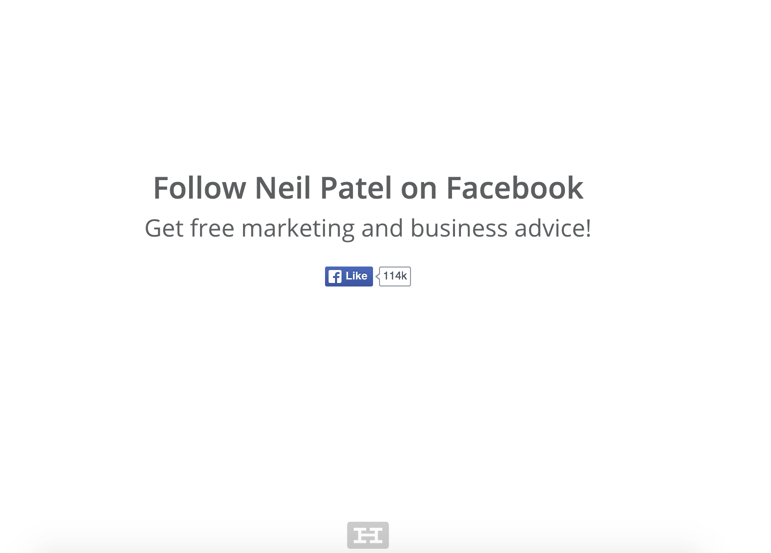 You can also redirect people to your lead magnet and get their email address this way.
Just don't over do it.
If you give your visitors 20 things to do, it's unlikely that they'll do anything at all.
Just have one call to action in your sidebar. Again, it should offer people something in exchange for their email address.
Since you're collecting email addresses around a very specific topic, such as finding the best straightening iron, juice maker, mini-oven, etc., you don't need a lot of them to make the email list worth your time.
Even with less than 500 people on your list, you can create significant sales.
Just make sure to keep your audience engaged, by sending them regular updates, ideally once a week.
Don't make it all sales. Just let them know when you have a new review up.
For example, I email out every single post that we do on Quick Sprout with a very simple description of what it's about: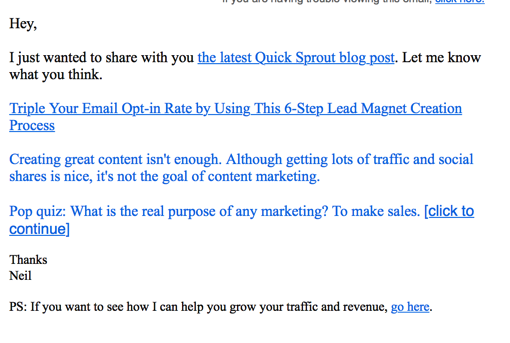 Every now and then, send them a specific call to action to buy a product. Perhaps you just found a new favorite in the latest review and think it's really great.
You can update your audience on your change of mind, the reasons why and recommend that they switch to that product also.
Step 3: Educate Your Audience With Webinars
Webinars are awesome.
Imagine you want to buy a new fridge.
What makes you want to buy a fridge more:
Reading a review on a blog
Seeing a live presentation of a fridge in action
Number two, of course!
Using a tool like LeadPages, you can create a simple landing page where people can sign up for your webinar.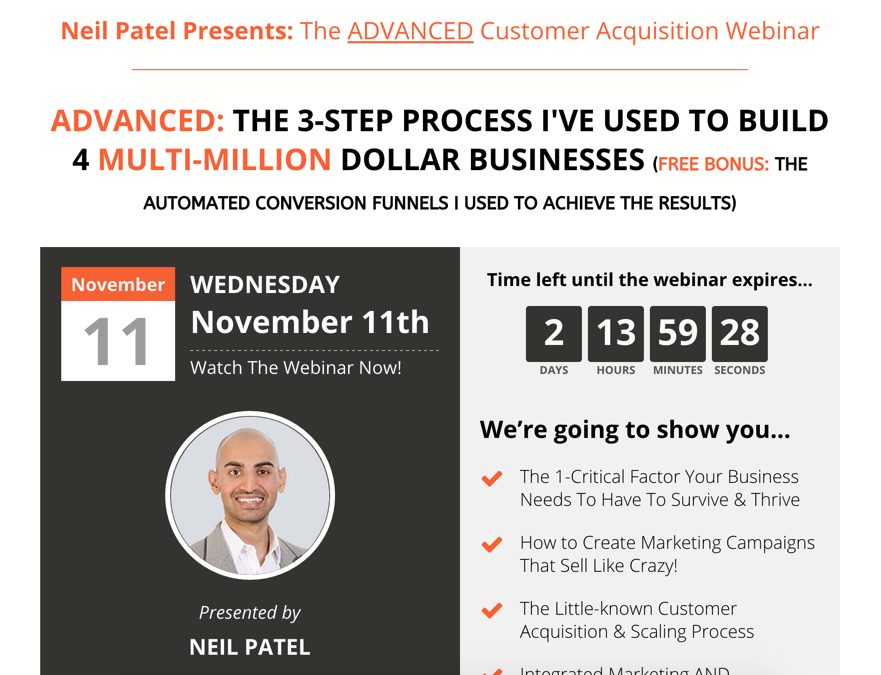 Promote your webinar on social media for a week in advance and get people to sign up.
Webinars are great to engage with your audience one on one, show them the product you're promoting live and answer any questions that they might have.
You can:
present the product's features
show different use cases of the product
talk about its benefits and drawbacks
tell people your personal history with the product
help your audience get the most out of it
Imagine how fired up your audience will get when they see all of the cool things your product can help them do.
Pointing to your affiliate link and sharing it at the end of the webinar is a soft sell and comes naturally since you just spent an hour talking about the product.
It won't feel forced and your consumers can still take all of the time that they want to make up their mind on whether they'll actually buy.
Pro tip: Can you get your merchant to give you a special deal for your audience? If you promise to get their product in front of a couple hundred people, they'll often happily give you a discount or special bundle to further incentivize people to buy.
Step 4: Grow Your Business with PPC Advertising
Once your affiliate marketing business starts to picks up steam, you can start thinking about paid advertising.
I'm not going to show you how to do it here, since I recently published a guide on both Facebook Ads, as well as Google ads, but remember: only do this once you have a way of making back your money.
Conversions are all that matters here.
You can use PPC advertising to:
get people to sign up for your webinar
grow your email list
make more sales
For example, if you Google "learn leadpages," you can see that LeadPages themselves are advertising for this keyword, running Google ads, promoting their weekly live webinar.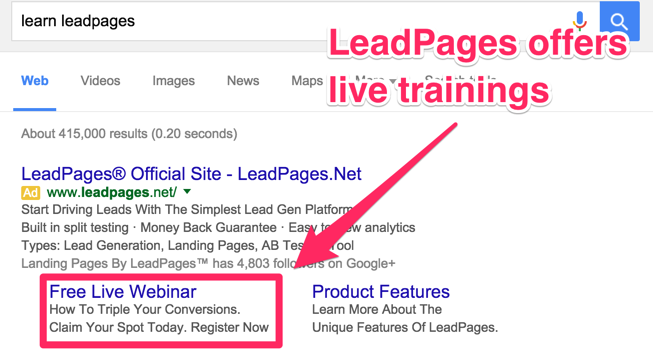 So, keywords related to learning about your product or topic would be a good start.
You can also target your competition. For example, right under the LeadPages ad, there's an ad from Unbounce.

These guys also provide a software for creating landing pages, so it's an easy way for them to get in front of someone else's audience.
Now, while you could try to target people who are just trying to find a review of your product, you'd probably be better off improving your SEO.
The percentage of people who buy straight through your link after reading a review is naturally low, so imagine paying for these reads. Depending on the product price, you only get a few dollars or even cents per sale, so the margin you can spend on ads is not very big.
In most cases, your best off promoting sign-ups to your email list.
As a matter of fact, getting people to sign up for a webinar with ads is the best way to go.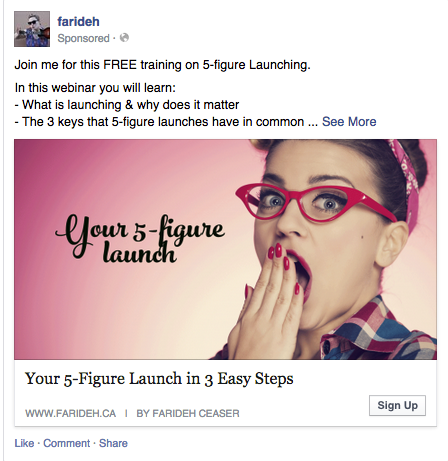 You will win in three ways:
They'll be on your email list and you can contact them again at any time
There's a chance that they'll attend your live webinar and buy the product
You can put them on an autoresponder email sequence that encourages them to buy
For example, John Lee Dumas, from Entrepreneur On Fire, often runs webinars and puts them right on his homepage.
As soon as you opt into the webinar, he also starts sending you a series of automated emails.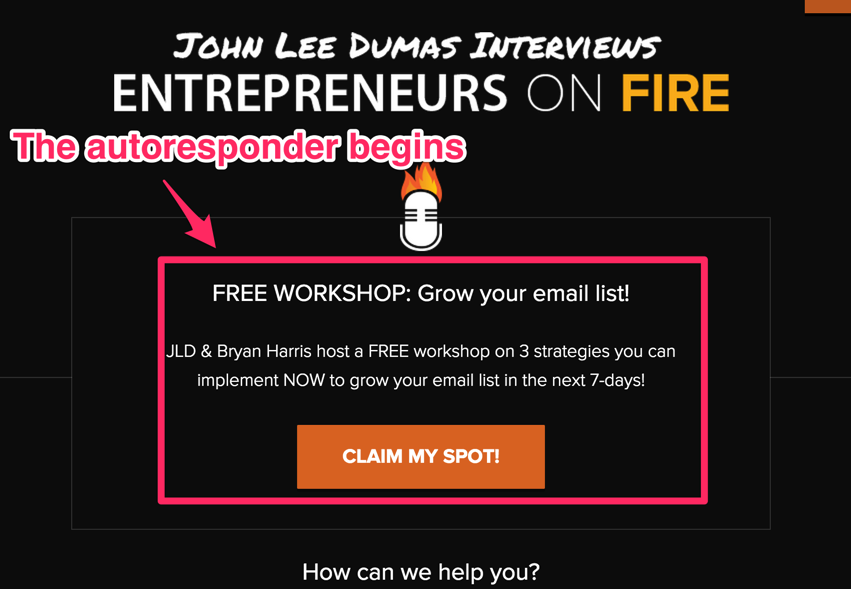 On those emails, he offers you other courses and free tools, like a webinar course, where you'll learn how to do webinars to make sales.
If you opt into those, you'll be sent 10 email lessons over several days. At the end, he invites you to buy a more extensive course on webinars.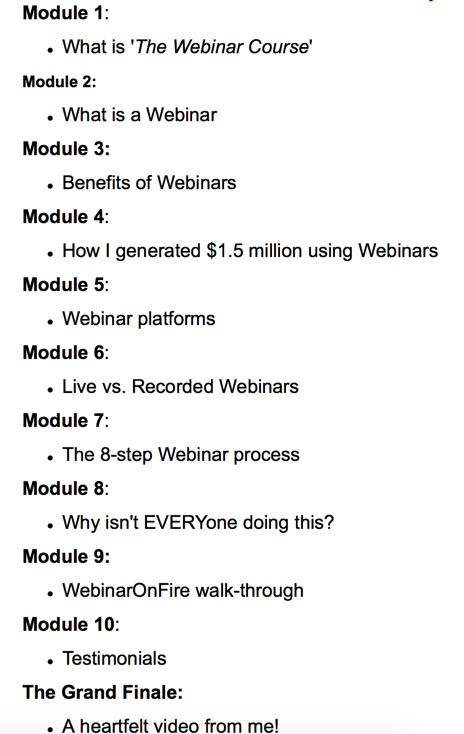 After you've already learned a lot about webinars, you're introduced to his more thorough and detailed course that'll teach you even more.
He even shows a behind-the-scenes walk-through of the course, so you get a sneak peek.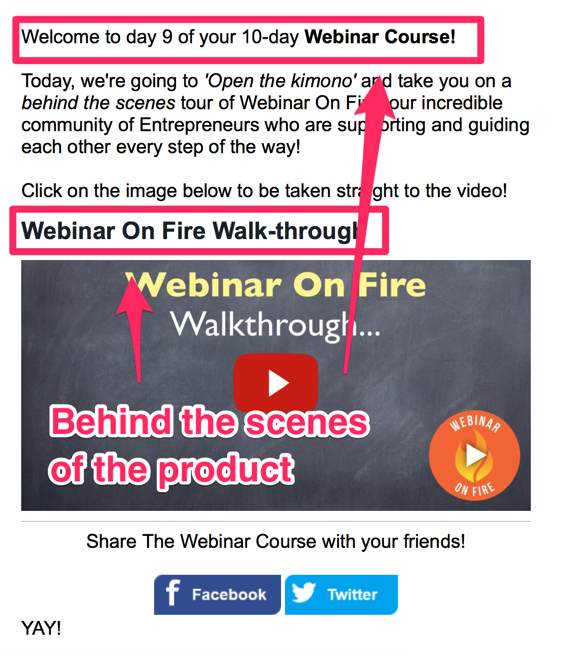 Once he knows how many people will end up buying the full course from the autoresponder series, he can easily calculate how much he can spend on ads to get people to sign up for the webinar or webinar course.
So, with this strategy, you have several chances of getting your consumers to buy your product.
They have a chance to buy after the autoresponder series, on the webinar, and from future emails.
When your sales start coming in from that many sources and begin to grow, that's when you can really blow up your business with paid advertising by just driving traffic to the sales mechanisms that already work.