Ingredients
250 grams arbi (colocasia roots or seppankizhangu) – boiled and peeled
½ teaspoon mustard seeds
1 sprig curry leaves
1 or 2 dry red chilies
¼ teaspoon turmeric powder
½ teaspoon red chili powder
½ teaspoon sambar powder
1 pinch asafoetida (hing)
1 tablespoon rice flour
2.5 tablespoon oil
1 tablespoon chopped coriander leaves – optional
salt as required
Directions:
1. First rinse 250 grams arbi/colocasia roots very well in running water. Then drain and steam them in a pressure cooker or electric cooker or a steamer till they are softened. The taro roots should be cooked completely, buy not mushy. If cooking in a pressure cooker, then cook for 2 to 3 whistles. To check doneness, a knife should easily slid in the taro roots.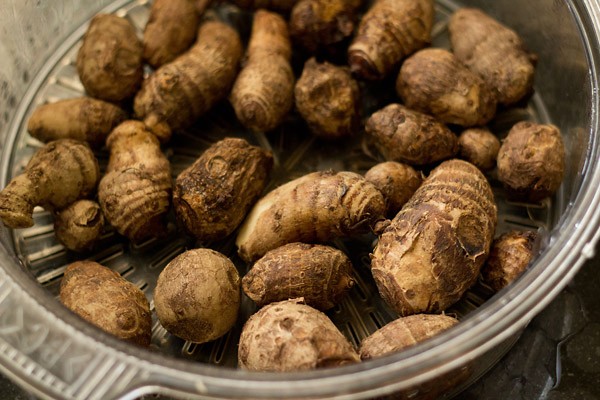 2. peel them once they become warm.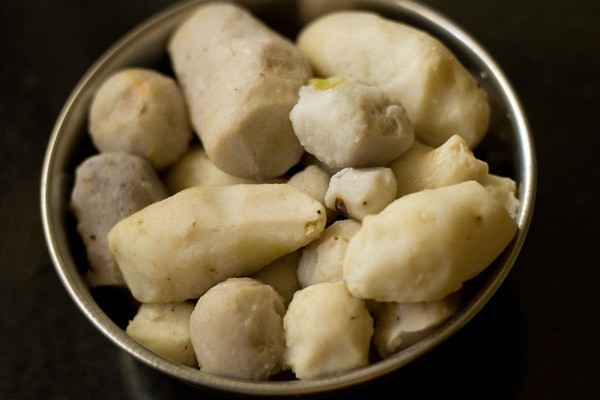 3. Slice them into rounds.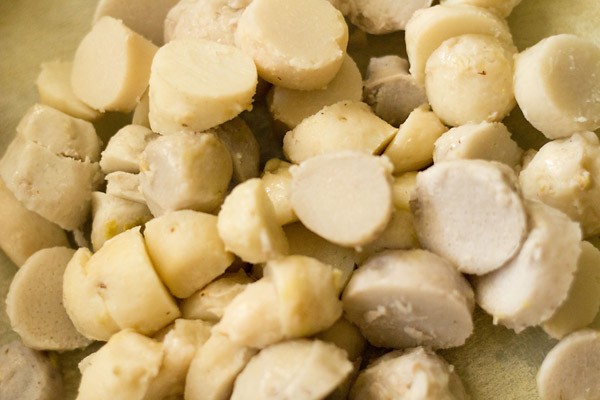 4. Heat 2.5 tbsp oil in a frying pan. Lower the flame. Add 1 tsp mustard seeds and crackle them.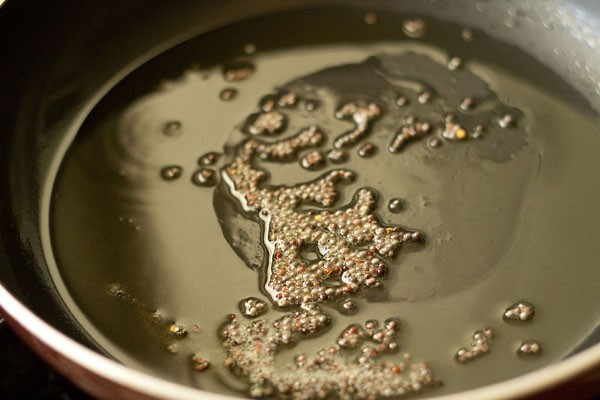 5. Then add 1 to 2 broken dry red chilies, 7 to 8 curry leaves and a generous pinch of asafoetida. stir and saute for half a minute or till the chilies change color.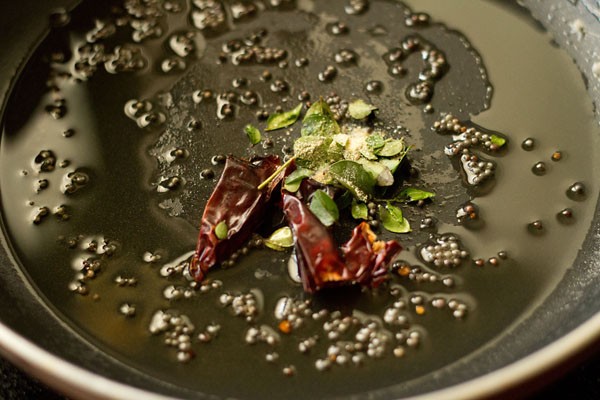 6. add the sliced arbi.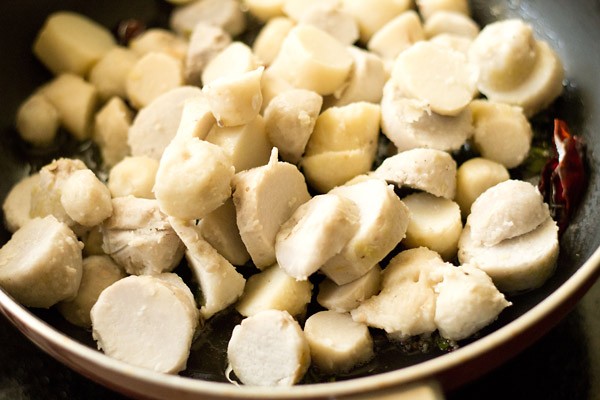 7. Stir very well.
8. Sprinkle ¼ tsp turmeric powder, ½ tsp red chili powder and ½ tsp sambar powder. If you don't have sambar powder, then add ¼ tsp coriander powder and ¼ tsp garam masala powder.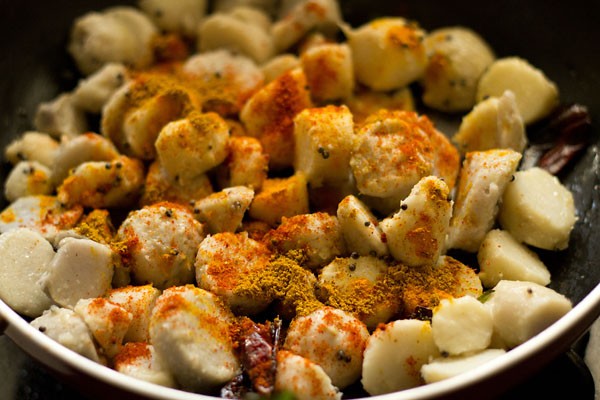 9. Add 1 tbsp rice flour. If you don't have rice flour, then skip it.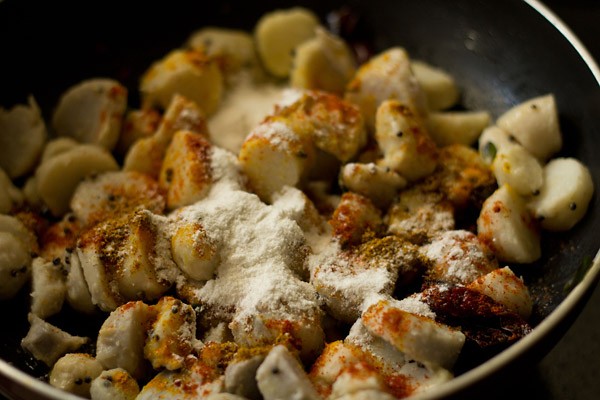 10. Stir again very well so that the spice powders and rice flour are evenly mixed.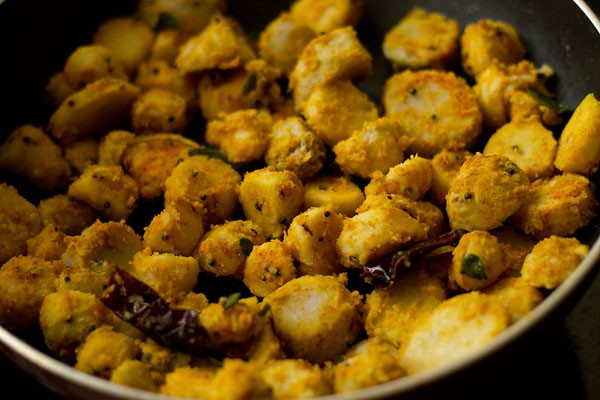 11. Add salt as required.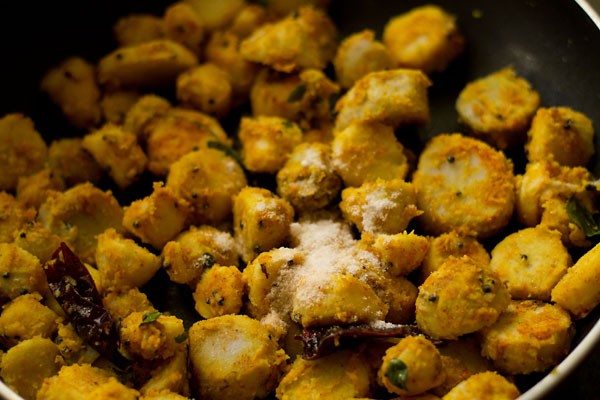 12. Stir again and on a low flame, roast the arbi roots till they get start getting crisp and golden. Turn over and roast the other side too.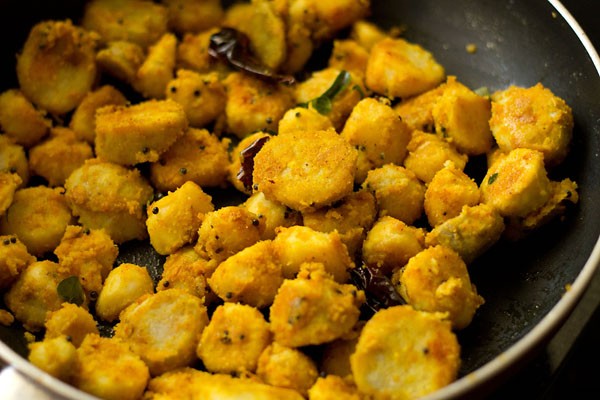 13. Here the colocasia roots are done. I cooked for about 10 minutes on a low flame, turning each arbi slice at intervals for even roasting and browning.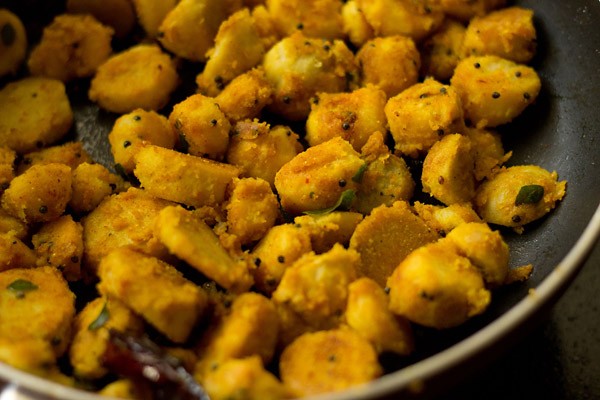 14. This step is optional and only if you like coriander leaves. Sprinkle 1 tbsp chopped coriander leaves and stir. If you like a little tang, then add 1 tsp lime juice or dry mango powder and stir well.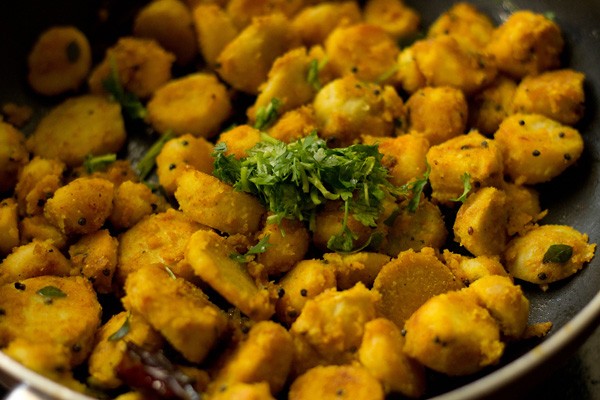 15. Serve arbi roast with sambar-rice, rasam-rice or dal-rice.