#1: Read the seed packet.
The purpose of a seed packet isn't just so you can look at a pretty picture of the vegetable you're growing. There's also a lot of useful information on the back!
Before you start sowing seeds, slow down and take a minute to read over the seed packet. The most critical things to note at seed starting time are the following:
Temperature: If there are any soil temperature considerations for a particular vegetable the company will print that on the seed packet.
My Jalapeno seed packet has a tip that says, "Peppers germinate best in warm soil, so gentle bottom heat may be helpful until seedlings emerge." (I'll talk more about this in #4.)
Timing: You should be using a custom seed starting calendar that maps out what seeds to start when based on your average last frost date.
The back of the seed packet will often list the best timeline for starting those particular seeds and can be a handy double check on your timing.
For example, on the back of my Lively Orange Pepper seeds from High Mowing it states, "Start transplants 6-8 weeks before planting date." I can double check my calendar to make sure I'm starting those seeds at the appropriate time.
Days to germination: This will give you an idea of when you can expect the seeds to start poking up through the soil. Most vegetables germinate between 7-14 days.
How quickly they do so is often dependent upon whether you're giving them the optimal conditions.
Seed planting depth: Most seeds will need to be covered in soil to aid germination. But, some seeds, like flowers, should only be lightly covered because they need light in order to germinate.
#2: Don't try to plant old seeds.
The first step before you sit down in front of your computer to order new seeds is to sort through your existing seed stash and look at the dates on all of the packets.
Stored under optimal conditions, seeds can last up to five years. But, optimal conditions are often cited as around 42 degrees F and low humidity.
I store my seeds in this neat plastic storage case in my office closet, so they're definitely not getting those conditions. It would be like working in a refrigerator if my office was that cold!
You could store your seeds in your refrigerator. Most recommendations I've read suggest using glass jars with desiccant packets placed in them.
Personally, I have a lot of seeds and I don't want to give up valuable storage space in my fridge.
So, back to the office closet they go.
I err on the side of getting rid of old seeds instead of keeping them. For me, it's not worth it to take the chance that seeds I'm planting won't germinate well.
When this happens, I often don't realize it for several weeks after planting, and that means I've already lost a lot of time. My garden season is too short and I'd rather spend the few extra dollars on new seeds to ensure I'll have more success.
There's also a concern about plant vigor or viability. As a seed ages, its ability to produce a healthy and vigorous seedling declines. So, a seed might germinate, but the plant might not grow very well.
Again, not worth the chance in my opinion.
If you look around at different sources for seed storage life, there is some conflicting data. But, here's a basic guideline:
One Year Only
Onions
Up to 2 Years
Fennel
Parsley
Up to 3 Years
Sweet Corn
Leeks
Okra
Parnips
Sage
Up to 4 Years
Beans
Carrots
Peas
Chamomile
Cilantro
Dill
Lavender
Marjoram
Mint
Oregano
Rosemary
Thyme
Up to 5 Years
Beets
Broccoli
Brussels Sprouts
Cabbage
Cauliflower
Celery
Collards
Eggplant
Kale
Kohlrabi
Peppers
Radish
Rutabaga
Soybean
Spinach
Swiss Chard
Turnip
Watermelon
Basil
Over 5 Years
Arugula
Cucumber
Lettuce
Melon
Pumpkins
Squash
Tomato
Print out this chart from Johnny's Selected Seeds to keep with your seed supply.
You can always do a home germination test with seeds you're not sure about. Wet a paper towel until it's damp, spread some seeds on the towel, and insert it into a plastic bag. Seal the plastic bag and put it somewhere warm.
After 7-14 days you should be able to see how many of the seeds have germinated. This will help you decide whether you want to replace them with a new packet.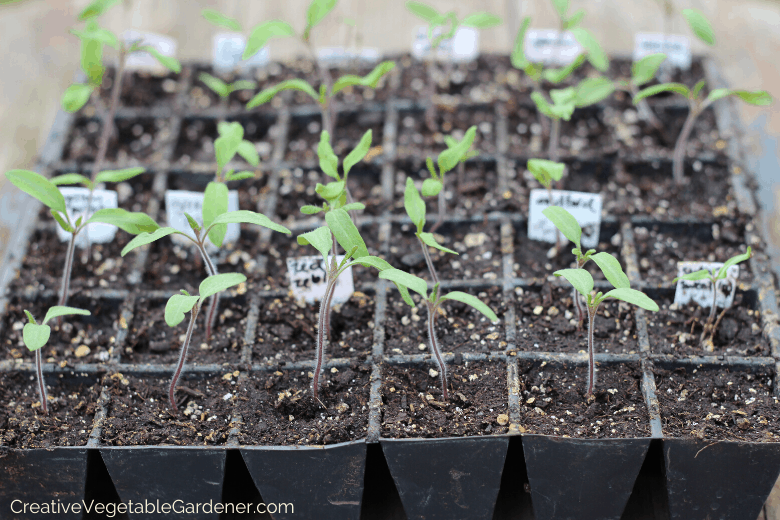 #3: Understand what temperature each seed needs to germinate well.
Soil temperature is one of the most critical factors in determining whether your seeds germinate evenly. If the soil is too warm, cool weather vegetables like lettuce may not germinate at all.
If the temperature is too cold, pepper and tomato seeds may take up to three weeks or more to germinate. (Happened to me!)
You likely already know that some vegetable plants prefer the cooler temperatures of spring and fall and others thrive in the long, hot days of summer.
Seeds also have their ideal temperatures, and during seed starting season it has more to do with the temperature of the soil you're starting them in as opposed to what the weather is like outside.
The vegetables we often think of in spring, like onions, lettuce, and kale, like cooler soil temperatures for germination. Their optimal temperature is 65-70 degrees F.
In contrast, pepper, tomato, and eggplant seeds prefer warmer soil temperatures of 85 degrees F.
It's usually not a problem to provide seeds with cooler temperatures during the seed starting process since most of our homes will be on the chillier side in late winter.
But, if you're starting cool weather seeds in an unheated greenhouse outside in cold weather, or in a basement that's damp and cold, you might want to think about providing some supplemental heat. (We'll talk about that below.)
In general, I've never had much of a problem getting my onions, kale, lettuce, broccoli and other spring planted vegetables to evenly germinate in my living room or office without any extra heat.
It's the other end of the spectrum where you're more likely to experience problems. Peppers, tomatoes, and eggplant can be the most tricky seeds to coax into germination because they like it hot!
If you want to track your soil temperature more closely you can purchase a soil thermometer.
This chart lists the optimal soil temperature for each vegetable.
#4 – Provide consistent heat.
As I wrote above, at my house most of my seeds germinate just fine on my seedling rack in the ambient temperature of my home.
But, I have had difficulty getting peppers and eggplant to germinate in the past since they prefer such high soil temperatures.
Without supplemental heat, you might have spotty pepper germination. Over the years I've had the best success with using either a seedling heat mat underneath newly planted seeds or an electric soil warming cable buried in the soil of the tray.
After observing how much better my pepper, eggplant, and tomato germination is with extra heat I would never plant these seeds without using one of those two tools.
In the past, peppers especially would sometimes take up to three weeks to germinate! With a supplemental heat source, they often germinate in less than 10 days.
Don't use this mat with seeds like lettuce or onions because you may make the soil too hot for them to germinate well. (Been there, done that…)
If you're feeling like you want some extra guidance with seed starting, my how-to video series, Super Easy Seed Starting, walks you through the entire process of starting seeds from start to finish. You'll avoid lots of mistakes and have a fun and successful experience!
#5 – Provide consistent moisture.
Besides warmth, seeds also need consistent moisture in order to germinate properly. If you allow the soil to dry out after planting your seeds you could delay or even prevent germination.
Over the years I've found that using a "germination chamber" greatly increases the humidity around my seedlings and ensures even and successful germination.
What is a germination chamber?
It's pretty fancy… it's a plastic bag! After seeding and watering my containers or pots, I slide them into a plastic bag and seal it shut.
My seedling rack is in front of a south-facing window, so I place the flat on the rack so it picks up some heat from the sun.
You can see in the photo above that there is a lot of moisture built up in the bag. I usually don't have to water the soil again until after the seeds have germinated.
Warning: You must check your germination chamber frequently. Once most of the seeds in a tray or pot have "popped" (broken through the soil with the first leaves) you need to take the plants out of the chamber and put them under the lights.
The new seedlings will not be happy being trapped in a plastic bag and will become leggy (tall and spindly) quickly.
When you take the time to understand the needs of the seeds you're planting at home you can greatly increase your success, and greatly decrease the potential frustration that can accompany the seed starting process.