Let's assume you are new to stock market and you want to buy the ITC Limited share you should probably look toward seller who is willing to sell ITC Limited share. The price that the sellers ask you is called the 'Ask Price' and if you want to sell ITC Limited share you should look forward for buyers of the shares. The price that buyer demand is called as 'Bid Price'. Then you can choose the price at which you want to place the order with the broker of the stock market.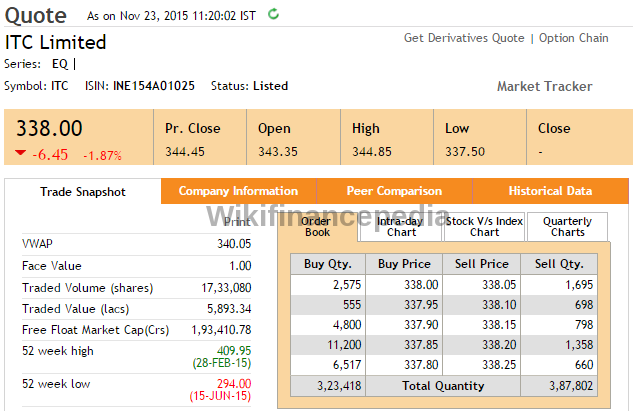 Shares are one of the risk free with high return investments if you are planning for the long term investment. The reason why shares are risk free is because every company makes profit and those companies which fails to make profit are been merger with other companies and finally make profits. For example: To expand the profit and presence in global world CMC Ltd merger with Tata Consultancy Services Ltd (TCS). TCS has performed approval of its merger and had announced merger on April 2015 year.
Let us take an example to understanding the stock market investments with high returns in long run:
Assume that you want to purchase 25,000 shares of ITC Limited for Rs.43/- in 2005 year that means you have invested Rs.10,75,000/- (25,000 * Rs.43) (or $16,540) into share market as a stock investing and you intend to sell ITC Limited shares at Rs.338/- in 2015 year that means your principle plus capital gain would be Rs.84,50,000 (25,000 * Rs.338) (or $1,30,000). Apart from this ITC Limited has given dividend to its share holders every year and gave out bonus shares as well. Overall including all the factors you returns will be around Rs.1,00,00,000/- (or $1,53,850) which is amazing high yield income than any other investment assets with very less time investment. So overall you make 930% (Rs.1,00,00,000 / Rs.10,75,000 Percent) returns in merely 10 years. See the below ITC Limited chart of 10 years.
Let's take few examples of stock market as a virtual simulator and learn how to purchase stocks without any stock market tips and figure out by yourself. Check out our next tutorial lesson as a brainstorming for stock market simulator.