The Optic Nerve Sheath Diameter (ONSD) is an important measurement that can be used to detect elevated intracranial pressure (ICP).
In the transverse view, rock the probe about 10-15° laterally to visualize where the hypoechoic (darkly colored) optic nerve radiates away from the base of the globe (see figure below).

Tip: If you do not see the ocular nerve immediately, tilt the probe up and down until it comes into view.

Once you have a good view, freeze the image.
Use the caliper function to measure 3 mm (.3cm) posterior to where the optic nerve sheath attaches to the retina. This is the location where you will use to measure your optic nerve sheath diameter.
Next, use the calipers again to measure the outermost lateral borders of the optic nerve sheath (anechoic border). The figure below measures the ONSD diameter to be 4.68mm (.468cm).

To obtain better accuracy, you can obtain a few measurements and take the average of the ONSD values.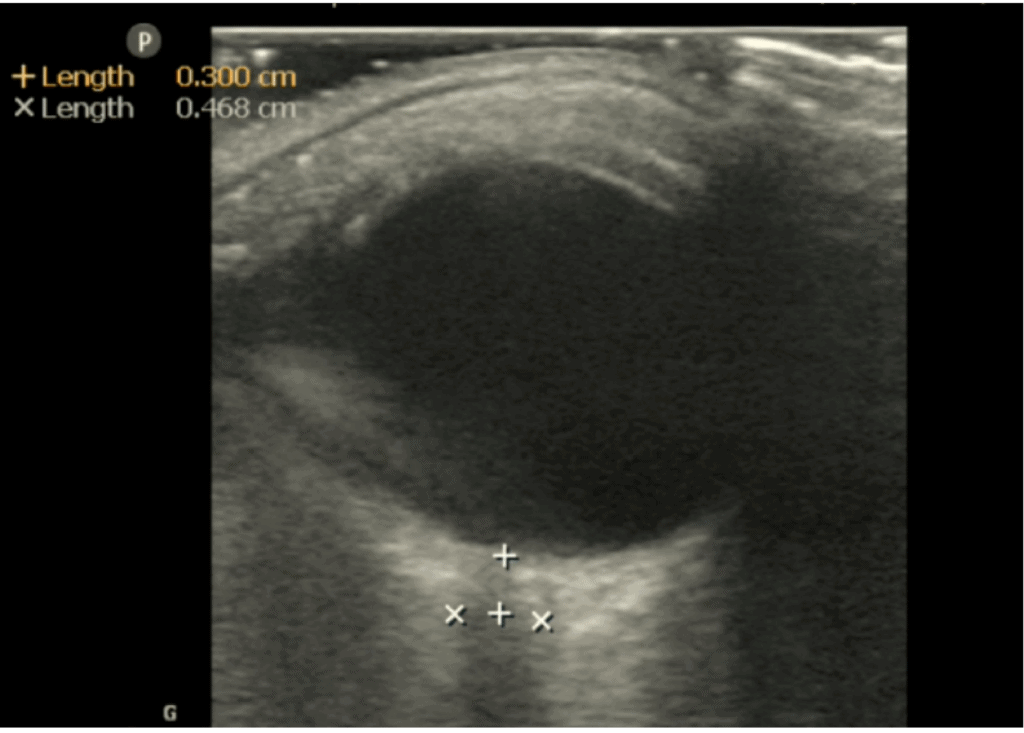 Interpretation of Optic Nerve Sheath Diameter (ONSD)
In adults, an ONSD < 5 mm indicates that the patient has a normal optic nerve width and a normal intracranial pressure (ICP) value of <20 cm H2O. However, if the ONSD > 5 mm, you will not be able to correlate this with an exact ICP value; all this tells you is that the ICP is elevated.
Below is a quick table regarding normal ONSD measurements for adults vs children:
Note: To remember how to measure ONSD, think of a 3×5 index card. You need to measure 3 mm posterior to the globe and >5 mm indicates a high ICP.
| | |
| --- | --- |
| Age Category (Years) | Normal ONSD Measurement |
| Adults (16+) | < 5 mm |
| Children (1-15) | < 4.5 mm |
| Children (<1) | < 4 mm |
Normal ONSD by Age