Ingredients
Main Ingredients For Chana Pulao
3/4 cup white chickpeas (garbanzo beans or safed chana or kabuli chana or chole)
1 cup heaped basmati rice, 200 grams rice
1 medium to large onion, sliced thinly
1 medium tomato, chopped
¼ teaspoon red chili powder
1 pinch Garam Masala Powder(turmeric powder)
1 pinch turmeric powder (ground turmeric)
1 pinch saffron strands – optional,
½ teaspoon lemon or lime juice or 1 teaspoon yogurt (curd)
2 tablespoon Ghee or oil
1.75 cups water for pressure cooking the rice
a few chopped mint leaves for garnish (or coriander keaves)
salt as required
Whole Spices
½ teaspoon caraway seeds
1 black cardamom
2 small green cardamom
2 single thin strand of mace
1 tej patta (indian bay leaf)
2 to 3 cloves
1 inch cinnamon stick
For The Green Paste
3/4 to 1 inch ginger – chopped
3 to 4 garlic – chopped
1 tablespoon mint leaves – chopped
3 tablespoon coriander leaves – chopped (cilantro)
1 green chili – chopped
½ to 1 tablespoon water for grinding
Directions
1. Rinse 3/4 cup white chickpeas (garbanzo beans or chole or chana) a couple of times in water. Then soak them in a bowl covering with enough water overnight or for 8 to 9 hours.
If using canned chickpeas or leftover boiled chickpeas then jump to step 6 and follow the recipe from there. For canned or leftover cooked chickpeas you will need about 2.25 cups of them.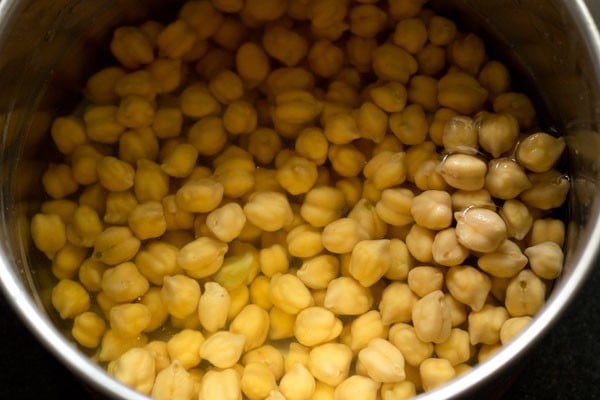 2. Drain all the water. Rinse the chickpeas with fresh water. Then add the soaked chickpeas to a 3 liter pressure cooker. Also, add about ½ teaspoon of salt.
You can also cook the chickpeas in the Instant pot or in a pan on the stovetop adding water as needed.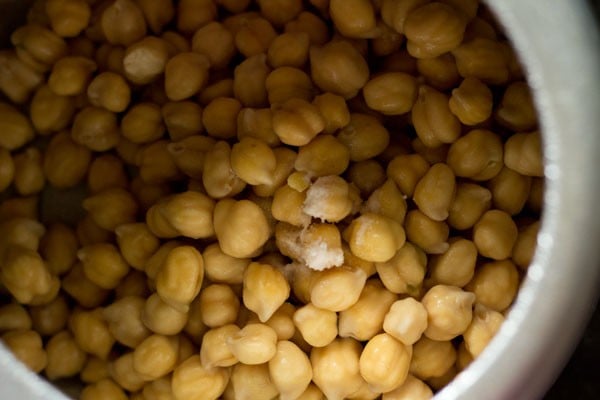 3. Add 3 to 3.5 cups of water to the pressure cooker.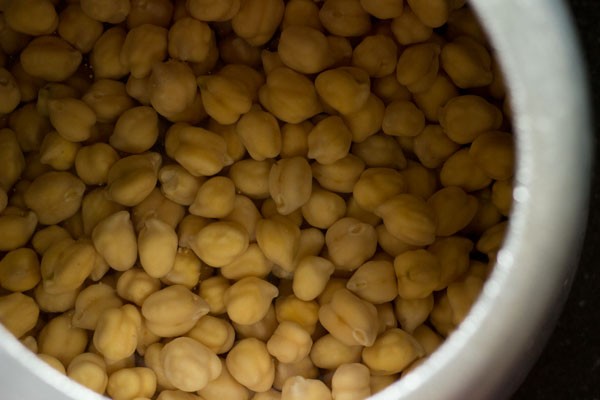 4. Pressure cook on medium to medium-high heat for 12 to 14 whistles or for about 20 minutes or till the chickpeas, are tender and softened very well.
Some chickpeas will take a longer time to cook. If the chickpeas are aged then note that they will take more time to cook.
When the pressure falls down on its own in the cooker then only open the lid. Check if the chickpeas are cooked well.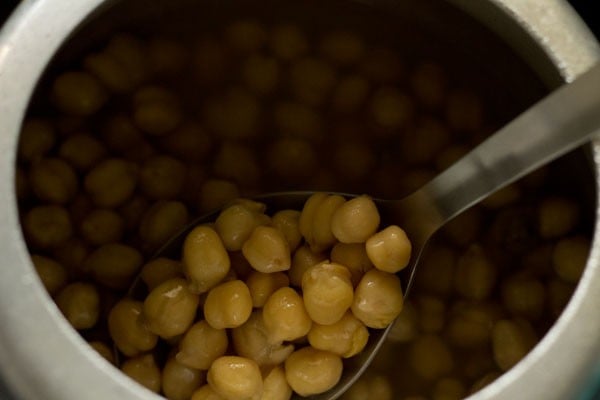 5. Drain the water from the cooked chickpeas and set aside.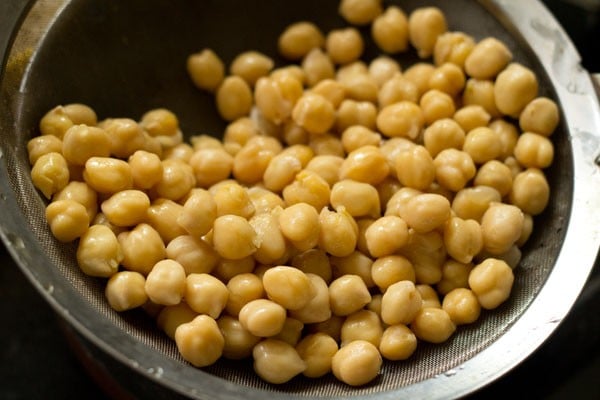 6. Rinse 1 cup heaped basmati rice very well in water till the water runs clear of starch. Then soak the rice in enough water for 20 to 30 minutes. Later drain all the water and set the rice aside.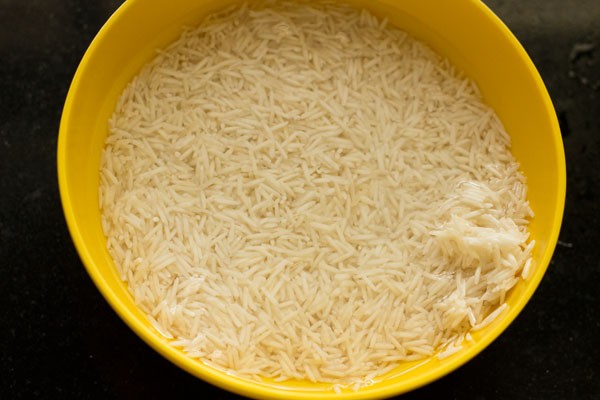 7. In a small grinder or chutney grinder or magic bullet, add the following ingredients:
¾ to 1 inch ginger (chopped)
3 to 4 garlic (chopped)
1 tablespoon chopped mint leaves
3 tablespoons chopped coriander leaves (cilantro)
1 green chili (chopped)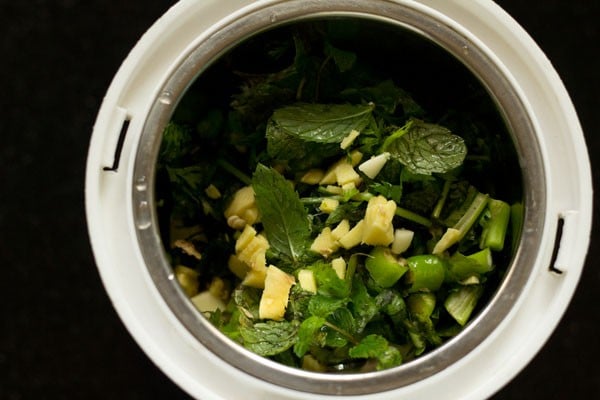 8. Make a semi-fine or a fine paste of the ingredients with ½ to 1 tablespoon water or as required. Keep this green paste aside.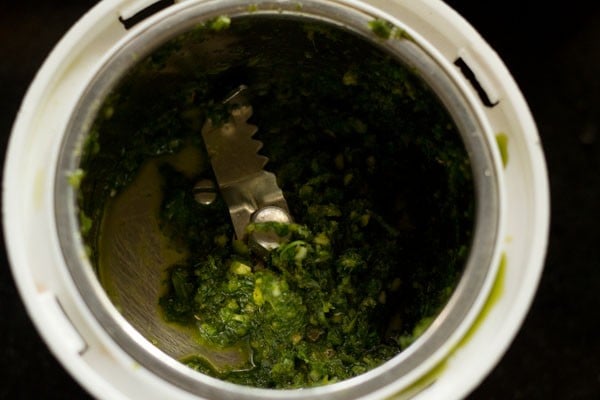 Making Chana Pulao
9. In a pressure cooker heat 2 tablespoons of ghee or oil and add all the whole spices listed below. Saute the whole garam masala or whole spices for some seconds till they splutter and are fragrant.
½ teaspoon caraway seeds (shahi jeera) – swap cumin seeds with caraway seeds
1 black cardamom – skip if you don't have
2 green cardamoms
1 to 2 single strands of mace – omit if you don't have
1 inch cinnamon
2 to 3 cloves
1 tej patta (Indian bay leaf)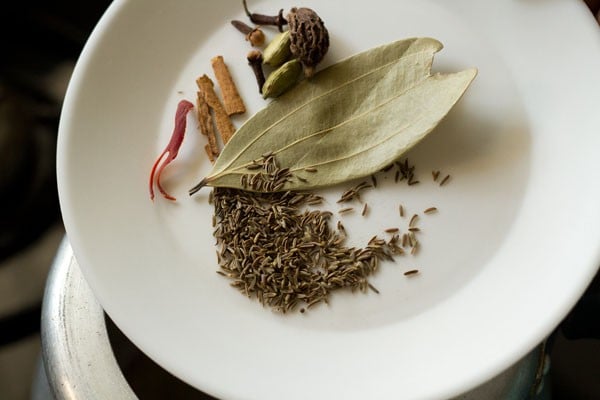 10. Then add 1 medium to large-sized sliced onion.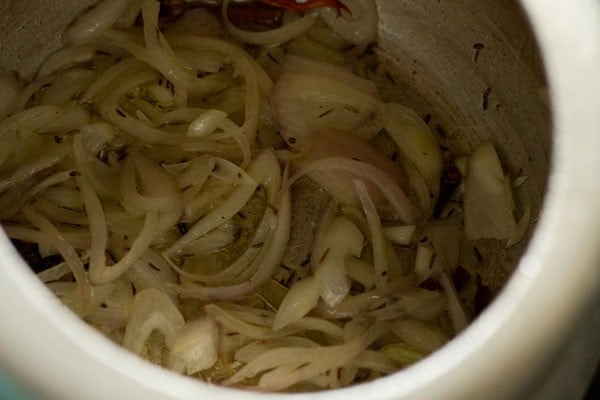 11. Saute the onions till light brown or golden brown stirring often.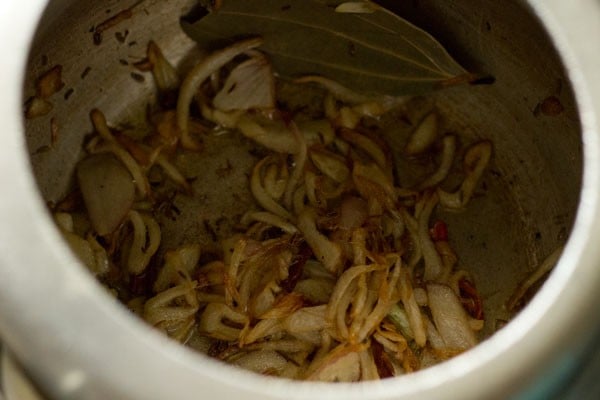 12. Now add the ground green paste and saute for some seconds or till the raw aroma of the ginger-garlic goes away.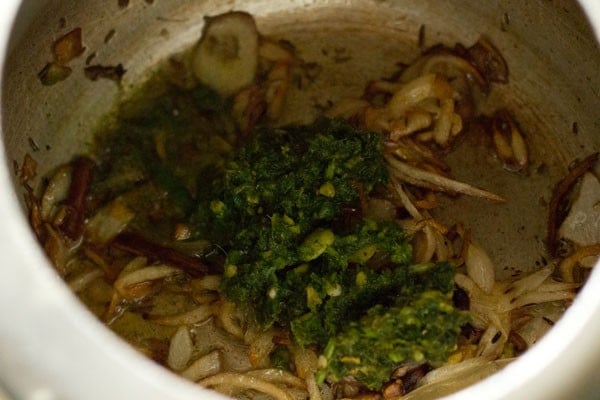 13. Next add 1 medium-sized chopped tomato. Stir and saute for 1 to 2 minutes.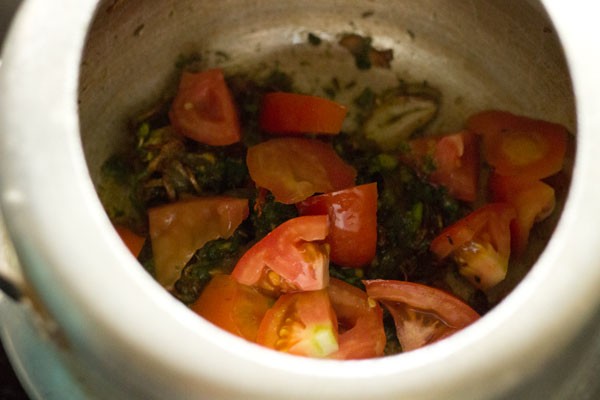 14. Then add a pinch of turmeric powder, ¼ teaspoon red chili powder and a pinch of garam masala powder. Mix well.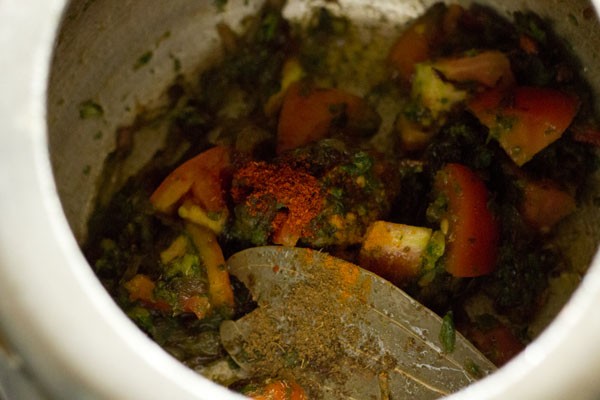 15. Add the soaked basmati rice.
16. Mix well and saute the entire mixture for a minute.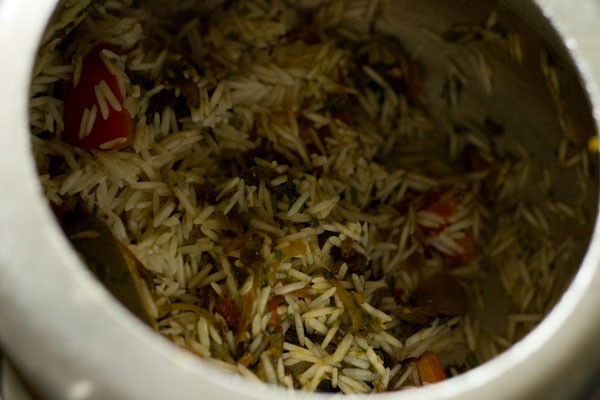 17. Add ½ teaspoon lemon juice.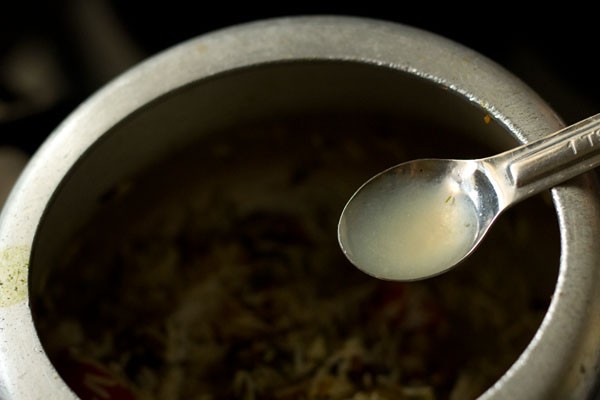 18. Then add a pinch of saffron threads (optional). Mix everything well.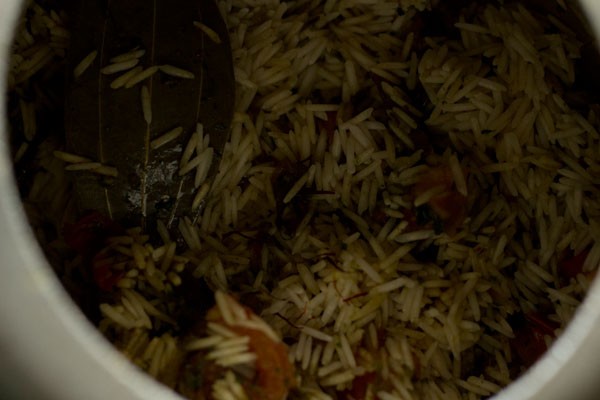 19. Add the drained cooked chickpeas.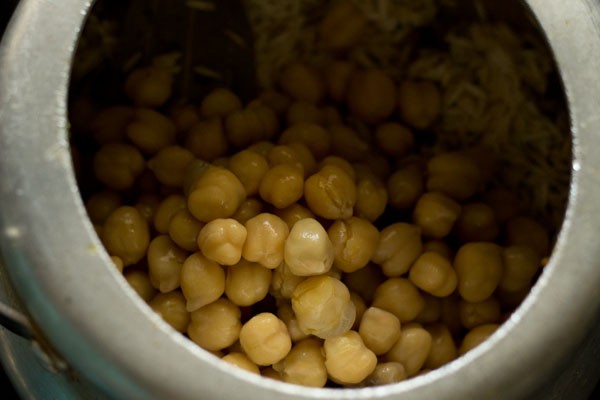 20. Then add 1.75 cups of water.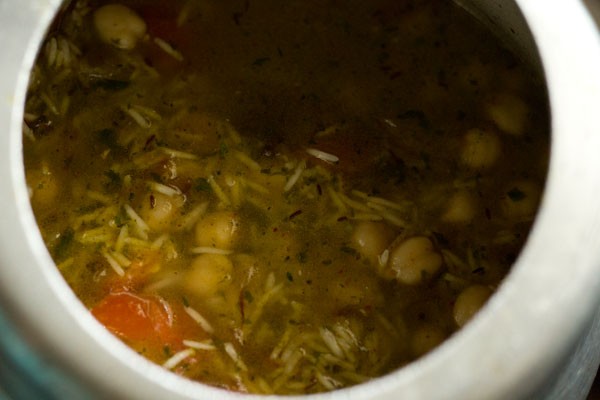 21. Season with salt and stir well. Pressure cook on medium heat for 2 to 3 whistles or for 10 to 12 minutes. I pressure cooked for 2 whistles.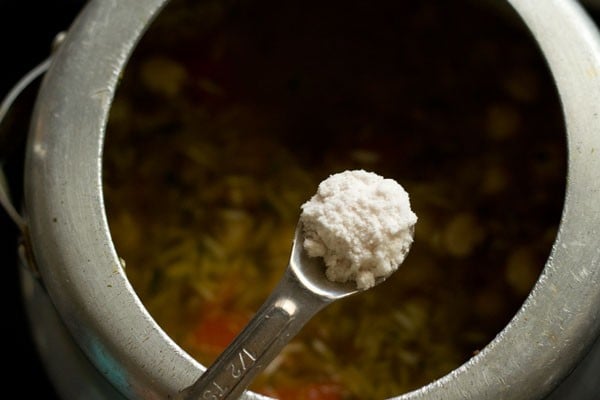 22. When the pressure settles down on its own, then only open the lid of the cooker. Gently fluff the rice.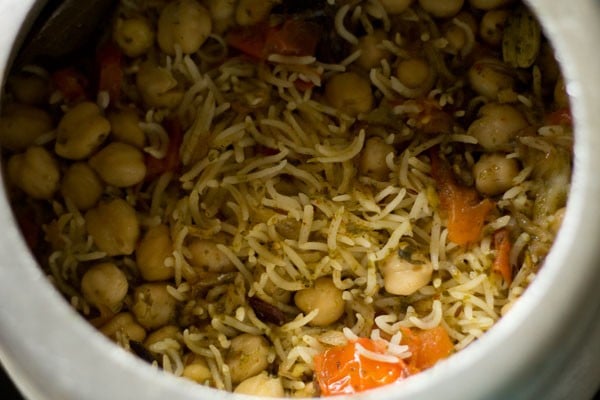 23. Garnish with coriander leaves or mint leaves and Serve chana pulao hot or warm with raita, pickle, papad or any veg salad.