Ingredients
For Cooking Rice
½ cup regular rice or 100 grams rice
1.5 cups water for pressure cooking
Other Ingredients
1 cup Curd or 250 grams curd (yogurt)
¼ cup milk or 62.5 ml milk
1 green chilli chopped
1 teaspoon finely chopped ginger
1 teaspoon chopped curry leaves or 4 to 5 curry leaves, chopped
1 tablespoon chopped coriander leaves(cilantro leaves)
For Tempering
1 tablespoon sesame oil
½ teaspoon mustard seeds
½ teaspoon urad dal (husked and split black gram dal) – optional
5 to 6 curry leaves – chopped or kept whole
1/8 teaspoon asafoetida (hing)
For Garnish
1 to 2 tablespoons pomegranate arils – optional, sweet grapes can also be used instead
1 tablespoon coriander leaves
Directions
Cooking rice
1. Rinse ½ cup rice a couple of times in water. Use any variety of regular rice. I used sona masuri rice.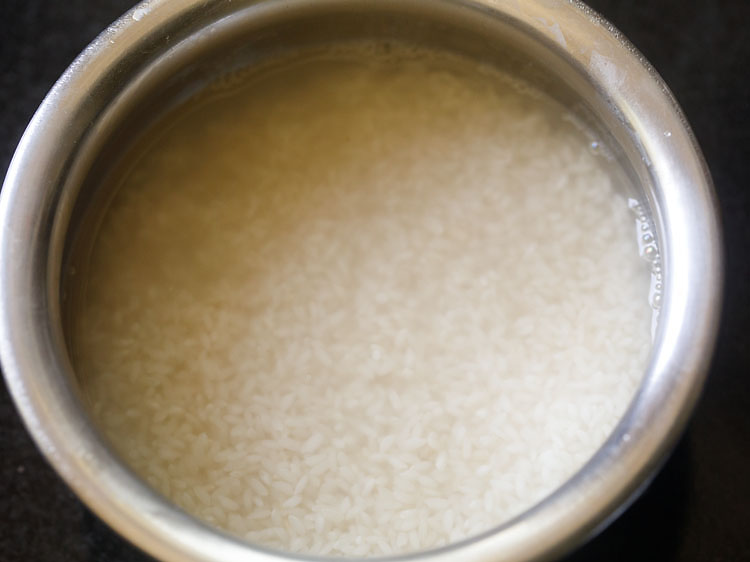 2. Then add the rice in a 2-litre pressure cooker.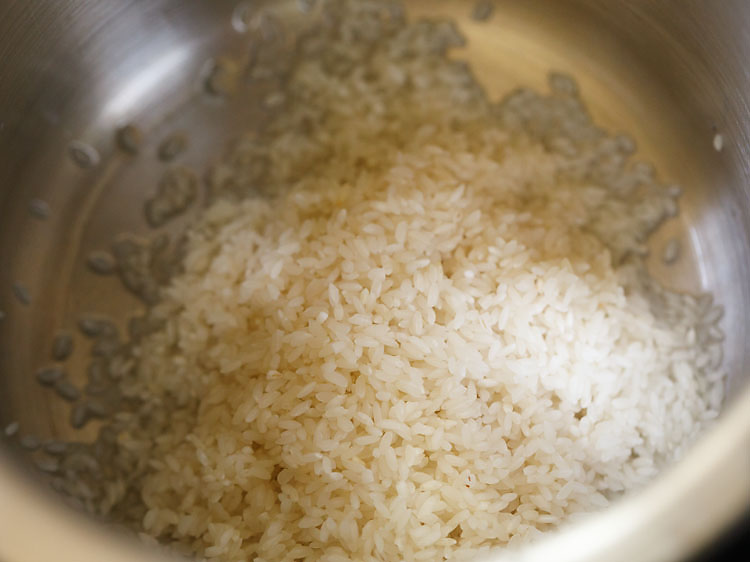 3. Add 1.5 cups water and stir.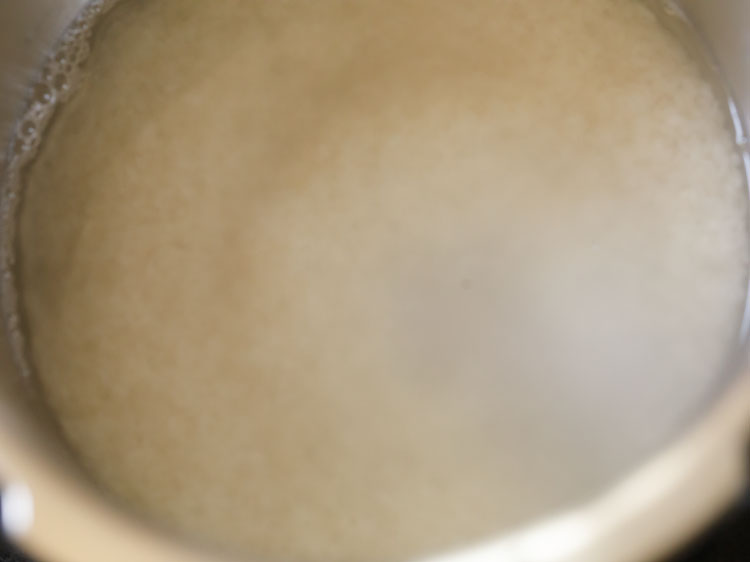 4. Pressure cook rice for 5 to 6 whistles or 8 to 9 minutes till the rice is cooked and softened very well.
5. When the pressure settles down on its own, remove the lid and check the doneness of rice. The rice has to be more softer than what we cook on a daily basis.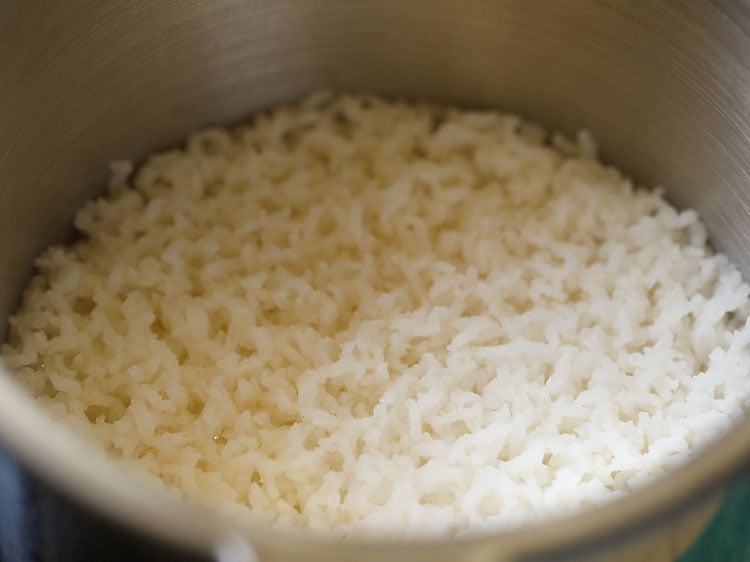 6. With a spoon or masher, mash the rice. Close the cooker and allow the rice to cool down.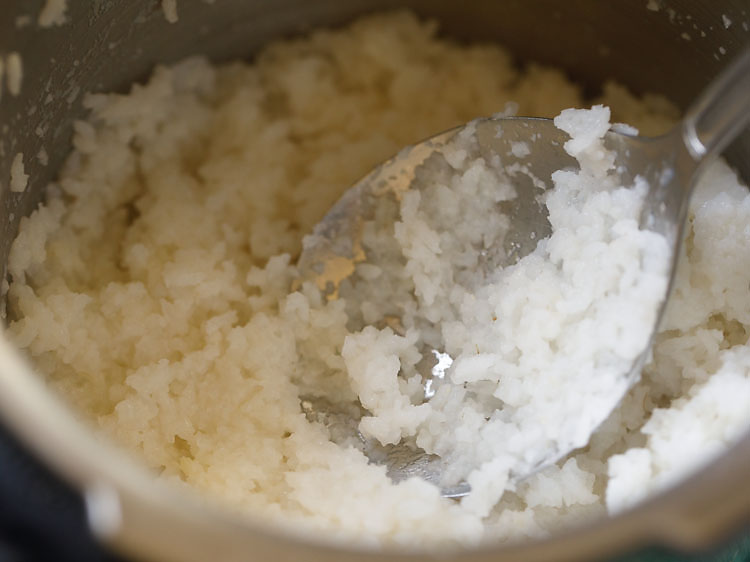 7. Take the mashed rice in a mixing bowl or you can even keep in the cooker if you want. Cover and let the rice become lukewarm or let the cooked rice grains come to room temperature.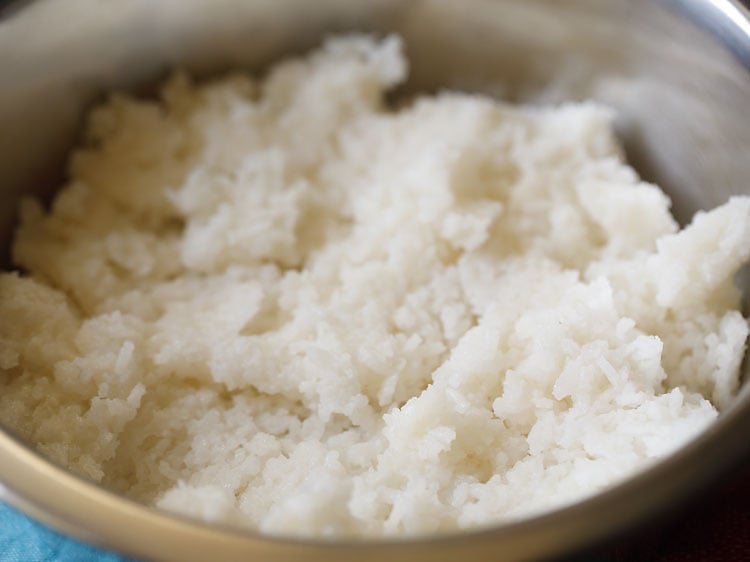 Making curd rice
8. When the cooked rice become warm or comes to room temperature, add 1 cup fresh curd.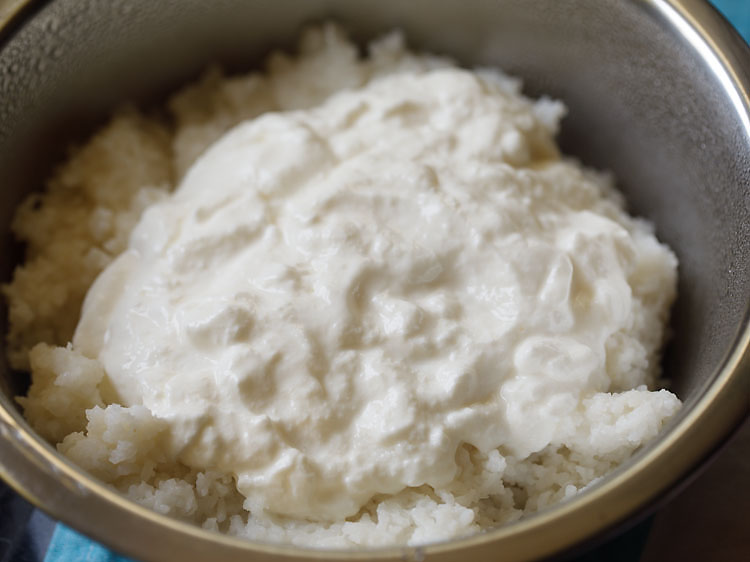 9. Next add ¼ cup milk. The amount of milk that needs to be added will depend on the sourness in the curd. Since I used fresh curd, I have added less milk. Though you can increase the quantity as required. You can skip the milk too.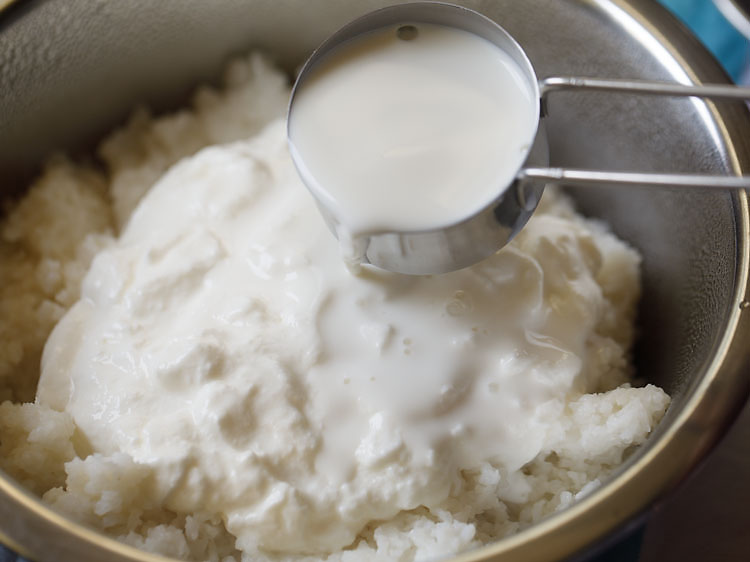 10. Mix very well and break lumps if any. You can either use the spoon or masher while breaking the lumps. The consistency has to be slightly loose and not thick. If the consistency is thick, then you can add some more curd or milk.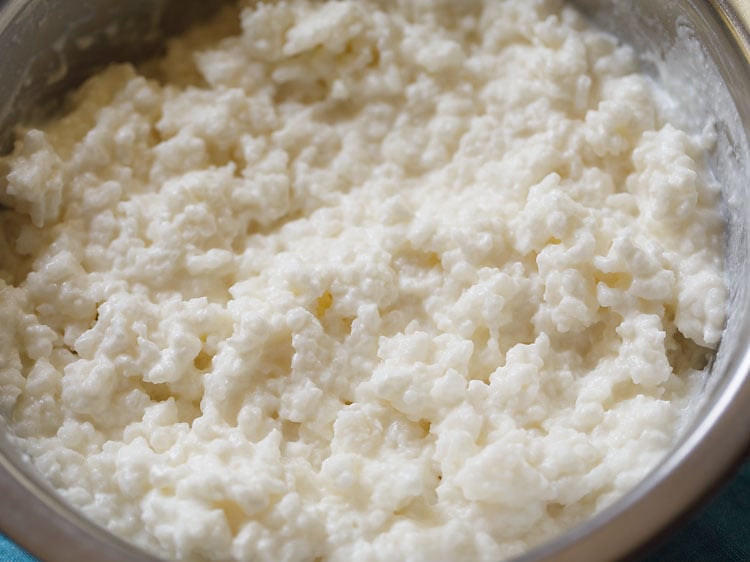 11. Add 1 teaspoon finely chopped ginger, 1 green chilli (chopped), 1 tablespoon chopped coriander leaves and 1 teaspoon finely chopped curry leaves. Instead of adding ginger and curry leaves to the rice, you can also fry them in the tempering.
12. Add salt as per taste.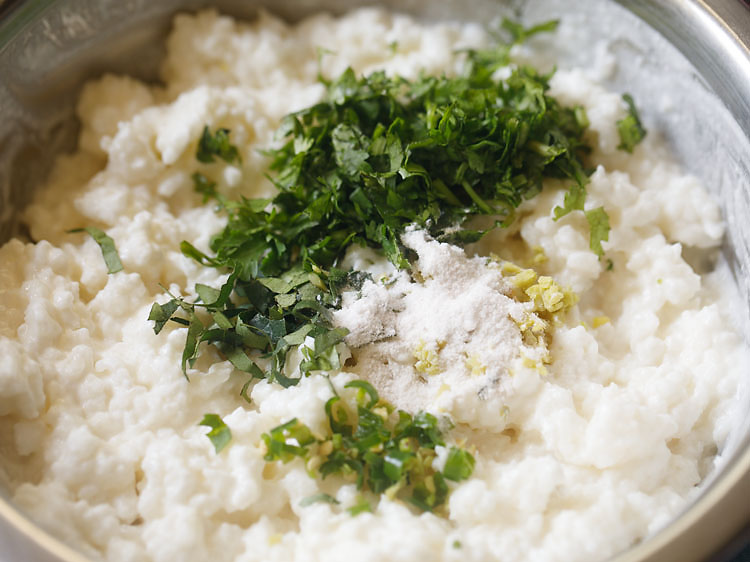 13. Mix very well. Keep aside. Check the taste and add more salt if required.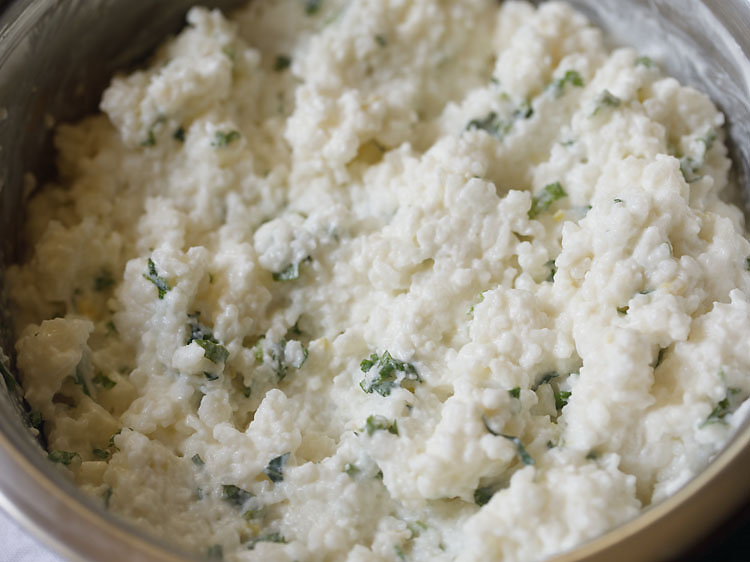 Tempering for curd rice
14. Heat a small pan or tadka pan and add 1 tablespoon sesame oil (gingelly oil) in it.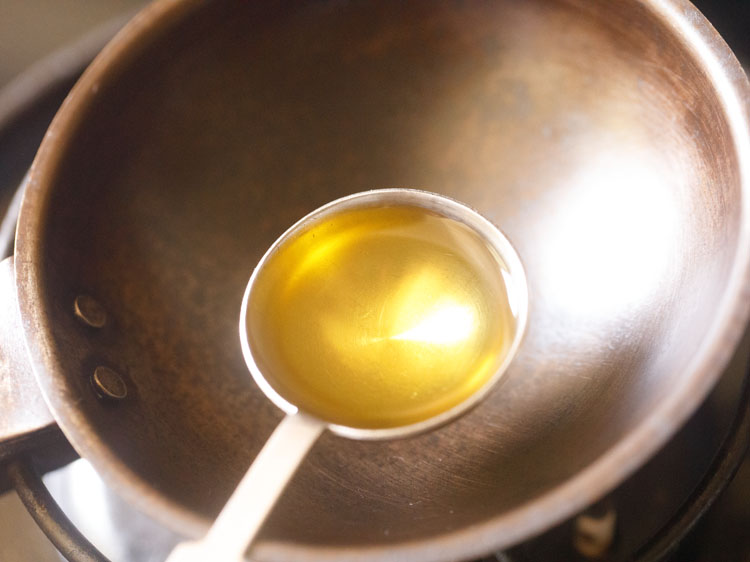 15. When the oil becomes hot, add ½ teaspoon mustard seeds.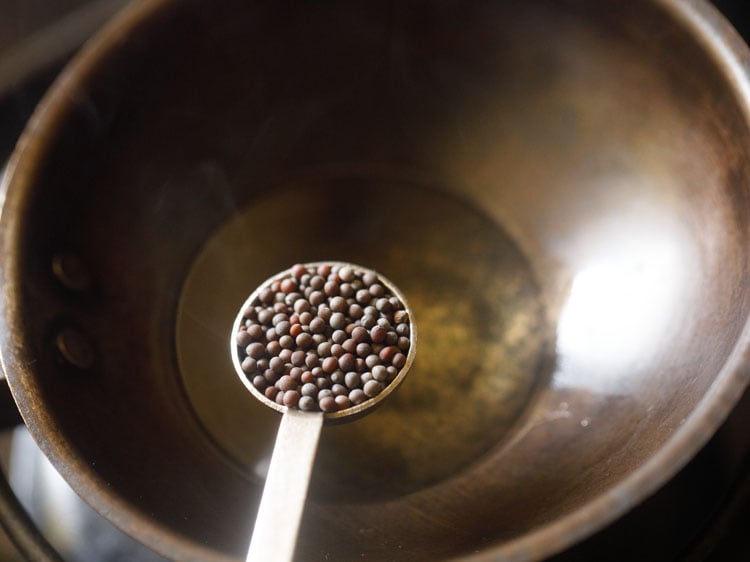 16. Let the mustard seeds begin to crackle.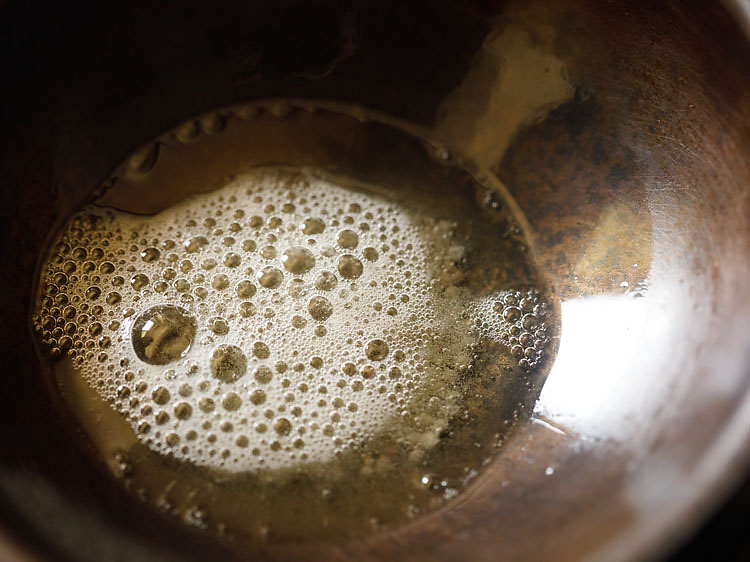 17. When the mustard seeds begin to crackle, then add ½ teaspoon urad dal. Heat a small pan or tadka pan and add sesame oil in it. You can use peanut oil or sunflower oil instead of sesame oil.
18. Stirring often fry the urad dal.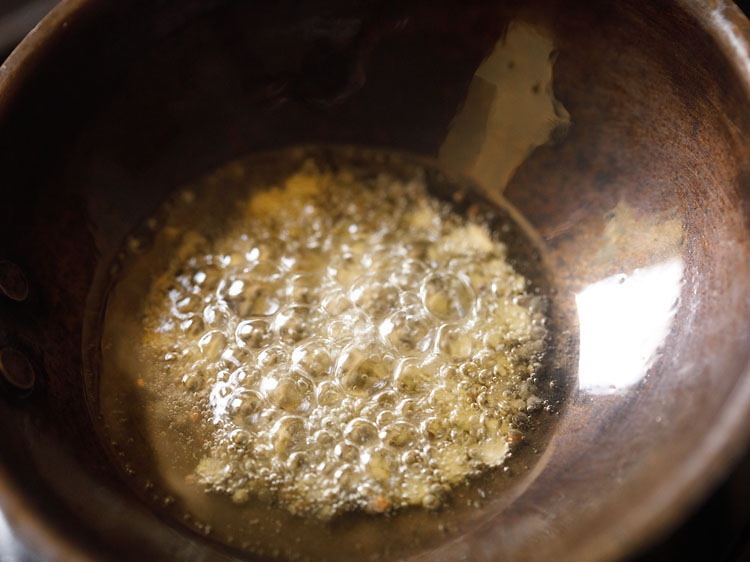 19. Let the urad dal become golden.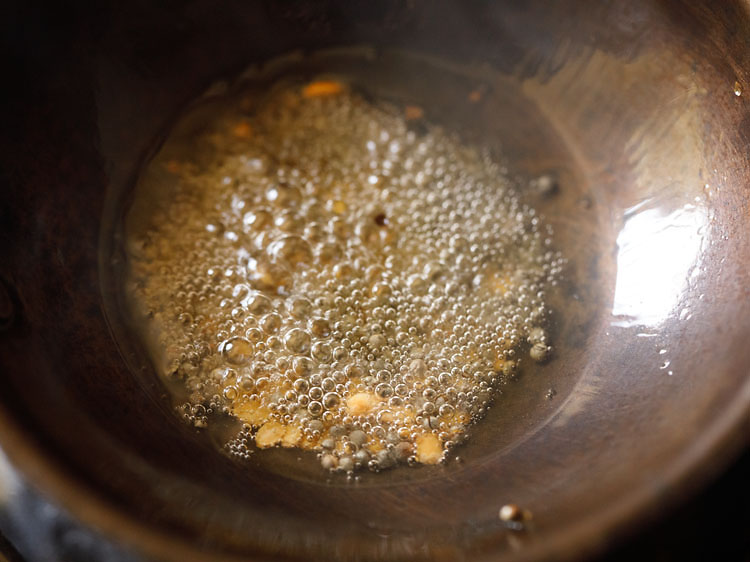 20. Then add 5 to 6 curry leaves (chopped) and ⅛ teaspoon asafoetida (roughly 2 pinches of asafoetida). Mix and switch off the flame.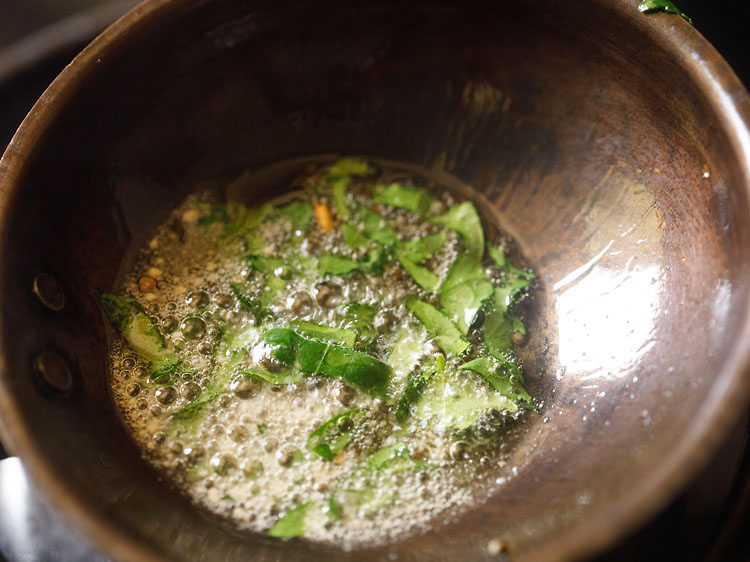 21. Immediately pour the tempering in the curd rice mixture.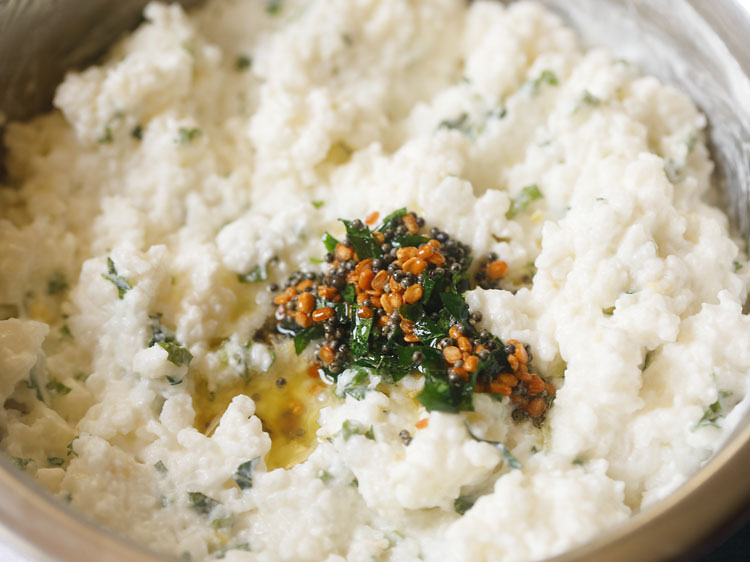 22. Again mix very well. Now the curd rice ready to be served.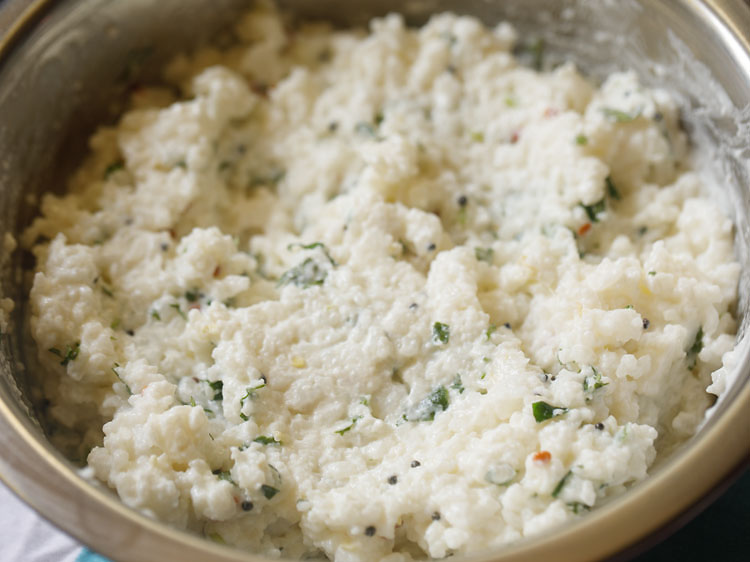 23. While serving you can Garnish curd rice with a few coriander leaves or pomegranate arils or grapes. You can skip the fruits too and just serve curd rice plain. Serve curd rice with a side of appalam or pappadums. You can even serve with a South Indian mango pickle or fried mor milagai (green chillies soaked in salt+curd solution and then sun dried). If not serving immediately, then you can keep at room temperature for a couple of hours and then refrigerate.