Now there's a tricky question! Many factors can affect which genes a cell expresses. Different cell types express different sets of genes, as we saw above. However, two different cells of the same type may also have different gene expression patterns depending on their environment and internal state.Broadly speaking, we can say that a cell's gene expression pattern is determined by information from both inside and outside the cell.
Examples of information from inside the cell: the proteins it inherited from its mother cell, whether its DNA is damaged, and how much ATP it has.
Examples of information from outside the cell: chemical signals from other cells, mechanical signals from the extracellular matrix, and nutrient levels.
How do these cues help a cell "decide" what genes to express? Cells don't make decisions in the sense that you or I would. Instead, they have molecular pathways that convert information – such as the binding of a chemical signal to its receptor – into a change in gene expression.As an example, let's consider how cells respond to growth factors. A growth factor is a chemical signal from a neighboring cell that instructs a target cell to grow and divide. We could say that the cell "notices" the growth factor and "decides" to divide, but how do these processes actually occur?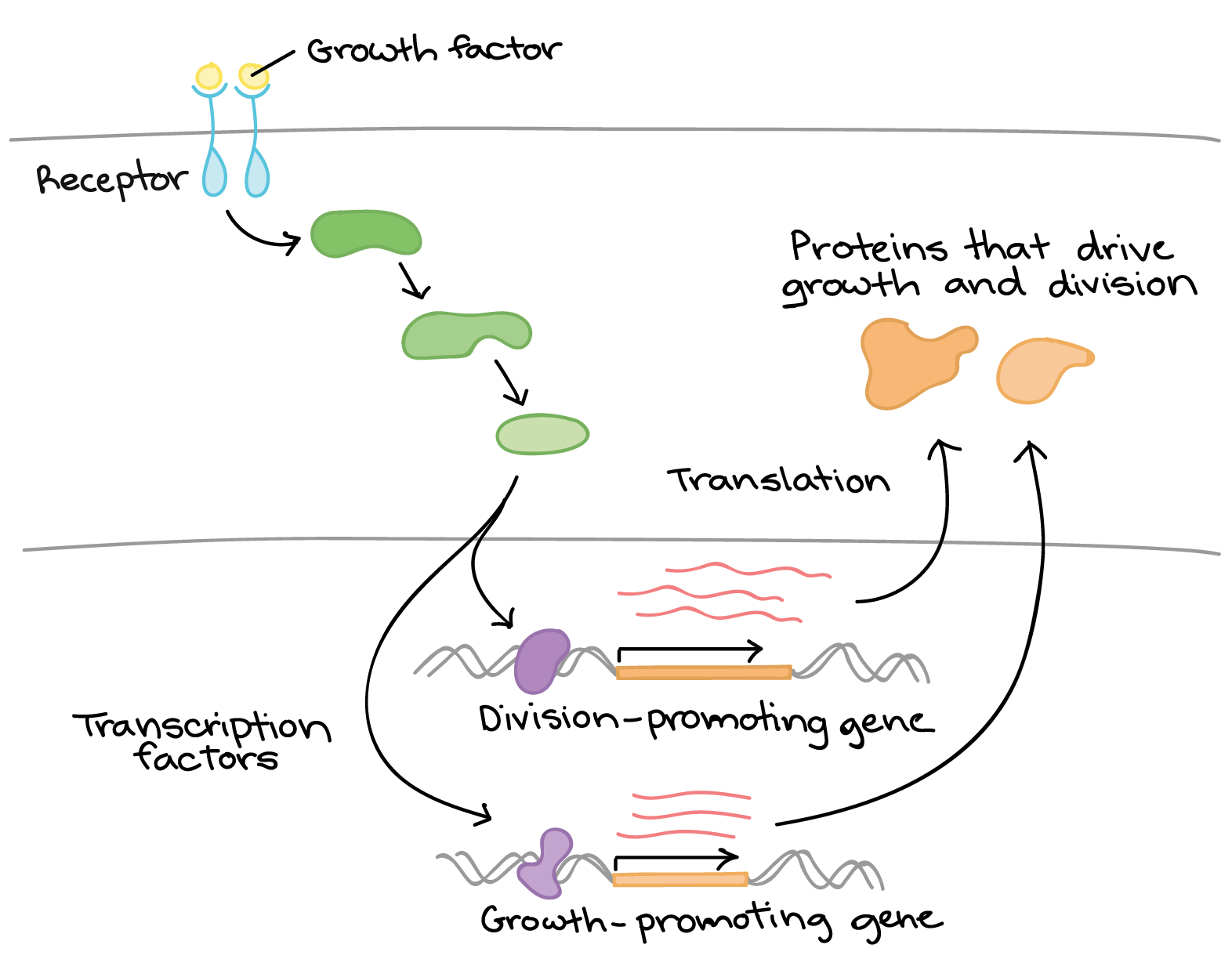 Growth factors bind to their receptors on the cell surface and activate a signaling pathway in the cell. The signaling pathway activates transcription factors in the nucleus, which bind to DNA near division-promoting and growth-promoting genes and cause them to be transcribed into RNA. The RNA is processed and exported from the nucleus, then translated to make proteins that drive growth and division.
The cell detects the growth factor through physical binding of the growth factor to a receptor protein on the cell surface.
Binding of the growth factor causes the receptor to change shape, triggering a series of chemical events in the cell that activate proteins called transcription factors.
The transcription factors bind to certain sequences of DNA in the nucleus and cause transcription of cell division-related genes.
The products of these genes are various types of proteins that make the cell divide (drive cell growth and/or push the cell forward in the cell cycle).
This is just one example of how a cell can convert a source of information into a change in gene expression. There are many others, and understanding the logic of gene regulation is an area of ongoing research in biology today.Growth factor signaling is complex and involves the activation of a variety of targets, including both transcription factors and non-transcription factor proteins.