Your site's HTML is an important piece of the SEO marketing puzzle. Without proper tags, headers, and descriptions, Google will have a hard time figuring out what your content is about and why it should rank higher than the competition.
When people read that HTML is a part of SEO, they start to get scared, but there's nothing to worry about. You don't need to understand code, and there is very little involved in the process of changing tags and descriptions. For the most part, changing the HTML from an SEO perspective is as simple as copying and pasting.
Elements of HTML
Now let's break down some of the factors to pay attention to when it comes to HTML.
Title Tags
One thing a lot of people confuse is the title tag and H1 tag. These are two different headings and should be treated as such. The title tag is what's displayed in the tab at the top of your browser and shows when your page turns up on Google.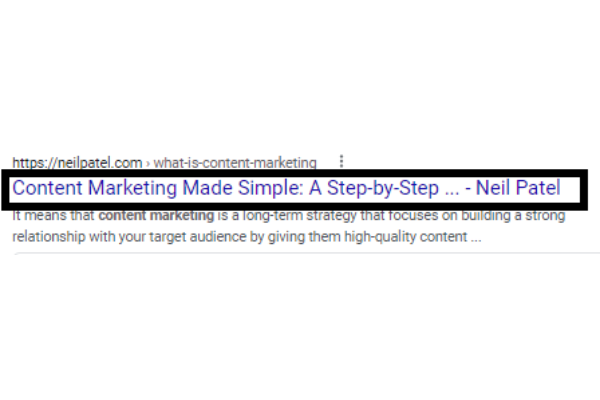 The area in the black box is your title tag. This is the most prominent heading in the search and has a blue or purple color that stands out. You want to use this section wisely by including your main keyword and making the heading enticing so users want to click.
Meta Description
The meta description is the area below that. Here is where you get a chance to tell the searcher what the content is about. It's important to keyword-optimize this section, and it's no longer than 160 characters. You want it to display correctly on both mobile and desktop screens.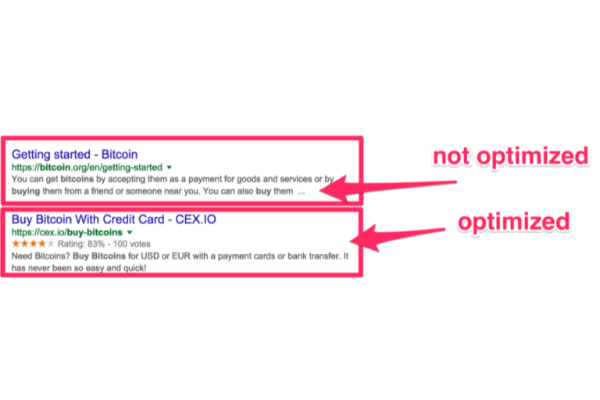 Schema
Schema is the result of a collaboration of several search engines. It's basically just a subset of specific HTML tags that improves the way the SERPs display your content.
For example, the author of the above example with Bitcoin used a schema to create the rating Google displays on the SERP. It's a rather small factor but definitely good practice.
When you're done adding your schema, don't forget to test your page to make sure everything runs smoothly.
Subheadings
One example of a subheading would be your H1. This is the title of your article and is displayed at the top. While it might just seem like a string of words, it's important because it's your H1. It's your primary header.
This heading tells Google what the article or piece of the content is about. It's also your opportunity to draw readers in when they first land on the page. You want to use your primary keyword in your H1, but you don't want to stuff keywords.
I also like to think of my H1 as me inviting someone onto the page. It shouldn't be transactional or pushy. You want to entice readers to continue down the page with your H1.
Alt Text
Alt text describes an image in your article. All pieces of content have it, but a lot of people don't make use of it. The point of alt text is so search engines can verbally describe the image to people who are visually impaired. When you write alt text, you want it to properly break down what the image is, but you can also use these for inserting keywords.
URL Slug
Going back to this image again, you'll see the box is around the phrase "what is content marketing." This is the URL slug, which is the part of the URL that tells Google what the content is about. These are also important areas for you to insert your most important keyword.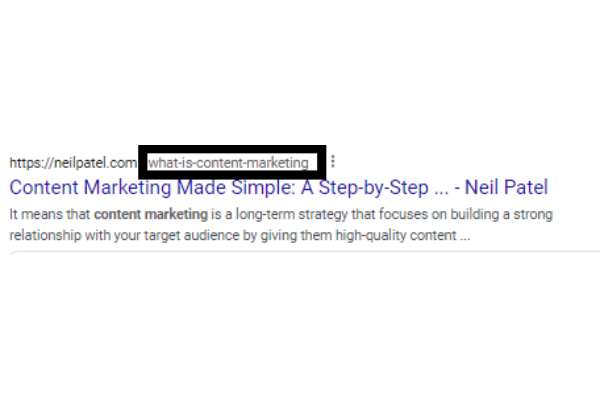 In this example, we used "what is content marketing" to describe the page, and Google should know the article will break down the details of basic content marketing.
4 Tips for Making the Right HTML Improvements
Here are my most important tips to keep in mind as you make HTML improvements to your site:
Use tools to help you: I keep saying this, but it's so important. The various SEO marketing tools out there are worth the investment because they will help you identify HTML issues with your site. For example, Ahrefs tells you if a site has duplicate title tags or how many articles are missing meta descriptions.
Piggyback on the competition: Stealing is bad, but using your top-ranking competitors for inspiration isn't. If you're struggling to figure out what you should use for your title tag or meta description, see what the competition is doing.
Never stuff keywords: There's nothing worse than a keyword-stuffed meta description that reads horribly. Google will see right through it and may even penalize you if you do it enough.
Don't forget H2, H3, and H4 headers: We talked about H1 headers, but don't forget the rest. These are all important places where you should have your primary keywords to help tell Google which subject your article focuses on.