Ingredients
For Soaking Lentils And Rice
½ cup moong dal (split and husked mung lentils)
½ cup rice – you can add any rice, regular short or medium grained rice or even basmati
water – as required
Other Ingredients
2 tablespoons Ghee (clarified butter) or oil – any neutral oil
1 teaspoon cumin seeds
1/3 cup finely chopped onions or 1 small to medium-sized
1/3 to ½ cup chopped tomatoes or 1 medium-sized
½ teaspoon chopped green chillies or serrano peppers or 1 small green chilli
1 teaspoon finely chopped ginger or grated – 1 inch ginger
¼ teaspoon turmeric powder (ground turmeric)
1 pinch asafoetida (hing) – optional
3.5 cups water – for a more thin consistency, add 4 to 4.5 cups water
salt as required
Directions
Prep Lentils and Rice
1. Rinse ½ cup moong lentils and ½ cup rice together. Then soak both of them for about 30 minutes in water. When the lentils and rice have had time to absorb water, drain and set aside.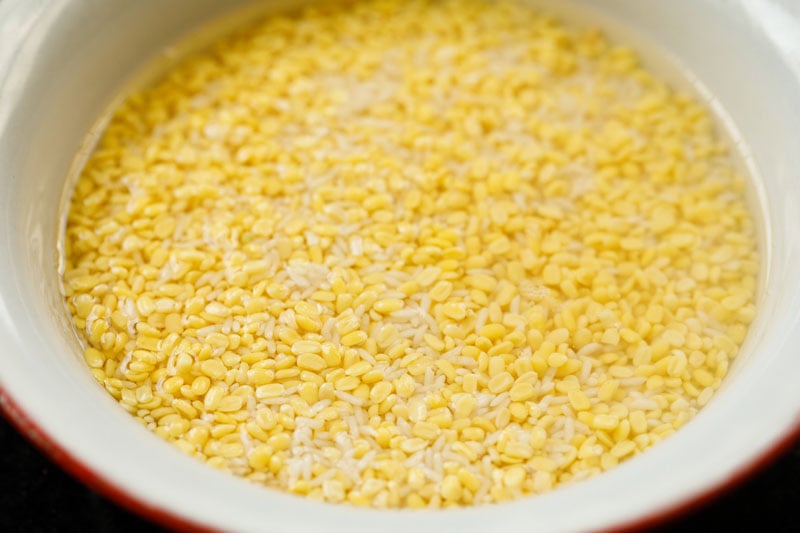 Sautéing spices and onions
2. Now heat 2 tablespoons ghee or oil in a 3 litre pressure cooker, then add 1 teaspoon cumin seeds or jeera.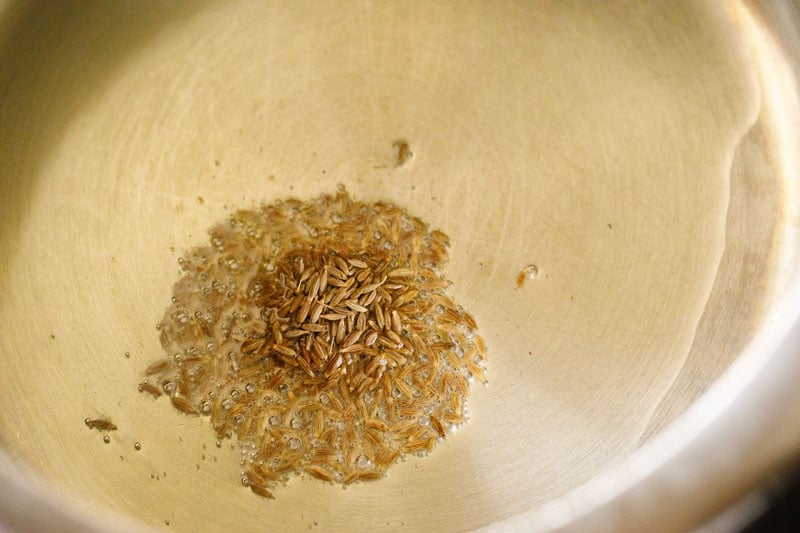 3. As soon as the cumin begins to splutter, add the 1/3 cup finely chopped onions.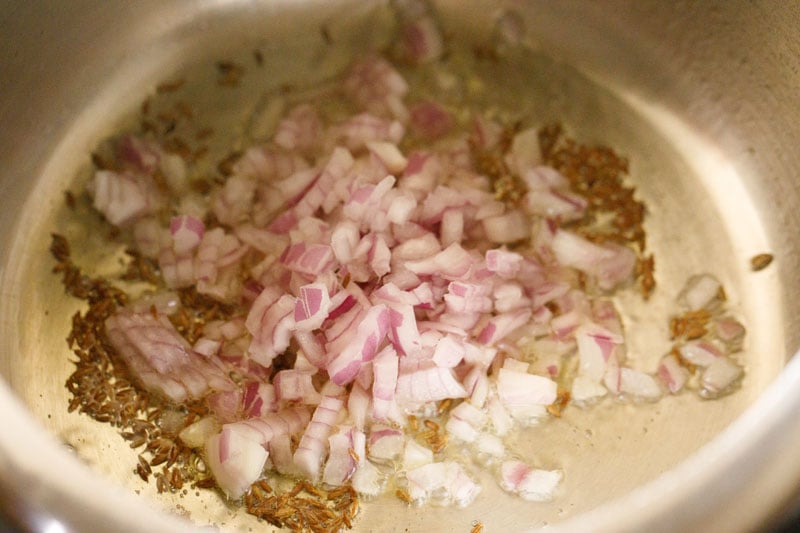 4. Sauté until the onions soften and turn translucent.
NOTE: You do NOT need to sauté the onions until they are light or golden brown.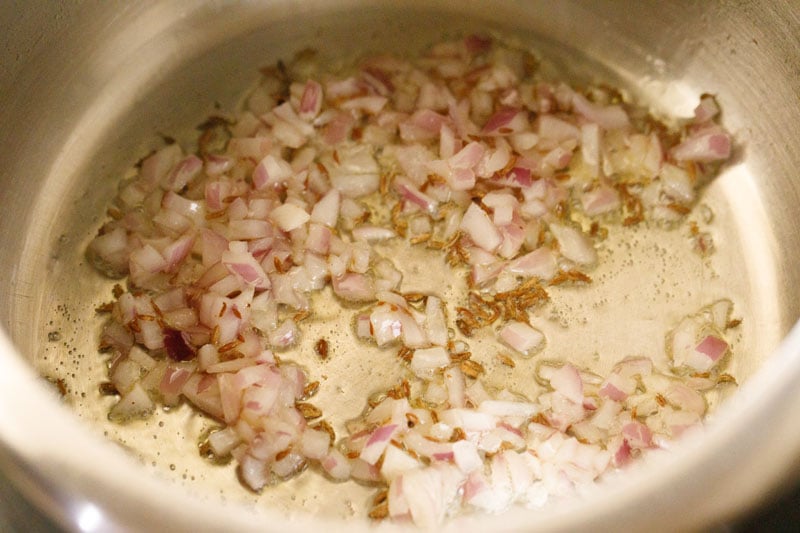 Sautéing Tomato, Chili, and Ginger
5. When the onions have become translucent, add in 1/3 to ½ cup chopped tomatoes, ½ teaspoon chopped green chili and 1 teaspoon chopped ginger.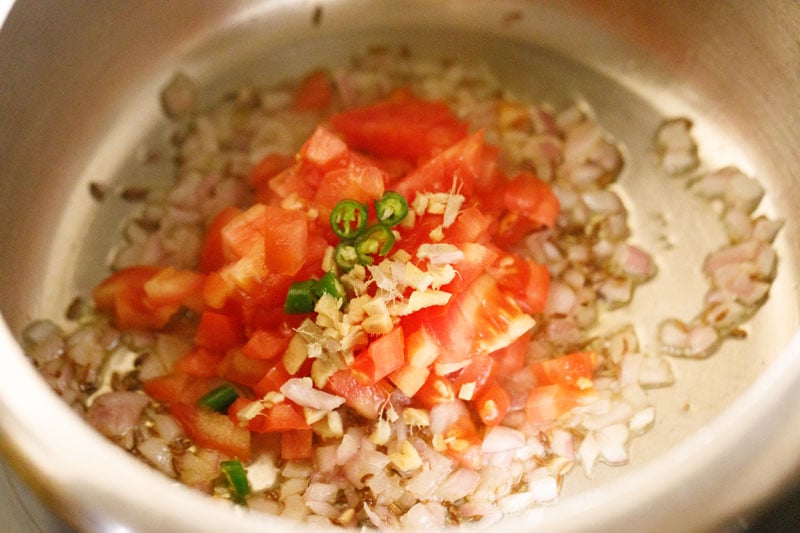 6. Mix well with the sautéed onions.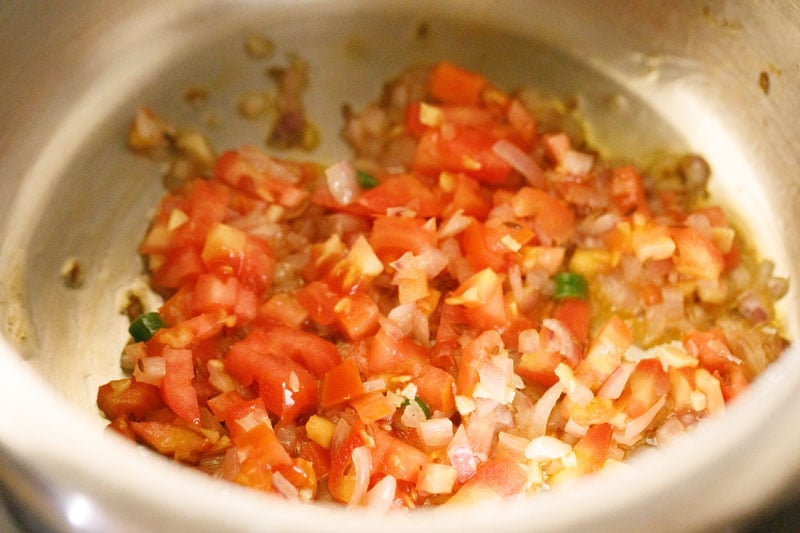 7. After stirring in the tomatoes, add ¼ teaspoon turmeric powder and a pinch of asafoetida (hing). Adding hing is optional.

TIP: For a gluten free khichdi, skip the asafoetida or use a gluten-free asafoetida.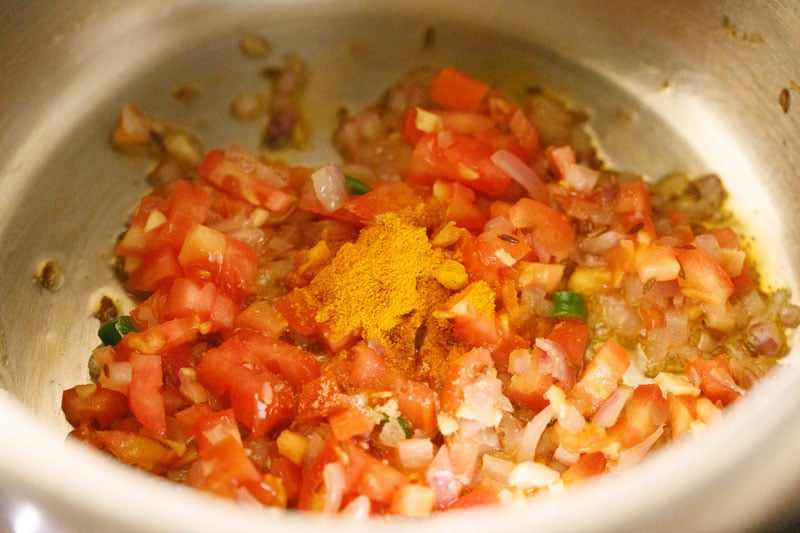 8. Sauté until the tomatoes soften stirring often.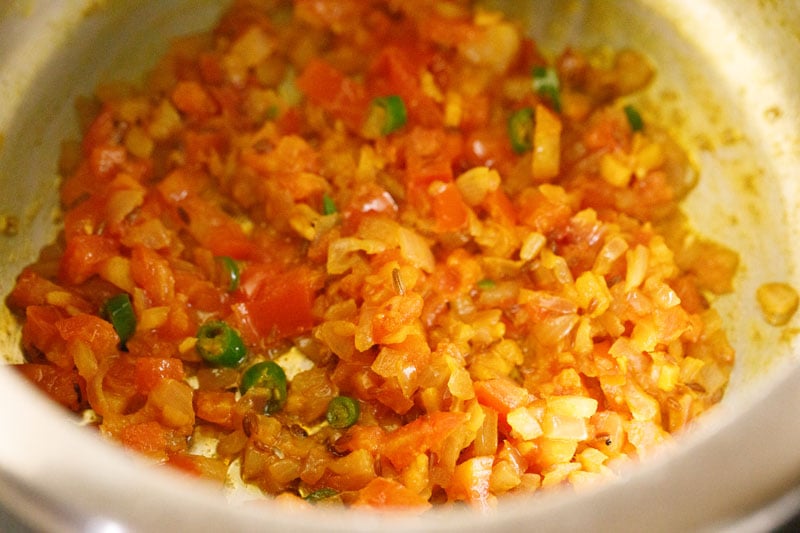 Add Rice and Lentils
9. Next, add the drained rice and moong lentils to the pressure cooker, and stir for about a minute or until all the ingredients are fully combined.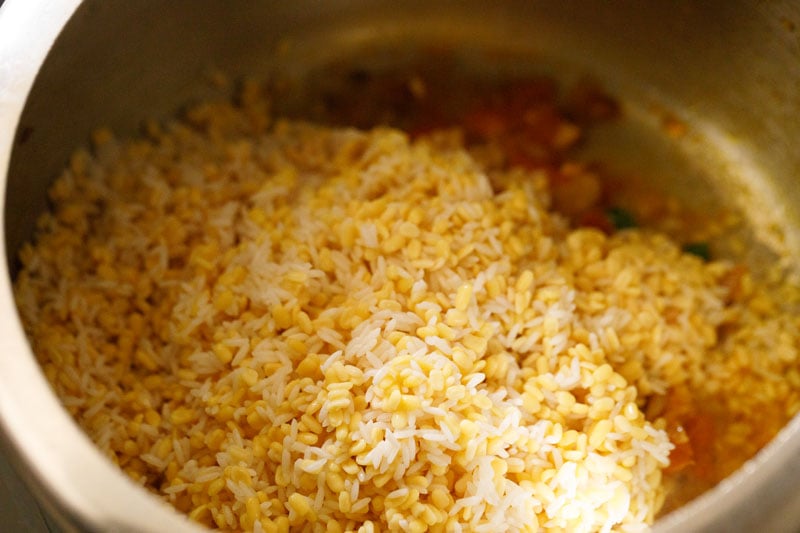 10. Season with salt to taste.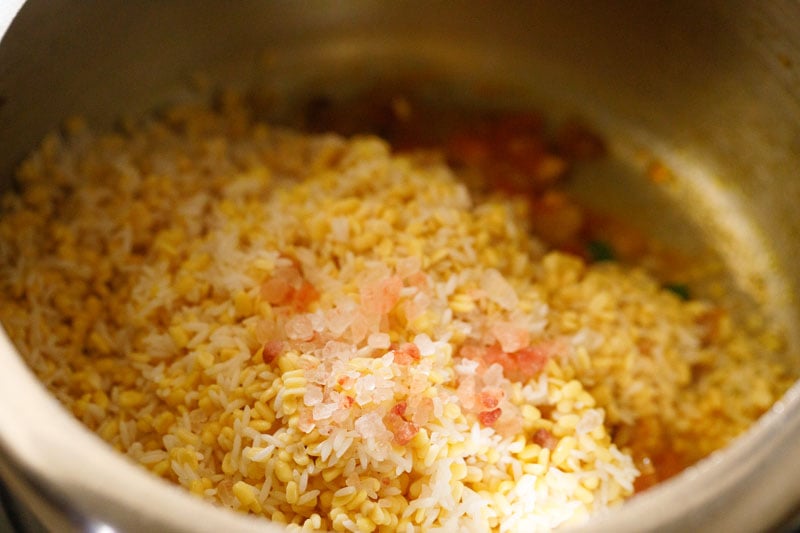 11. Mix and sauté the rice and lentils for a minute.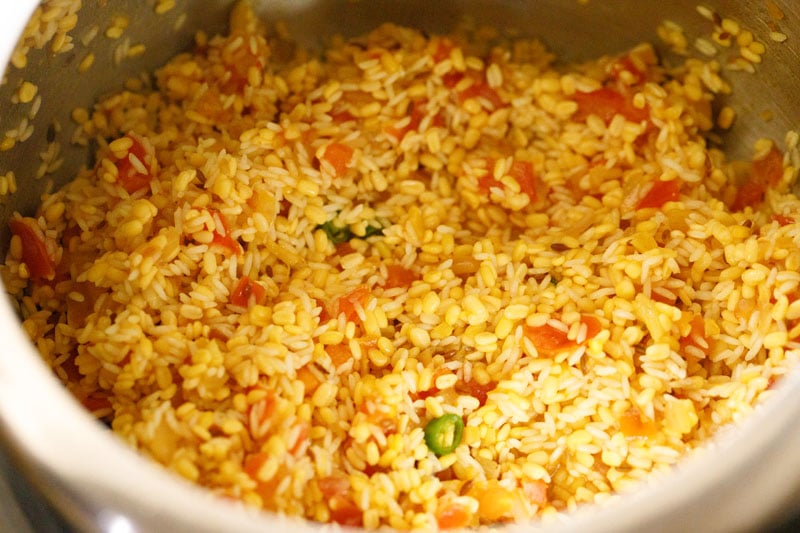 Add Water
12. Add 3.5 cups water and mix really well, deglazing the bottom and sides of the cooker.
3.5 cups of water will give you a porridge like consistency. For a thinner consistency, add 4 to 4.5 cups water.
TIP: Check the taste of water and it should be slightly salty. If the water does not taste salty, then add a few pinches of salt and mix. Check the taste again.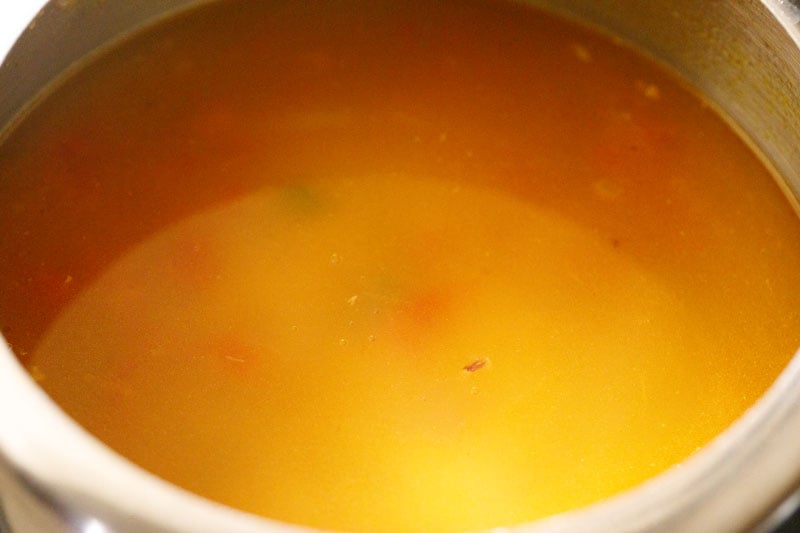 Pressure Cook Dal Khichdi
13. Finally, close the lid tightly and pressure cook for 8 to 9 minutes or 7 to 8 whistles on medium-high to high heat. When the pressure falls on its own in the cooker (which takes some minutes), open the lid.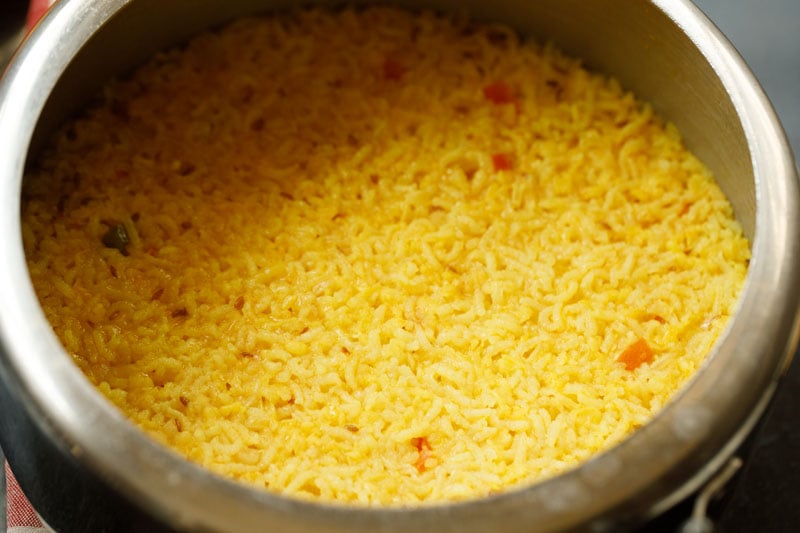 14. Stir the khichdi.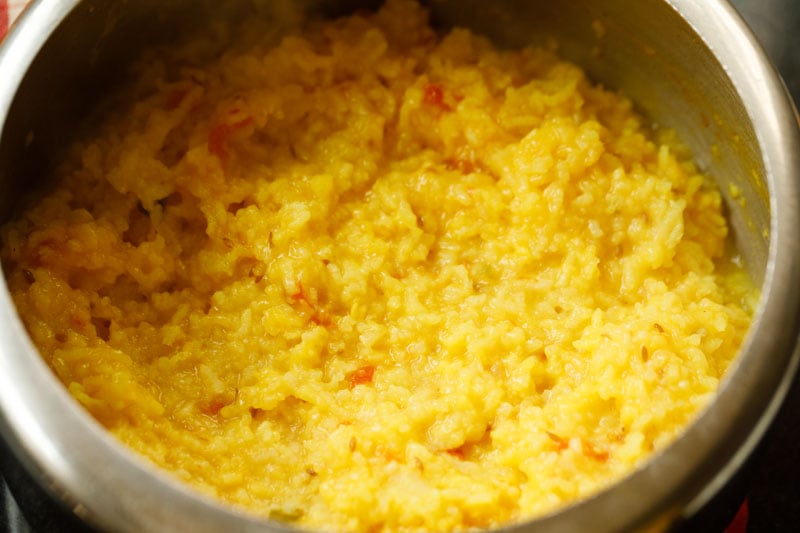 Check Khichdi Consistency
15. The below photo shows the consistency of khichdi. If you prefer a thinner version or if is too thick for your liking, add some hot water and mix. Simmer for a couple of minutes stirring often.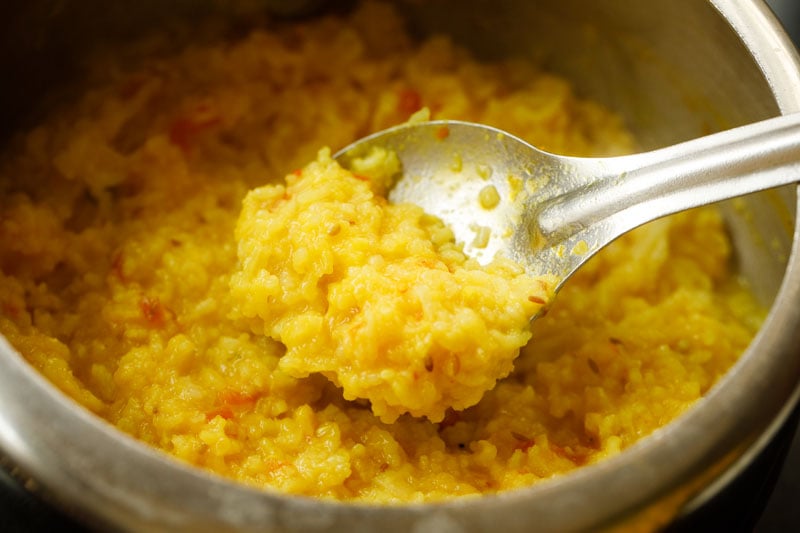 Serve and Enjoy!
16. Serve your delicious dal khichdi hot or warm! You can also top with ghee before serving.