Ingredients
FOR LAMB / MUTTON
500 grams lamb or mutton, preferably lamb shanks or lamb leg cut into pieces, notes1
1 tablespoon green chili paste, or less
1 tablespoon ginger paste
½ tablespoon garlic paste
3/4 cup water
FOR GRAVY
3 tablespoon oil or ghee, plus 1 more tablespoon
1 onion, chopped (¼ cup onion for little gravy or ½ cup onion for more gravy or skip onion for dry Karahi)
Spices
1 teaspoon Kashmiri chili powder, notes 2
1 teaspoon cumin powder
½ teaspoon red chili flakes or powder or to taste
½ teaspoon coriander powder
½ teaspoon turmeric powder
½ teaspoon black pepper
½ teaspoon garam masala powder, notes 3
½ teaspoon salt, more to taste
Other
4 tomato, pureed, notes 4
1 teaspoon dry fenugreek leaves, Kasuri Meethi, notes 5
4-5 thick green chilies, deseeded and cut in half lengthwise
1- inch ginger, cut in julienne
1 tablespoon butter, optional
2 tablespoon chopped fresh coriander
2 lemon wedges
Instructions:
Karahi is easiest of all Pakistani curries and you can't go wrong with it.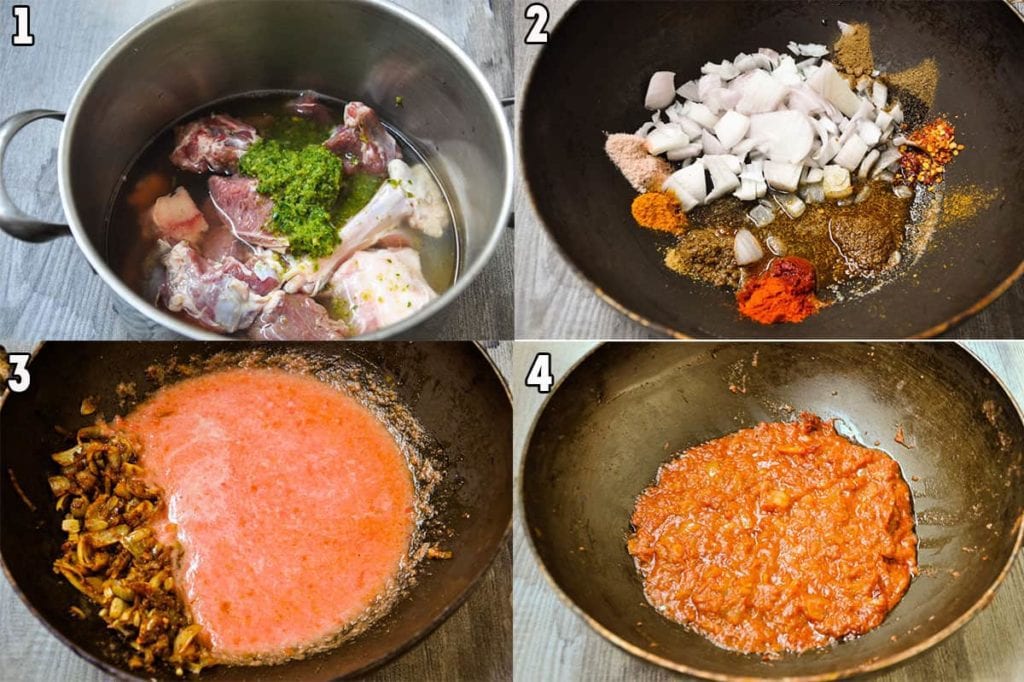 Take meat in a pot and add ginger, garlic, and chili paste. Also add 3/4 cup water. (If you have raw ginger, garlic, and chili, just put 2-3 cloves of garlic, 2 chilies (or taste), and ½ inch piece on ginger in a mincer or chopper. Grind until finely chopped and add to the lamb.) Cover and cook lamb on medium-low heat until half-done about 15-25 minutes, set aside.
Simultaneously, in a wok saute onions in oil or ghee until translucent. Then add all the spices and cook for a minute. (You can dump all ingredients together as shown in the picture and, but frying onions first and then adding spices tastes best.)
Make tomato puree by blending 4 tomatoes in a blender. Add to the fried onion masala. (You can also add roughly chopped tomatoes, puree works best.) Cover and cook gravy on medium heat for 5-7 minutes.
Then remove the lid and dry excess tomato water on medium-high heat until you see oil shining on the sides of pan and gravy is thick, (bhunnofy). Stir frequently.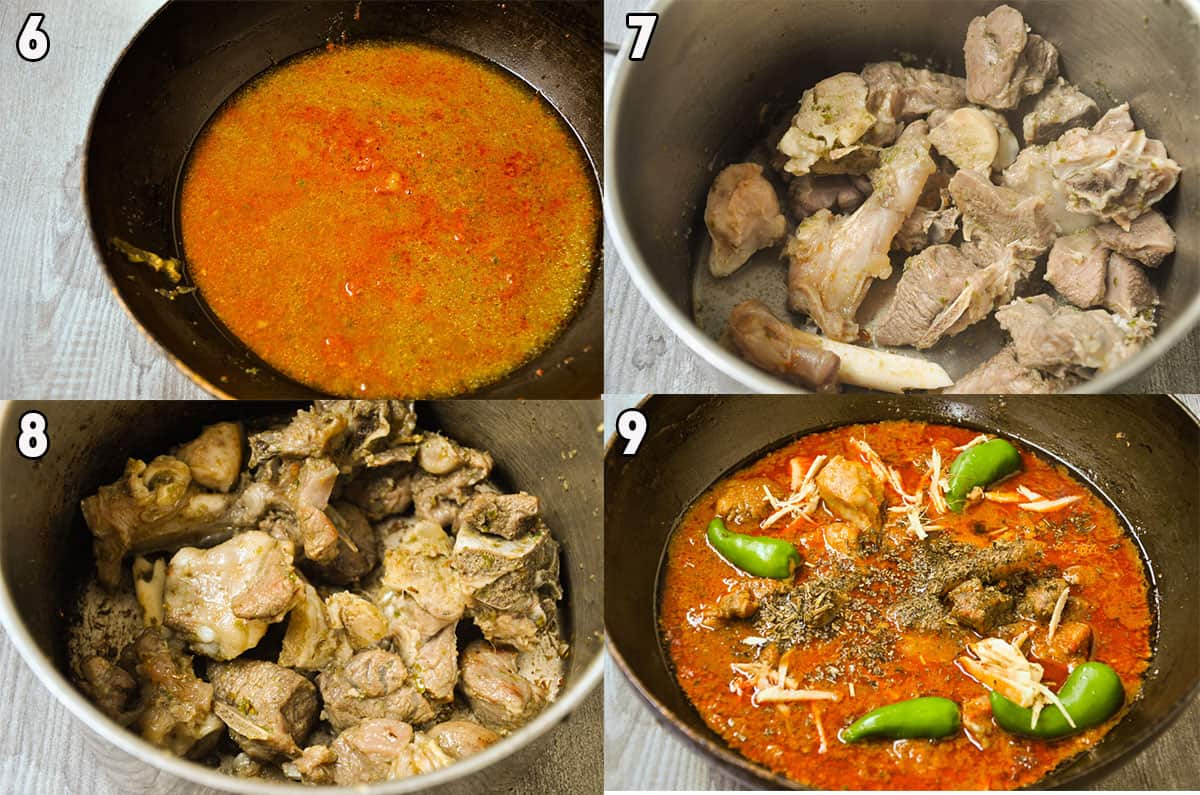 By the time your gravy is cooked your meat should half done. Add water from the lamb pot to the tomato gravy. (You might have a little or more water).
Add 1-2 tablespoons oil to the lamb/mutton and fry for 1-2 minutes until meat turns slightly brown.
Add the meat to the onion gravy. Also add fenugreek dried leaves, half of the sliced ginger, and few chilies. Cover and cook until lamb is tender for about 10 minutes. (Use your best judgment and adjust the consistency of the gravy by adding a little water, only if needed. Or if gravy is thin, burn excess water on high heat).
Finally, add little butter and garnish with remaining chilies, ginger, and fresh cilantro. Serve Lamb Karahi with naan, chapati roti, or plain rice with lemon wedges, fresh salad, and raita on the side.