Ingredients
For Cooking Rice
1 cup rice (heaped) or 3 to 4 cups cooked rice
1.75 to 2 cups water
¼ teaspoon salt or add as required
Other Ingredients
1.5 to 2 tablespoons lemon juice or add as required
1 teaspoon mustard seeds
1 teaspoon urad dal (spilt and skinned black gram)
2 dry red chilies – preferably seeds removed
1 teaspoon chopped green chilies or 1 to 2 green chillies – chopped
12 to 15 curry leaves
1 generous pinch asafoetida (hing)
½ teaspoon turmeric powder
1 tablespoon cashews – halved or chopped (optional)
¼ cup peanuts – optional
3 tablespoons sesame oil (gingelly oil) or any neutral oil
salt as required
Directions
Cook Rice
1. First rinse 1 cup heaped rice a couple of times and then soak in enough water for about 20 to 30 minutes.
You can use short grained rice or a long grained rice like basmati. In my step-by-step guide, I have added short grained rice. In the video, basmati rice is used.
2. Then drain all the water from soaked rice. Add rice in a 2-litre or 3-litre pressure cooker. Add ¼ teaspoon salt or add salt as required.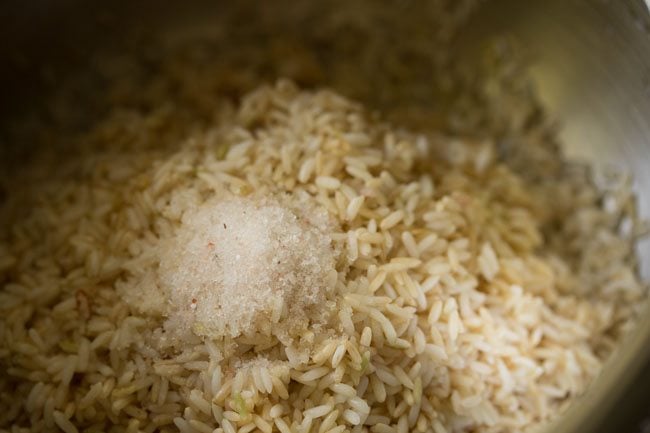 3. Add 1.75 to 2 cups water.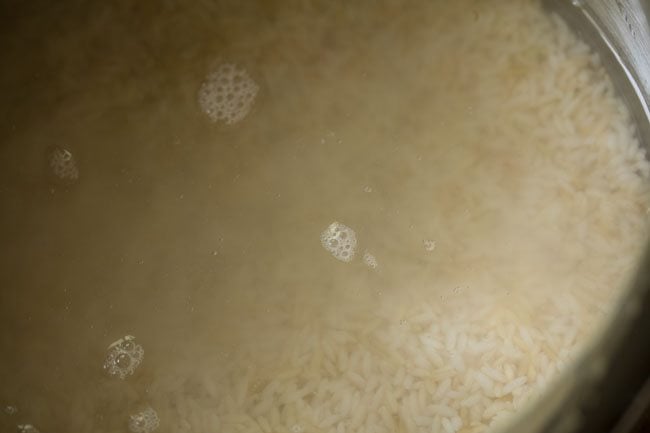 4. Pressure cook rice for 8 to 10 minutes or for 2 to 3 whistles on a medium to medium-high heat. When the pressure settles down on its own in the cooker, then open the lid.
You can even cook rice in a pan or in the Instant Pot. Follow the steps as listed below:
Pan method: Take rice, salt and 2 cups water in a pan. Cover and simmer until all the water has been absorbed and rice grains are tender and fluffy. Check when the rice is simmering and if the water has dried up with rice grains undercooked, add some more hot water and continue to cook.
Instant Pot method: Add rice, salt and 1 or 1.25 cups water (depending on rice type and quality) in the steel insert of a 6 quart IP. Pressure cook for 5 minutes on high. Do a quick pressure release after 5 minutes.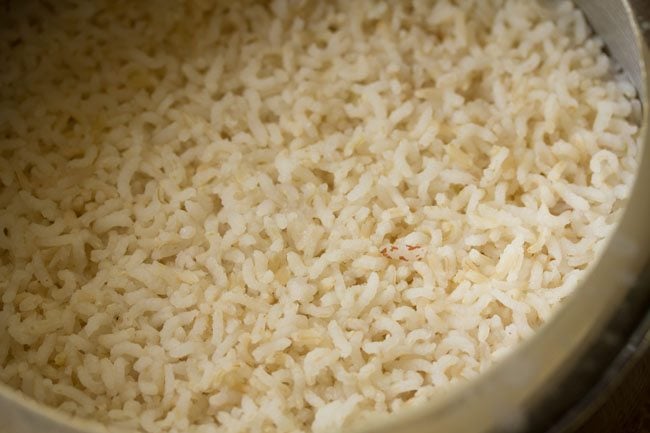 5. Empty the cooked rice in a bowl or plate and set aside so that it becomes warm or cool at room temperature. You can also fluff the cooked rice and let it cool in the cooker itself.
1 heaped cup of raw rice will yield 3 to 4 cups of cooked rice. However, this can very depending on the type of rice.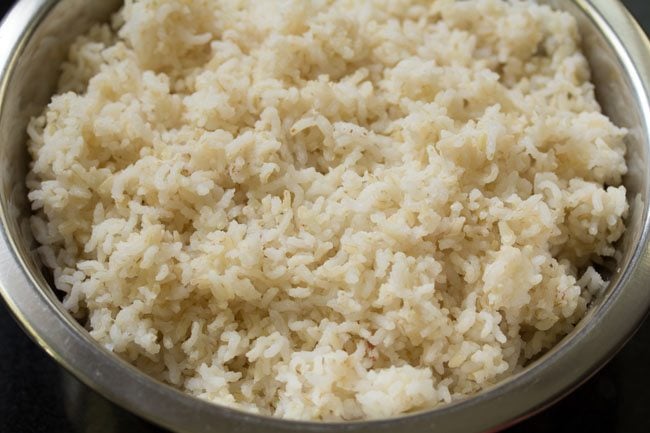 6. Squeeze juice from 1 lime or 1 small lemon into a small bowl. You will need about 1.5 to 2 tablespoons lime or lemon juice.
If you want a more tangy taste, then you can add more lemon juice. Set aside.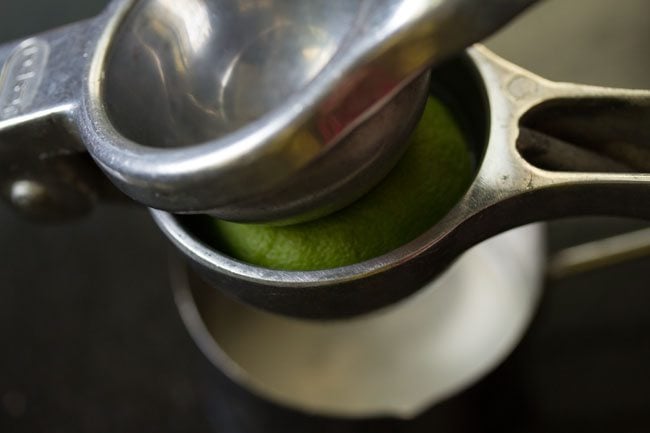 Fry Nuts
7. Heat 2 tablespoons sesame oil in a pan. Add ¼ cup peanuts. The sesame oil that is added is made from raw sesame seeds and is also known as gingelly oil. It has a totally different flavor and aroma than the south-asian toasted sesame oil.
If you do not have sesame oil, then add sunflower oil, canola oil, avocado oil, peanut oil or grapeseed oil.
If you have roasted peanuts ready, then you can give a miss to this step. I sometimes have extra roasted peanuts in the pantry to be had as a snack or to be added in recipes like these.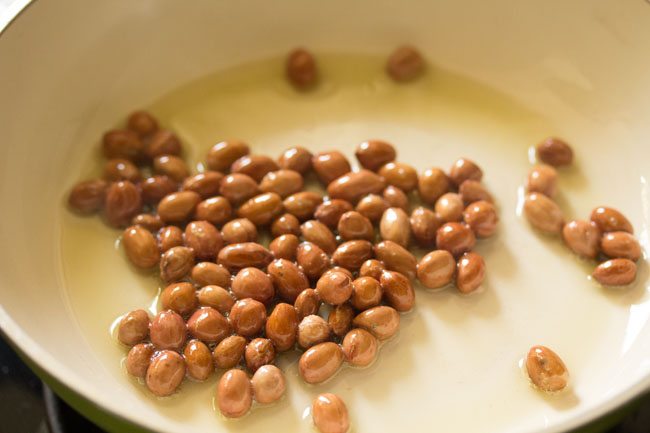 8. Fry the peanuts on a low to medium heat until they become golden and crunchy.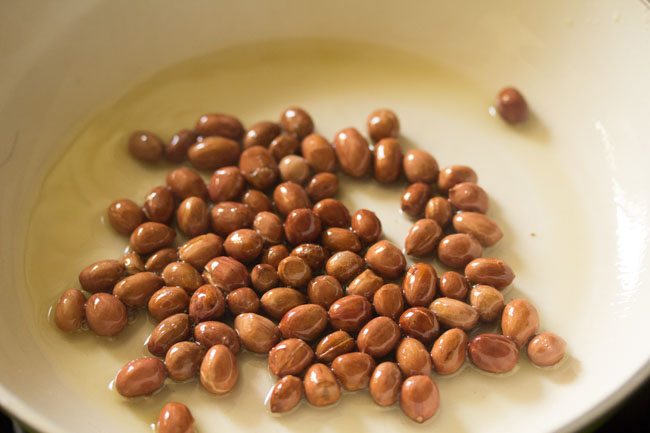 9. Remove and set aside.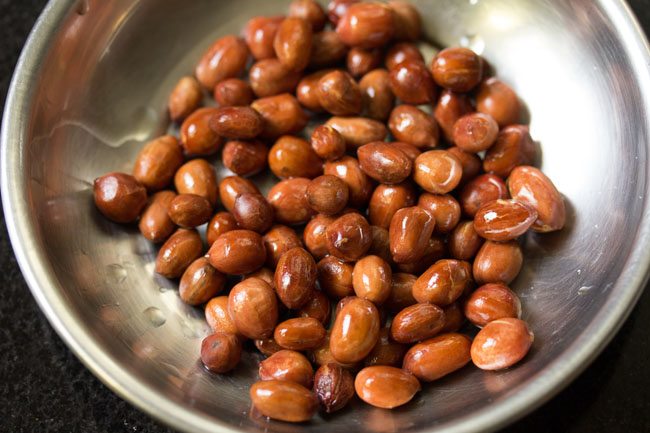 10. In the same pan add 1 tablespoon cashews.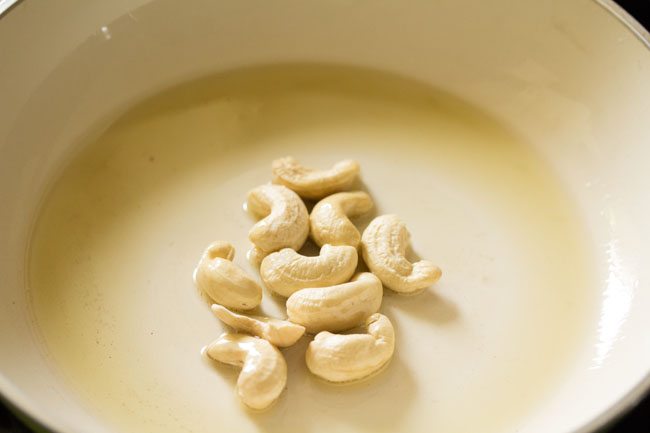 11. Fry cashews until they turn golden. Set aside.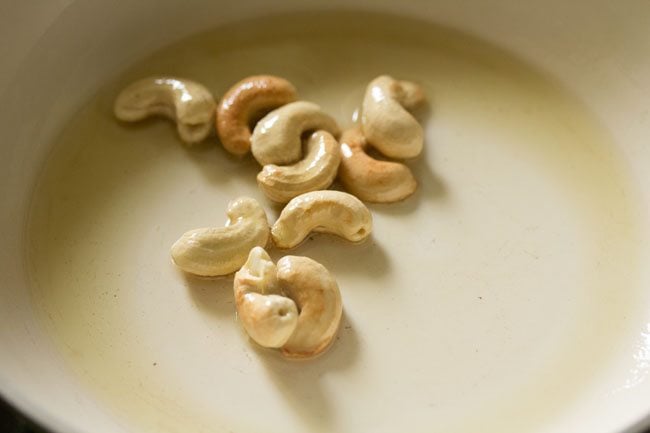 Fry Lentils, Seeds, Spices
12. Now add 1 tablespoon sesame oil in the same pan. When the oil becomes hot, lower the heat and add 1 teaspoon mustard seeds.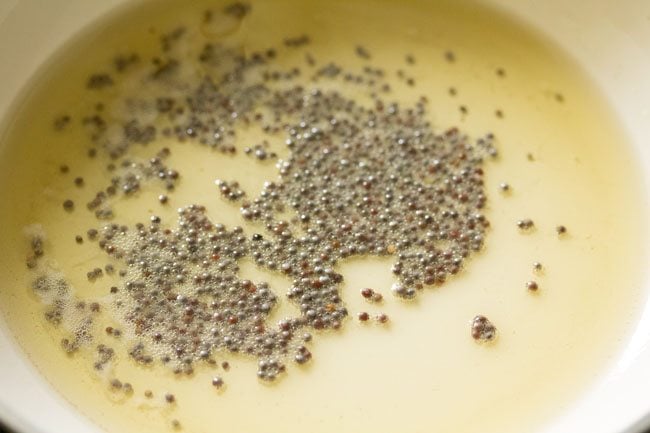 12. When the mustard seeds begun to crackle, then add 1 teaspoon urad dal (spilt and skinned black gram).
I don't add chana dal (split and skinned bengal gram) to my lemon rice recipe, but if you want to add these, soak the lentils in hot water for 20 to 30 minutes. Drain the water and then add them to the oil at this step.
Make sure they are pat dried or the extra water or moisture in them will make the oil splutter too much.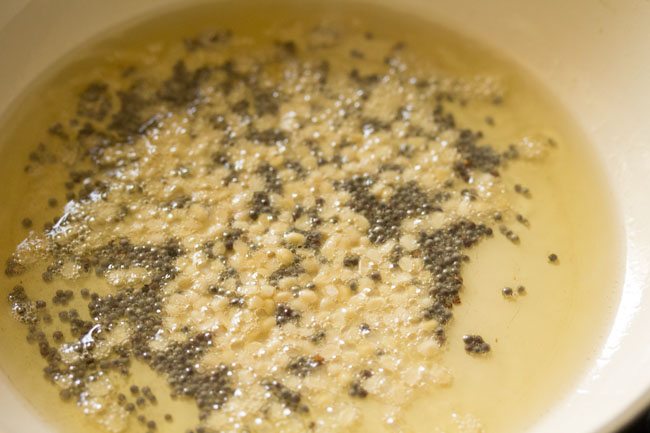 13. On a low heat, fry the urad dal till they turn golden.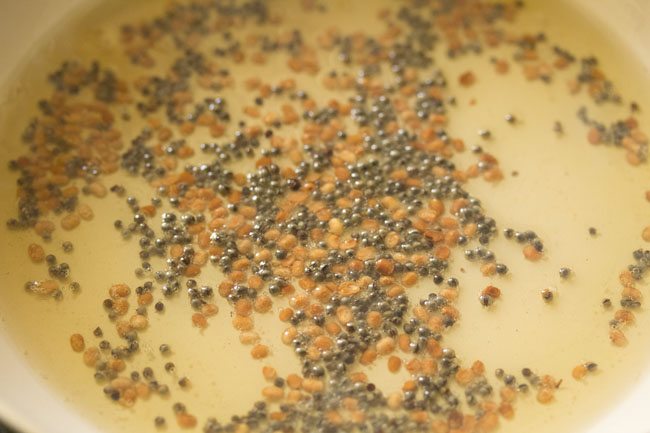 14. Next add 12 to 15 curry leaves, 1 teaspoon chopped green chillies and 2 dry red chilies (preferably seeds removed).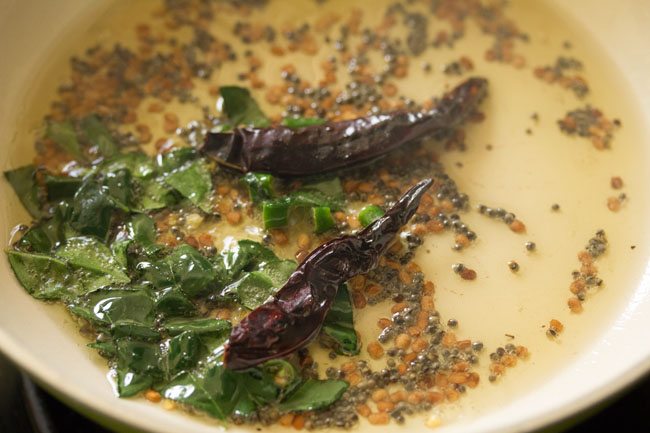 15. Sauté for some seconds until the red chilies change color.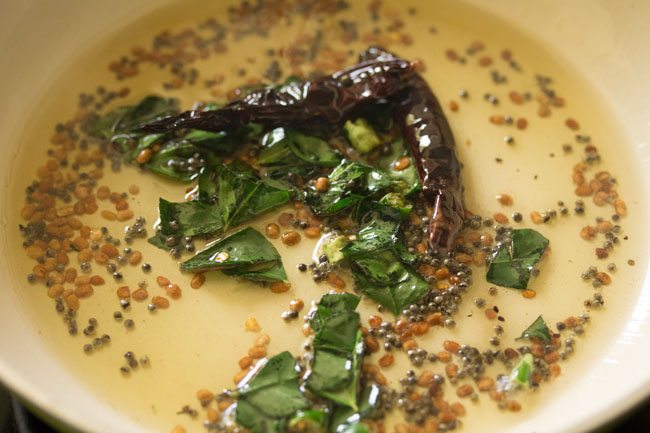 16. Switch off the heat and add ½ teaspoon turmeric powder and 1 generous pinch asafetida (hing).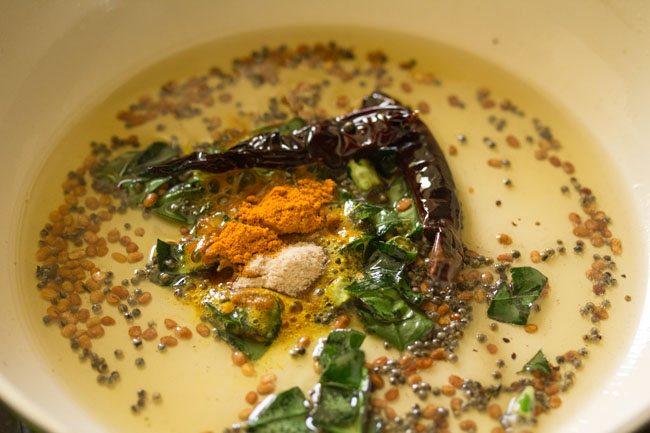 17. Mix very well.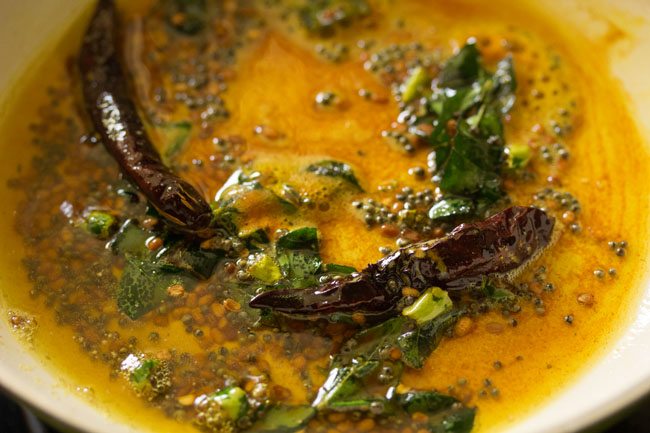 Make Lemon Rice
18. Now pour this tempering mixture in the cooked rice.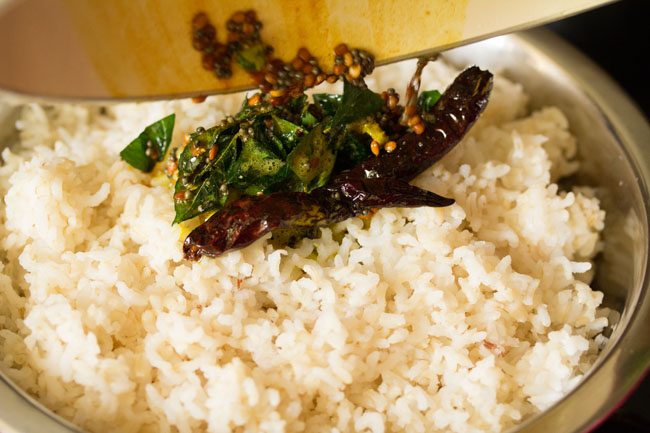 19. Add the fried peanuts and cashews.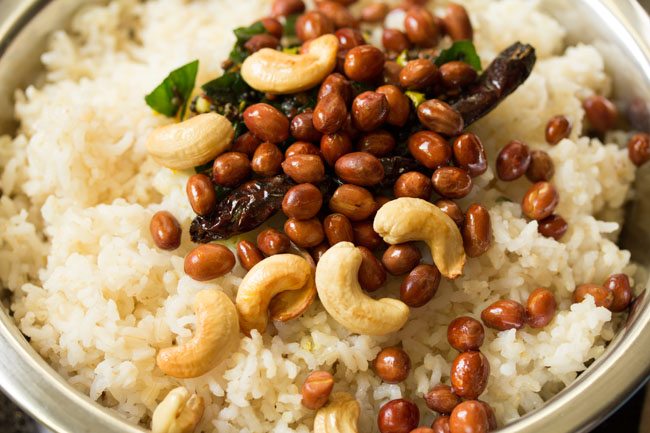 20. Add lemon juice – about 1.5 to 2 tablespoons.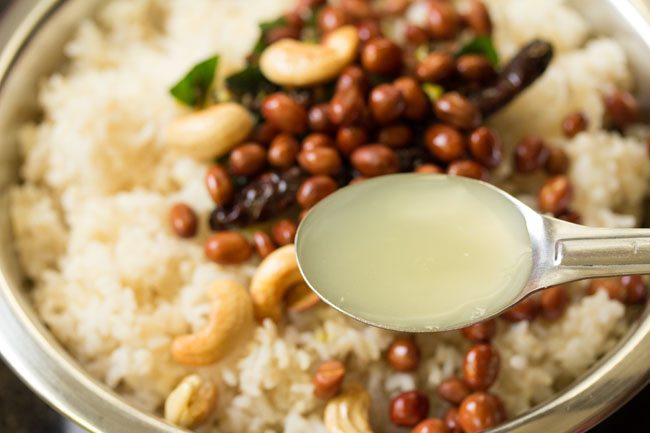 21. Add salt as required.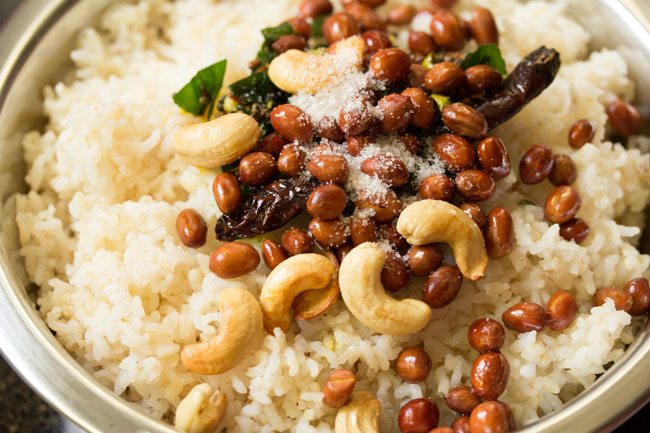 22. Mix very well.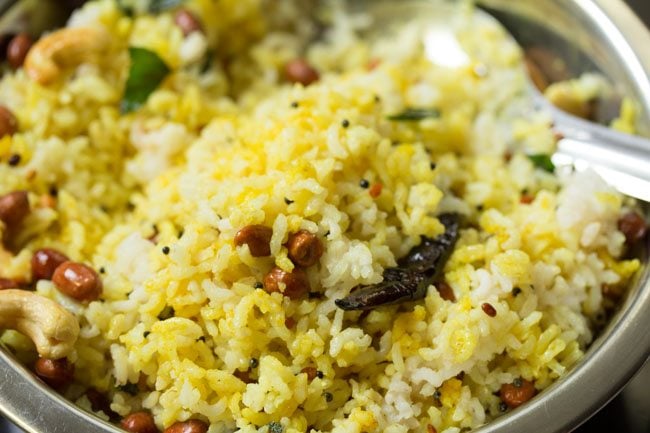 23. Check the taste and add more lemon juice or salt if you want. Keep the lemon rice or chitranna covered for the flavors to blend for 4 to 5 minutes.
While serving garnish with some chopped coriander leaves (cilantro) if you prefer.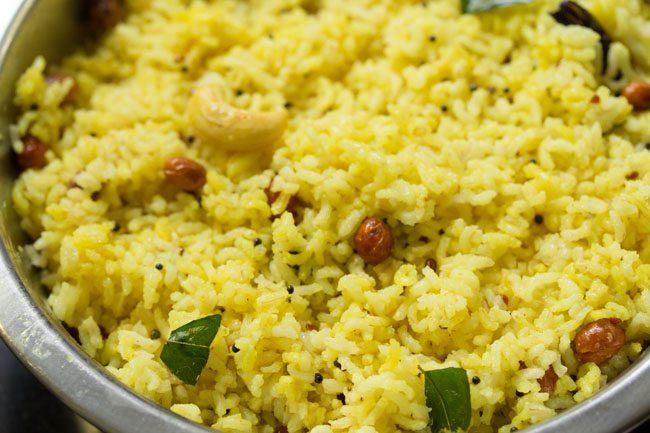 24. Serve lemon rice with papaddums or vadams and coconut chutney or just have it plain. You can even pack lemon rice in tiffin or for a travel journey.