Ingredients:
Spice Mix
6-8 whole round red chillies
1 tablespoon coriander
1 tablespoon cumin
1 tablespoon red chilli powder
1 teaspoon Garam Masala Powder
1 teaspoon salt
Marination
1½ kg mutton leg
4 tablespoon lemon juice
1 tablespoon ginger paste
1 tablespoon garlic paste
½ cup yogurt
Gravy
1/3 cup cream
3 tablespoon chilli garlic sauce or ketchup
Tempering
2 tablespoon oil
1 tablespoon garlic
½ teaspoon cumin
3 green chillies
12 curry leaves
½ cup water , to spread over baking tray
Garnish
 Instructions:
Prepare Spice Mix
Heat a pan and dry roast cumin seeds, coriander seeds, and red button chiles for 30 seconds. Now, also add powdered spices that are red chilli powder, whole spice powder, and salt. Roast for 2-3 seconds and transfer to a food processor.
Grind spice in to a fine powder.Pass spice mix through a fine sieve.
Grind the remains in a sieve a second time. Sieve the spice mix once more and discards the remains now.
Spice Mix is read. (See 'Tips' above the recipe card for more information and variations.)
Marination:
In the spice mix bowl, add yogurt, ginger, garlic, and lemon juice. Mix well and set aside.
Wash Lamb/Mutton Leg thoroughly and remove excess fat. Pierce the leg all around with a fork. Pierce should be deep. Rub the spice mix paste all over the mutton leg and marinate it overnight for 8-12 in the fridge.
Next day, add two cups of water and mutton leg in large pot and cook on medium heat for 2-3 hours. Check at the interval of 30 minutes or as needed. Adjust heat and water as needed. Flip the mutton leg once or twice while cooking. Mutton should get very tender.
Mutton is ready and most of the water has dried. (If you like a little gravy and cooking it pot, do not dry all water.)
In a bowl, take tomato ketchup, cream and gravy from lamb. Mix well. (You can also add chili garlic sauce instead of ketchup if you like spicy food.)
If Baking: Just before serving transfer mutton leg to a baking tray if baking and cover the leg with ketchup, cream sauce. Also preheat the oven at 300 F.
If cooking in pot: Simply pour ketchup cream gravy in pot and mix well.
Heat oil in a small vessel and add all ingredient of tempering. Cook for 1 minute on medium heat. Then pour tempering over the mutton leg.
So here is the raan roast covered with sauce and tempering. (Note: Add half cup water in the tray so mutton leg doesn't burn from the bottom and it will also keep the raan moist.)
If cooking pot: Cover pot immediately after adding tempering. Simmer raan for 5-7 minutes low heat until thoroughly heated. Then serve. ( You may add a cup of water if you like moist and juicy raan.)
Baking Mutton leg at 300F for 5-7 minutes until toasted. (Add about a half cup of water to the tray.)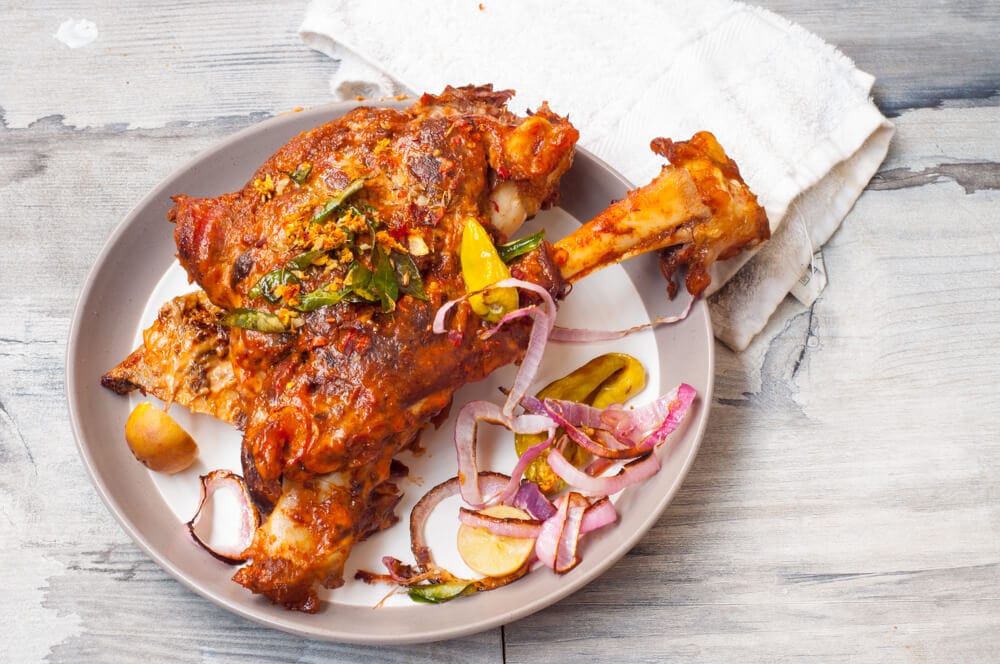 So that how yummy the Lamb's leg or raan roast turns out.
Nutrition Information
Calories: 696kcal