Ingredients:
For Paneer Filling
2 teaspoons Butter or oil
1 teaspoon Ginger-Garlic Paste
1/3 cup finely chopped onions
1/3 cup finely chopped capsicum (red, green or yellow bell pepper)
¼ teaspoon red chilli powder
¼ teaspoon Garam Masala Powder
¼ teaspoon Coriander Powder (ground coriander)
1 cup grated paneer (cottage cheese)
salt as required
Other Ingredients For Paneer Cheese Toast
4 to 5 sandwich bread slices or 8 small bread slices (whole wheat, white, multi-grain or brown bread)
1 cup grated mozzarella cheese or add as required
red chilli flakes as required
dried oregano or mixed herbs as required
some butter for toasting bread
Instructions:
1. Grate 1 cup paneer and keep aside. You can also crumble paneer.
2. Heat 2 teaspoons butter or oil in a frying pan or a small kadai.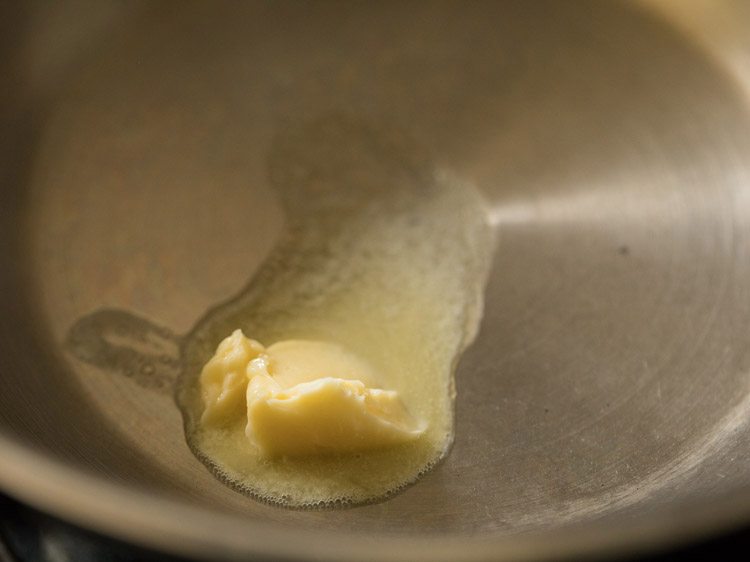 3. Once the butter melts, add 1 teaspoon ginger-garlic paste.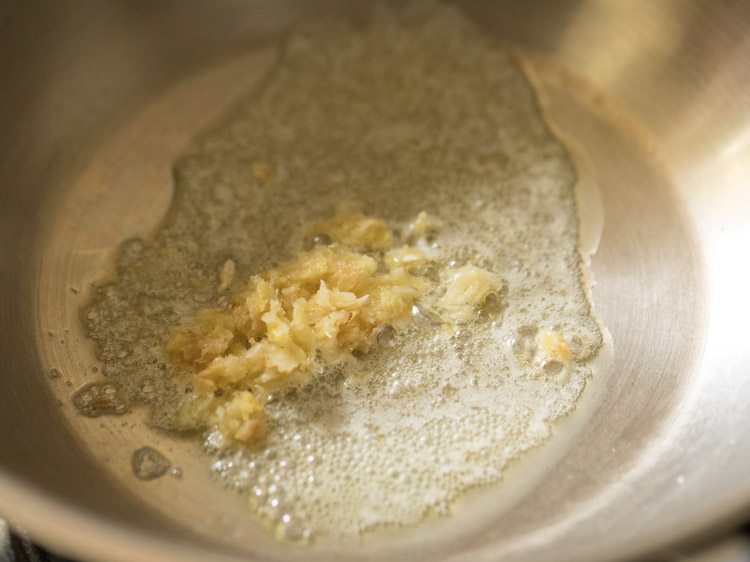 4. Saute for some seconds till the raw aroma of ginger and garlic goes away.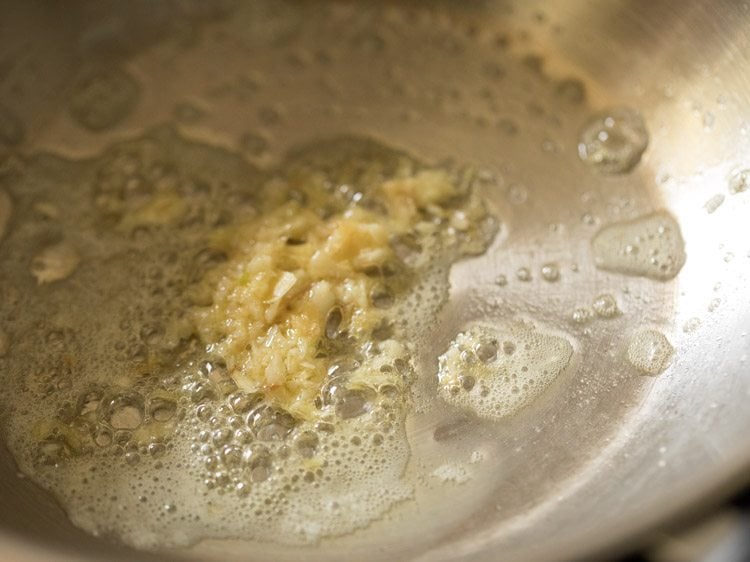 5. Next add 1/3 cup finely chopped onions.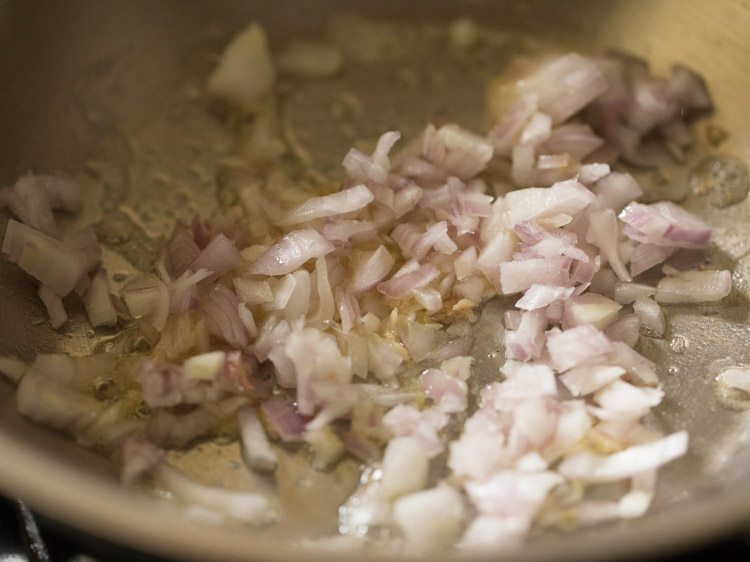 6. Then add 1/3 cup finely chopped capsicum. You can use red, green or yellow capsicum (bell pepper). Here I have used red capsicum.
7. Mix well.
8. On a low to medium-low flame, saute till the onions turn translucent. If you have boiled sweet corn you can add them at this step.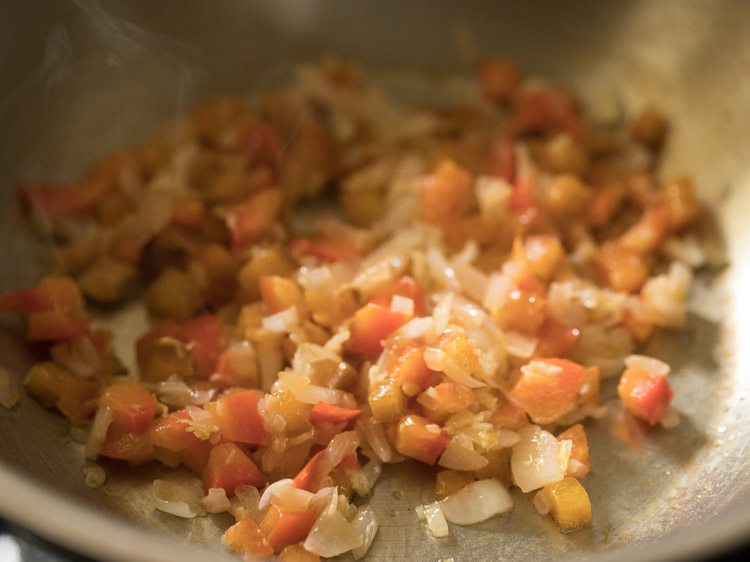 9. Now add ¼ teaspoon red chilli powder, ¼ teaspoon coriander powder and ¼ teaspoon garam masala powder. A bit of black pepper can also be added.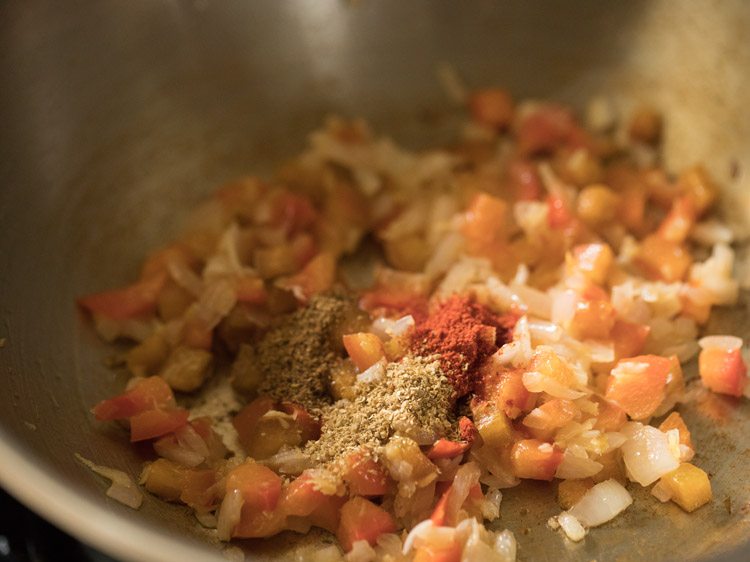 10. Mix very well.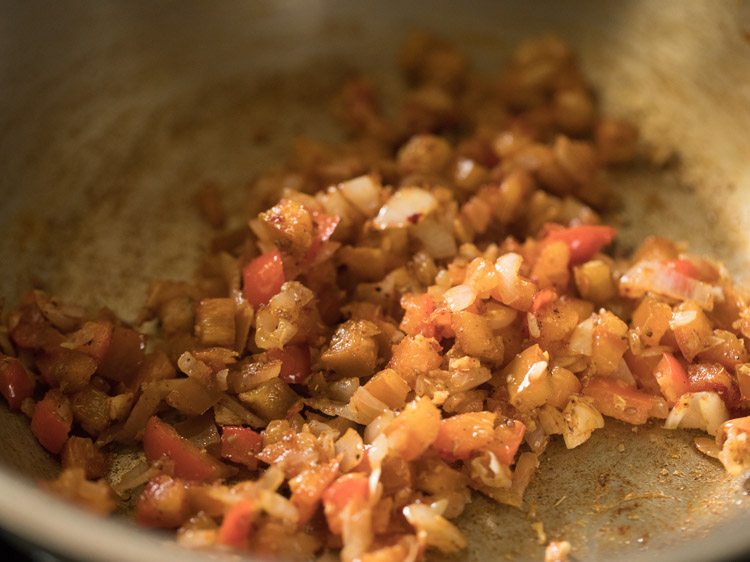 11. Add paneer.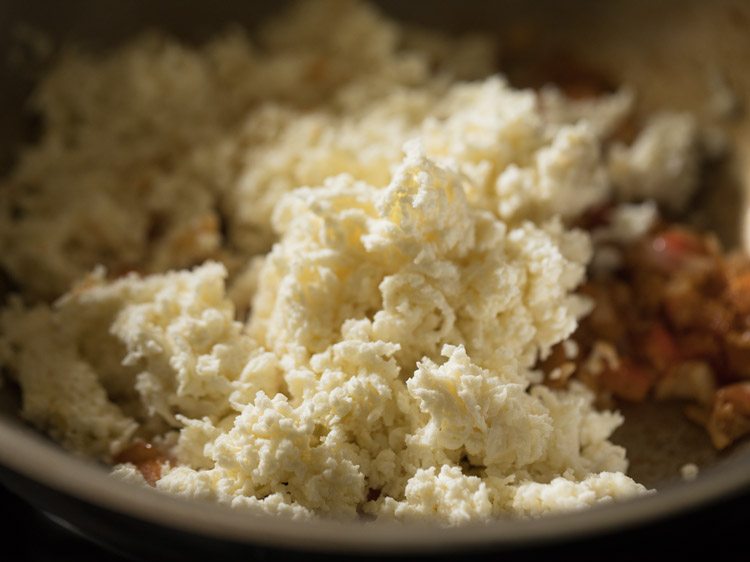 12. Mix well. Then switch off the flame.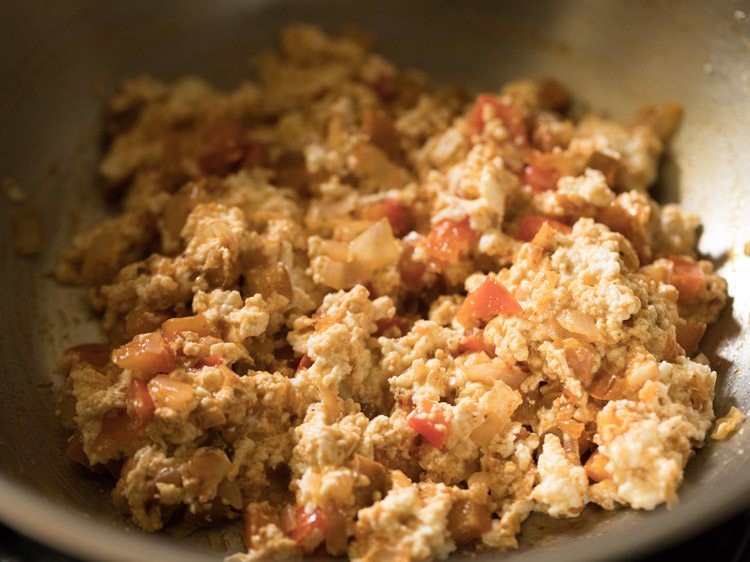 13. Lastly season with salt as per taste.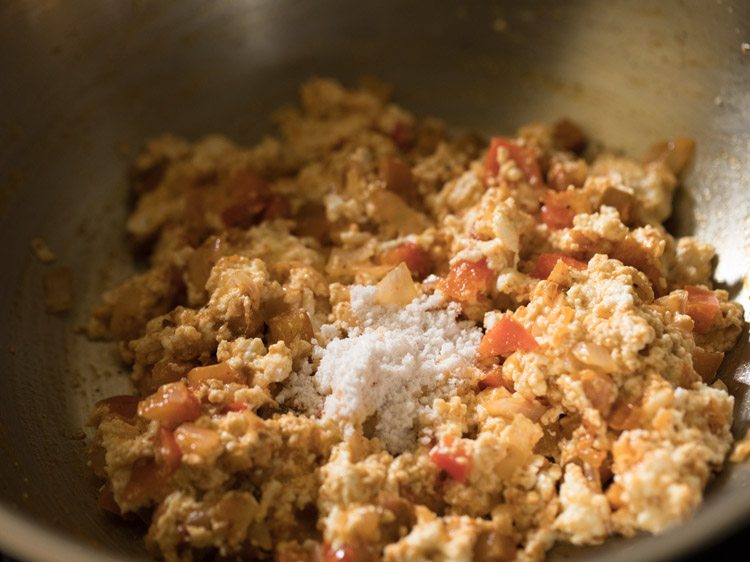 14. Mix again very well and keep the pan aside.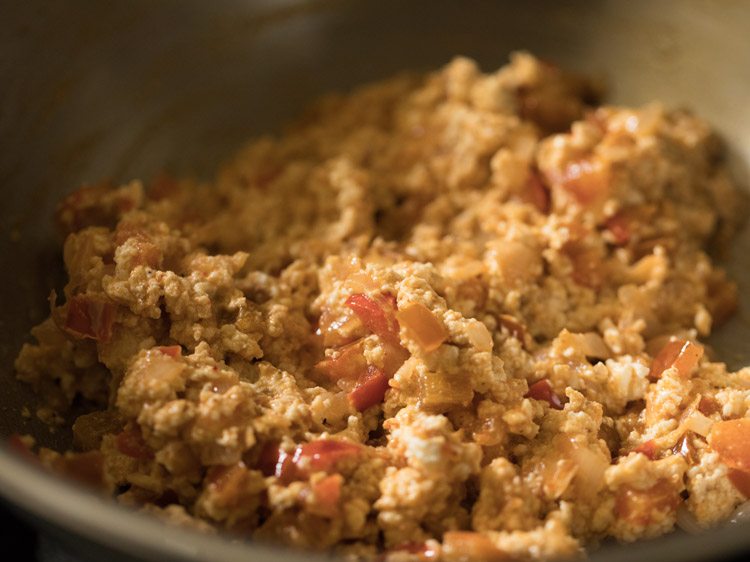 Making paneer cheese toast sandwich
15. Now grate 1 cup mozzarella cheese and keep aside.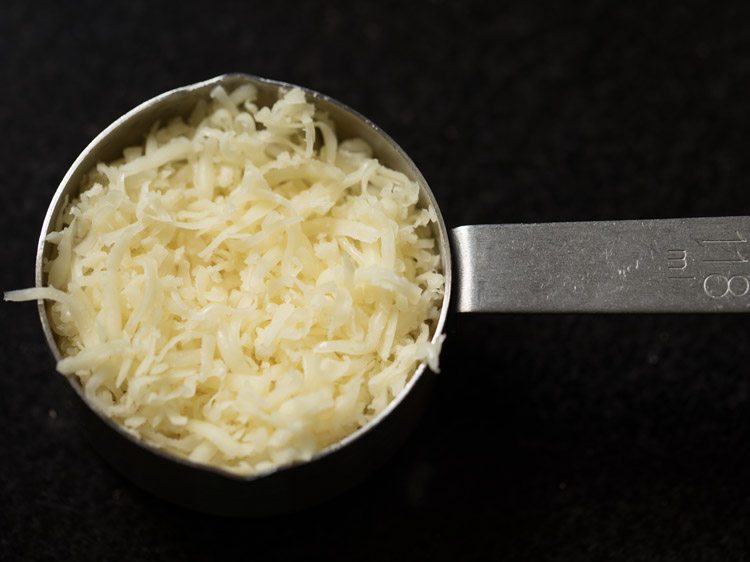 16. Take the bread slices. You can slice off the side crusts if you want.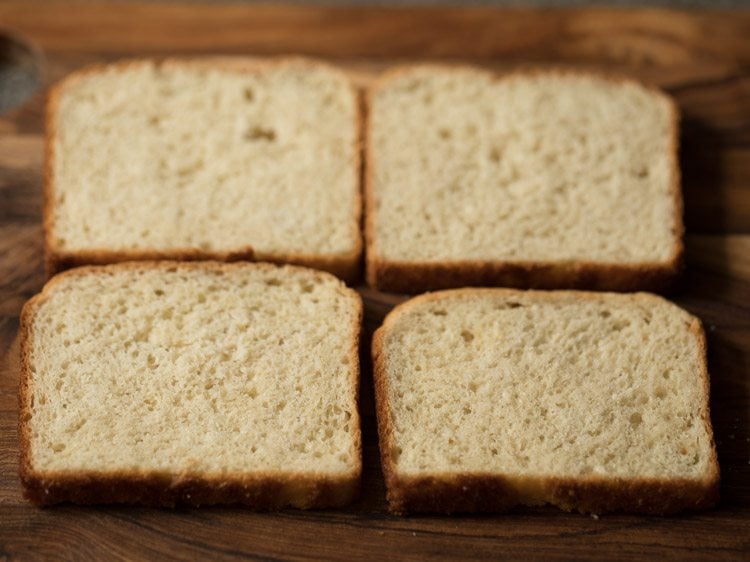 17. Spread a bit of butter or oil on a heavy tawa. Keep the flame to its lowest. Do use a heavy tawa or pan or else the bread can get too much browned or burnt from the bottom. Also keep the flame to its lowest when making the entire recipe. then place the bread slices on it. You can keep 2 to 3 bread slices at a time depending on the size of the tawa or pan. You can use any variety of bread like brown bread or white bread or whole wheat bread.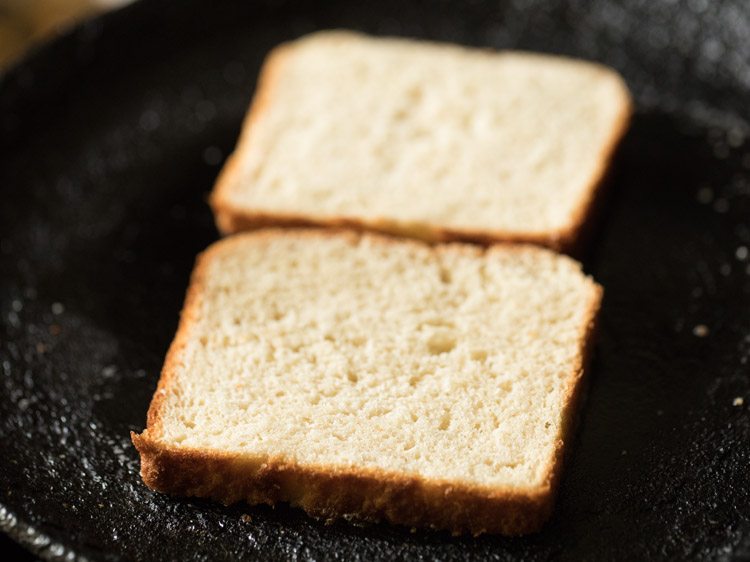 18. Lightly toast the bread slices and then flip them.
19. Now quickly top the bread slices with the paneer stuffing.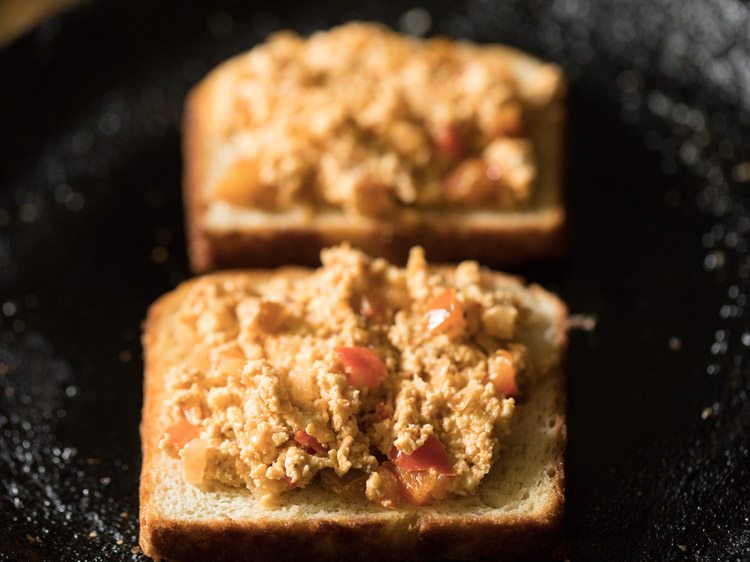 20. Top with grated mozzarella cheese. You can also use cheddar cheese, processed cheese or pizza cheese.
21. Keep the flame to its lowest. Place a lid on paneer cheese toast slices. If baking then preheat oven for 10 minutes at 200 degrees celsius. Then bake at 200 degrees celsius. first lightly toast bread in oven and then place toppings and bake till cheese melts.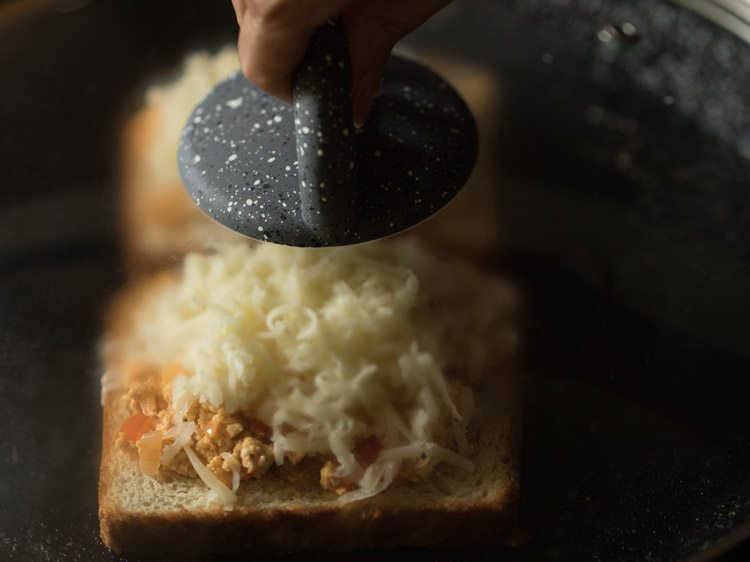 22. Cook till cheese melts and the bread slices are toasted well.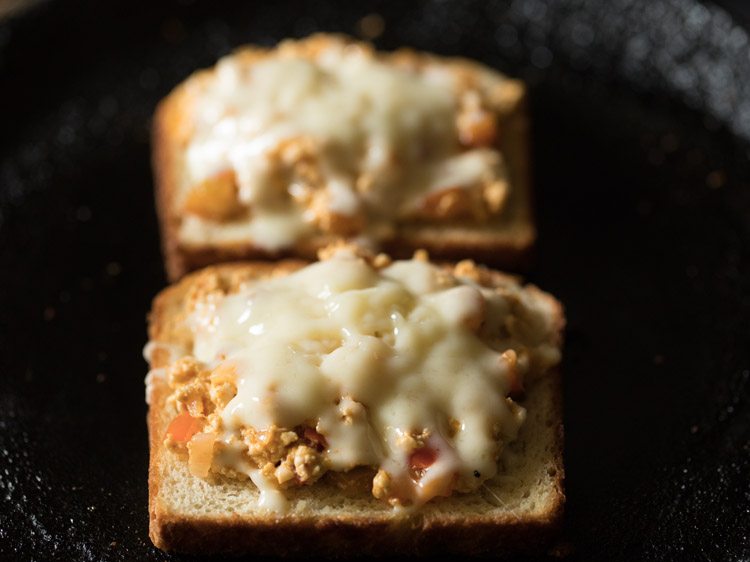 23. Remove with a spatula and place the paneer cheese toast slices on a serving plate or tray. Sprinkle some red chili flakes or dried oregano or mixed herbs if you want. Red chili flakes can be skipped also.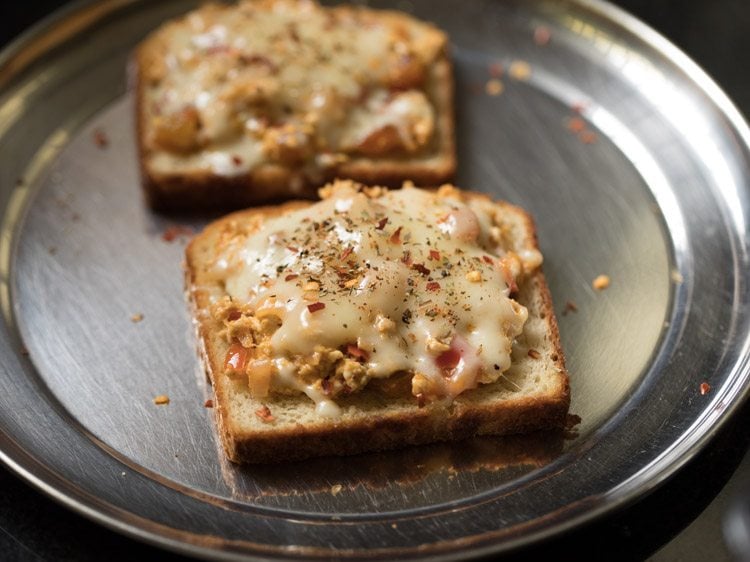 24. serve paneer cheese toast hot or warm Accompanied with mint chutney or tomato ketchup or sandwich chutney or sriracha sauce.