Ingredients
Main Ingredients
1 cup basmati rice (heaped), 200 grams
3/4 cup green peas (matar) – preferably fresh or frozen
½ cup thinly sliced onions
3 tablespoons oil or ghee (clarified butter)
1.75 cups water for stove-top pressure cooking
salt as required
Whole Spices
1 teaspoon cumin seeds
1 inch cinnamon
1 black cardamom – optional
1 or 2 green cardamom
2 to 3 cloves
1 or 2 mace strands – thin strands, optional
1 medium-sized tej patta (Indian bay leaf)
Directions
Preparation and Sautéing Onions
1. First, prepare the basmati rice: Rinse 1 heaping cup of basmati rice under cool water until the water runs clear. Then soak the rice for 20 to 30 minutes, drain, and set aside. This process is essential for making sure each grain will properly cook to create the fluffiest, most tender rice dish.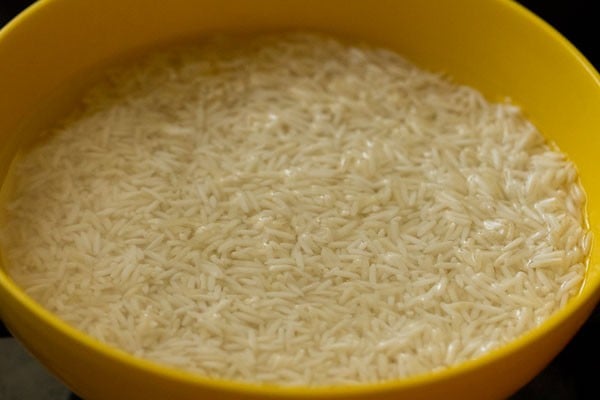 2. Next, heat 3 tablespoons of oil or ghee in a 2-litre pressure cooker. Add the following spices:
1-inch stick of cinnamon
1 medium-sized tej patta
1 teaspoon of cumin seeds
2 to 3 full cloves
1 black cardamom pod (optional)
1 to 2 thin strands of mace (optional)
1 or 2 green cardamom pods
On a low to medium-low heat fry the spices for some seconds, until they release their aroma and become fragrant. Be careful not to burn the spices while frying.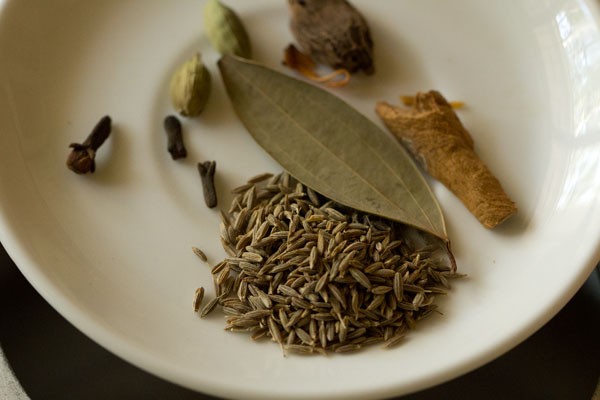 3. Then to the pressure cooker add a ½ cup of thinly sliced red onions.
TIP: Yellow and white onions also work well in this pulao.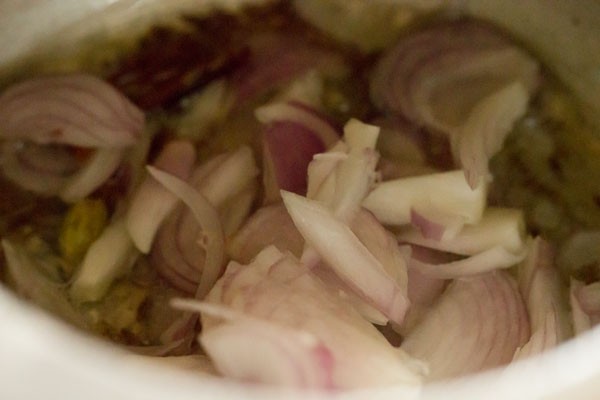 4. Mix and sauté until the onions are lightly caramelized or perfectly caramelized. But again, be sure to not burn the onions as this will create a bitter taste in the matar pulao.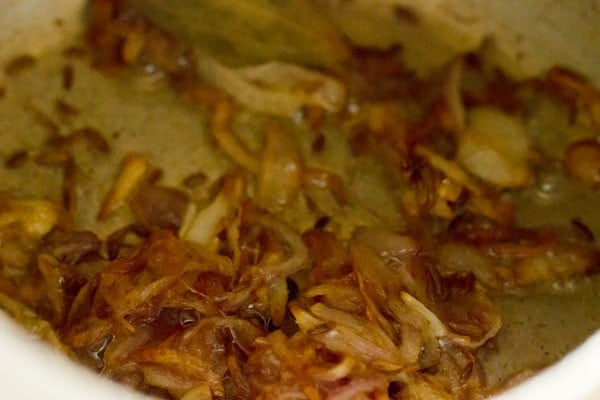 5. Now add 3/4 cup of fresh or frozen green peas.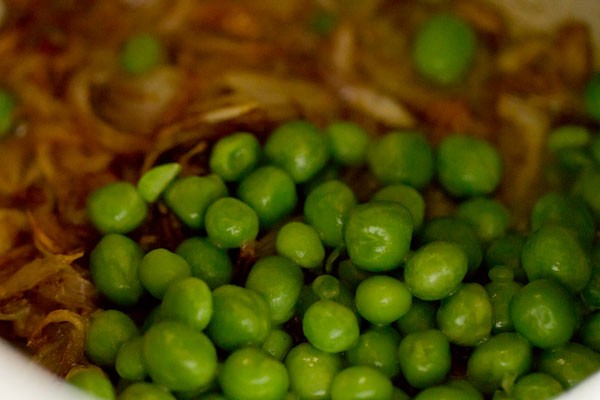 6. Mix well and sauté the peas and onions for another minute.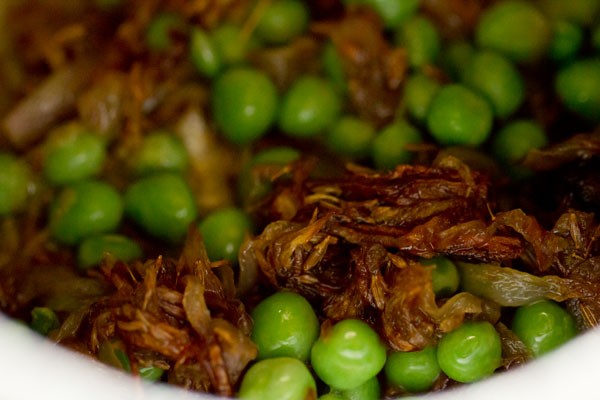 7. Add the drained basmati rice, and stir gently. You don't want to break the rice grains.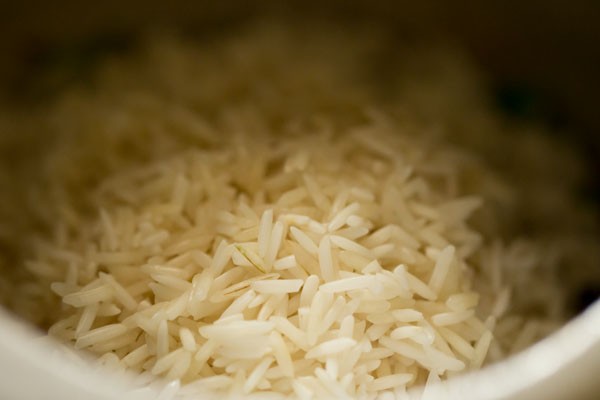 8. Sauté and stir for a minute so that each grain of rice is coated in the oil (or butter or ghee).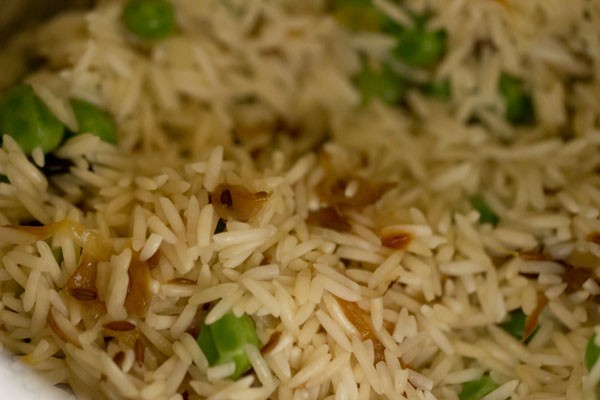 9. Then add 1¾ cups of water to the cooker.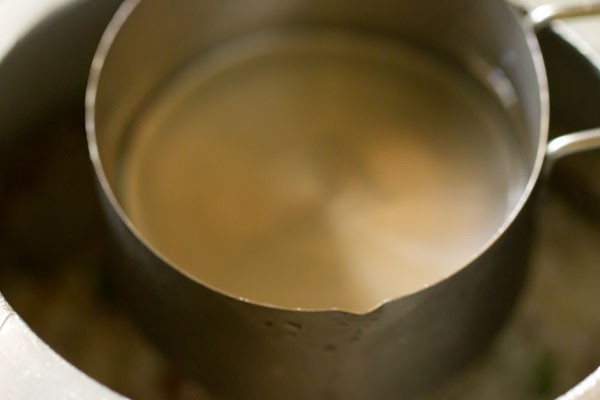 10. Season generously with salt. Mix well and check the taste to make sure that the water is slightly salty.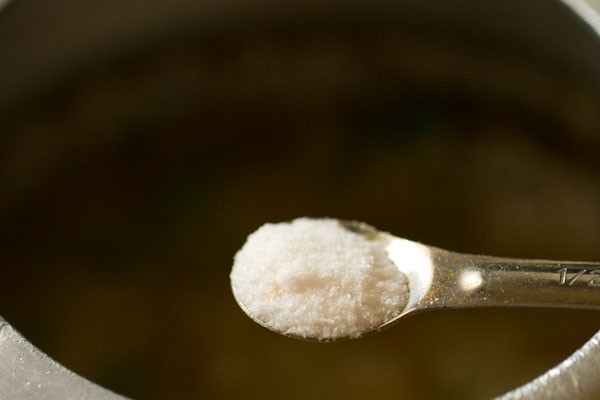 Pressure Cooking Peas Pulao
11. Cover and pressure cook for 2 whistles on medium to high heat, or for 6 to 7 minutes. If you like your rice more on the al dente side then only pressure cook for 1 whistle.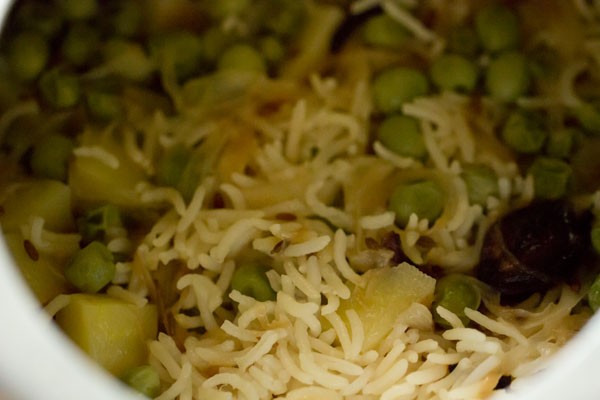 12. Allow the pressure cooker to settle on its own for several minutes before you do a manual pressure release. Then open the lid. Use a fork to gently fluff the rice before serving warm. Garnish with some coriander (cilantro) sprigs or mint leaves.