Ingredients:
For Tandoori Masala:
1 tsp Coriander Seeds
5 nos Green Cardamom
1 sticks Cinnamon
1 Bay Leaf
3 nos Black Cardamom
3 nos Cloves
1 tsp Cumin Seeds
1/2 tsp Turmeric Powder
For Chicken Marination:
1 kg Chicken
1 tsp Salt
1 tsp Red Chilli Paste
1 tsp Ginger- Garlic Paste
1 tsp Mustard Oil
1/2 cup Curd
1 tsp Peppercorn
1/2 tsp Chaat Masala
1 tsp Tandoori Masala
1/2 tsp Lemon Juice
Instructions:
Preparing Tandoori Masala:
1. In a pan dry roast coriander seeds, green cardamom, cinnamon, bay leaf, black cardamom, cloves, cumin seeds and turmeric powder together.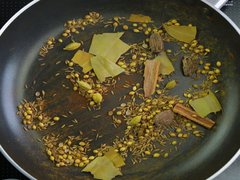 2. Put all these ingredients in a grinder and grind them to make masala.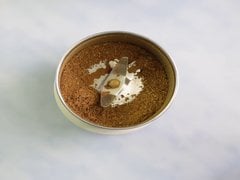 For Marinating Chicken:
1. Place chicken in a bowl.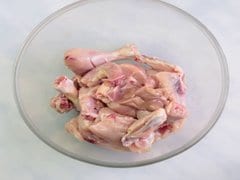 2. Add salt, red chilli paste and ginger- garlic paste to it.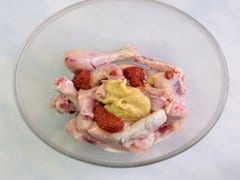 3. Now add mustard oil, curd, peppercorn, chaat masala along with tandoori masala and lemon juice.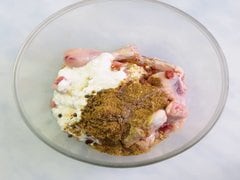 4. Mix it well using your hands so that the chicken gets properly coated with the masala.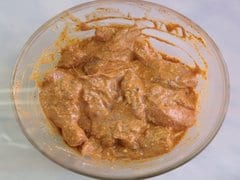 5. Cover the bowl with a thin transparent sheet and keep aside to marinate for about 30 minutes.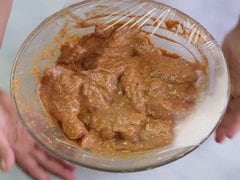 6. After marinating, grill the chicken for about 20 minutes at 250 degree C.
7. Grilling is the last task after which the chicken is ready to serve.8.Serve hot the roasted chicken with generous garnishing of Chaat masala and lemon juice along with chutney and onion rings.