Ingredients
Main Ingredients
1 medium to large carrot
1 medium to large potato
½ cup green peas
¼ cup french beans – chopped
3/4 to 1 cup Eggless Mayonnaise
1 small stick of celery – finely chopped
salt as required
black pepper powder as required, (optional)
Instructions:
For Garnish
lettuce leaves as required
some slices of tomato, cucumber or capsicum (bell pepper)
1. First, rinse 1 medium-sized carrot, 1 medium to large potato, 7 to 8 french beans (¼ cup chopped) and ½ cup green peas in fresh water.
Other veggies you can include are cauliflower, snow peas, edamame beans, sweet corn, baby corn, cabbage, broccoli.
Note that all vegetable have different cooking times. So keep this fact in mind if you are boiling the vegetables. Add the vegetables that take less time to cook later.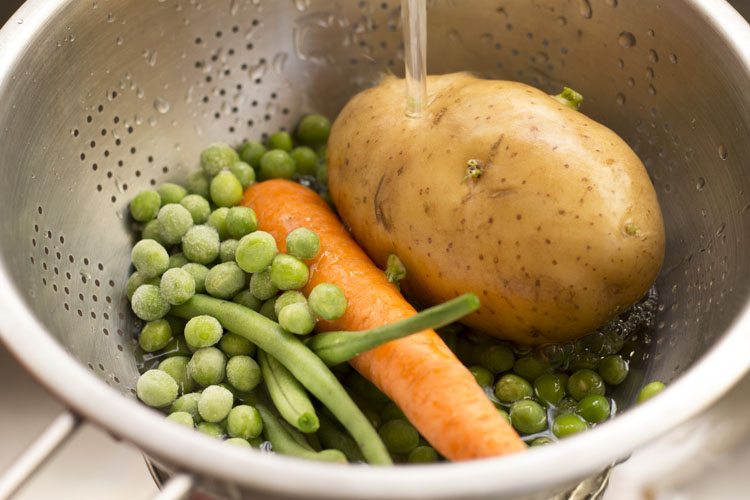 2. You can cook or steam the vegetables in a pan on the stovetop, in an Instant Pot or in a stovetop pressure cooker.
For cooking in the pan: Peel and chop the vegetables. Add them to a pot or pan with water almost covering them. Cover and simmer on medium-low to medium heat until the vegetables are fork-tender.
For cooking in Instant Pot: Add 1.5 cups to 2 cups water in the steel insert of a 6 quart IP. Place a trivet inside the water. Keep a pan filled with peeled and chopped vegetables on the trivet. Seal the lid moving the valve to sealing position. Pressure cook on high for 10 to 15 minutes until veggies are fork tender. Carefully give a quick pressure release after 5 minutes.
For cooking in a pressure cooker: Either add whole vegetables to boil or steam them in a pan inside the cooker. When I use a stovetop pressure cooker, I add whole vegetables and boil them. Add enough water covering the veggies.
Pressure cook for 2 to 3 whistles on medium to medium-high heat. If the potato is too large, halve or quarter it. When the pressure drops on its own in the pressure cooker then only open the lid.
According to your preferences you can steam or boil the vegetables. I usually prefer to steam or boil the veggies whole as water-soluble vitamins and minerals are lost when vegetables aren't cooked whole.
Choose any method that suits you. After the vegetables are cooked and are just fork-tender, drain all the water.
Set aside till they become warm. Then peel and chop the potatoes and carrots in cubes. Chop the french beans. Set aside the cooked and chopped vegetables.
Also, measure out the remaining ingredients so you've got everything ready to mix together for the Russian salad.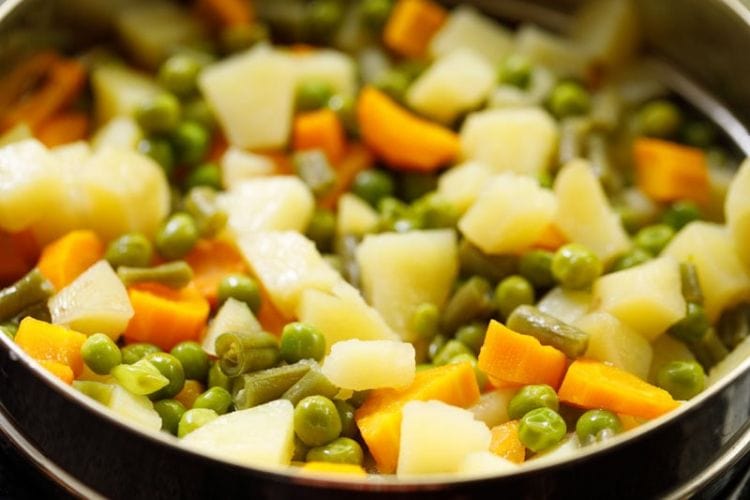 Assembling Russian Salad
3. In a mixing bowl add ¾ to 1 cup Eggless Mayonnaise. You can also use homemade mayonnaise or your preferred brand of mayo. Here I have used homemade mayo that is both egg-free and vegan.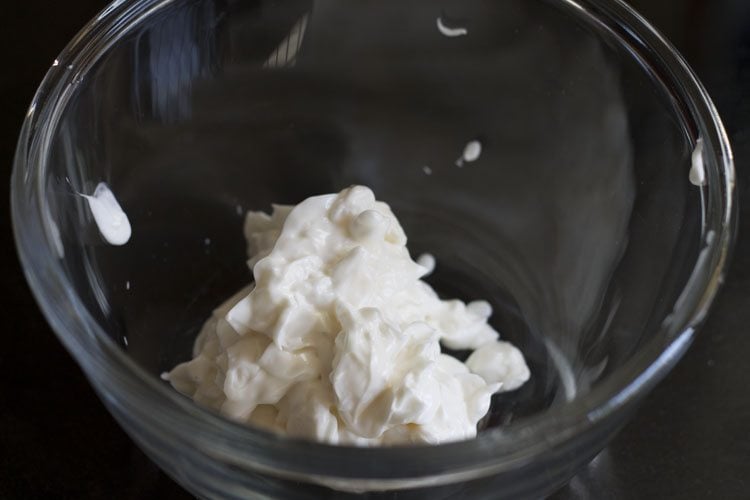 4. Use a spatula or wired whisk to beat the mayo until smooth.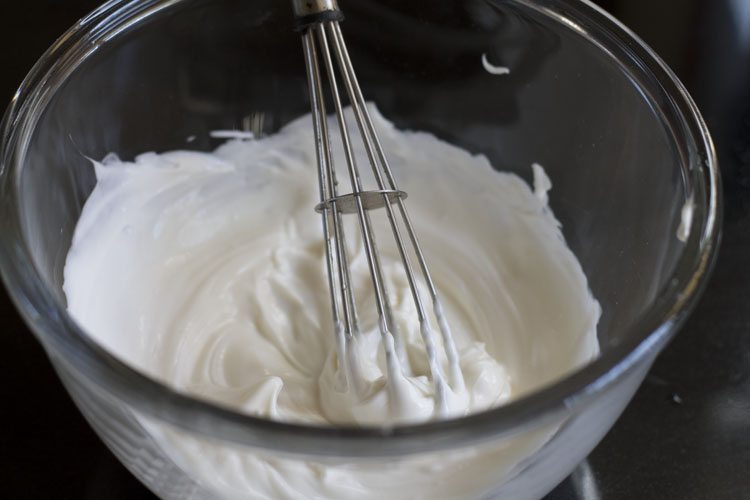 5. Next add the chopped and cooked carrots, potatoes, french beans and green peas.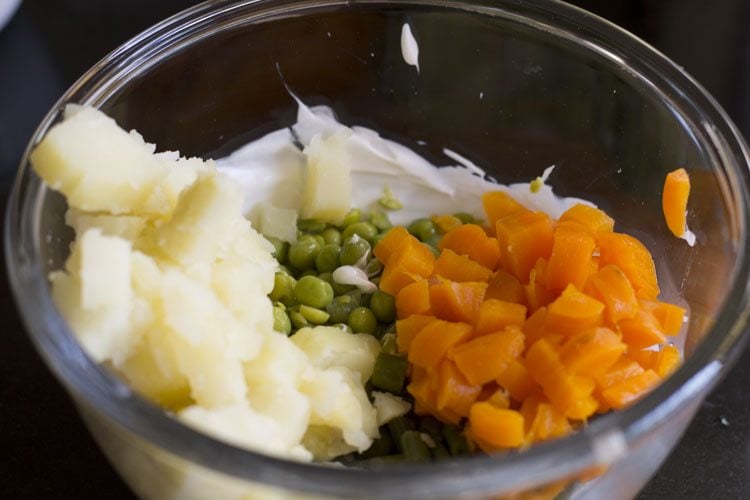 6. Add 1 small stick of celery (finely chopped) and a pinch of salt to taste.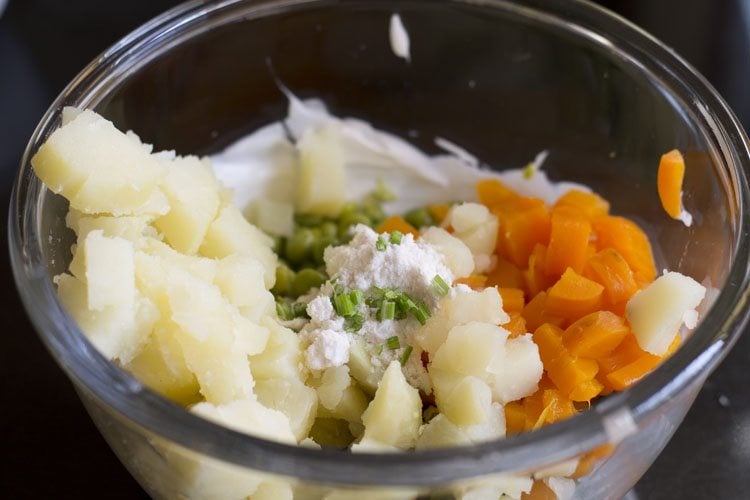 7. Lastly, add black pepper powder (optional). Instead of black pepper you can use cayenne or red chili powder or paprika.
This salad is mild and not at all spicy. So add the black pepper according to your taste preferences.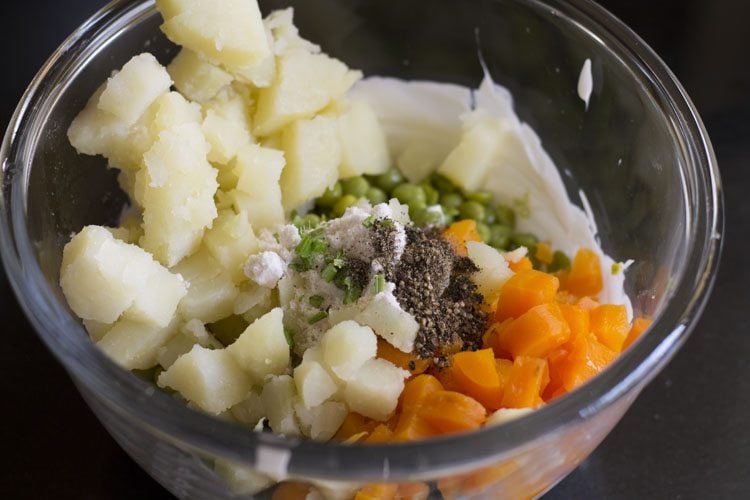 8. Stir and mix very well.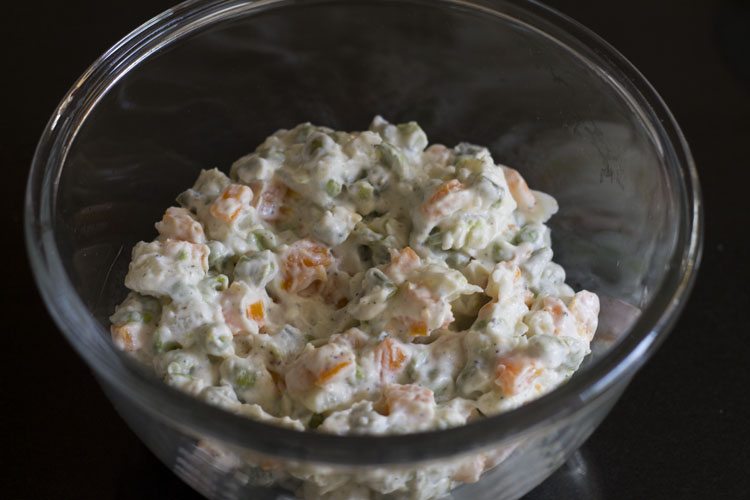 9. Garnish with your choice of lettuce leaves, slices of tomato, cucumber, and/or capsicum (green pepper).
Here I have garnish with cucumber and chopped green bell pepper. You can also place the salad on a bed of lettuce leaves or use lettuce leaves as garnish or mix with the salad.
If using lettuce leaves, rinse them thoroughly. Then drain all the water. Use a salad spinner to dry the leaves or pat dry the leaves with a kitchen paper towels or a clean kitchen napkin.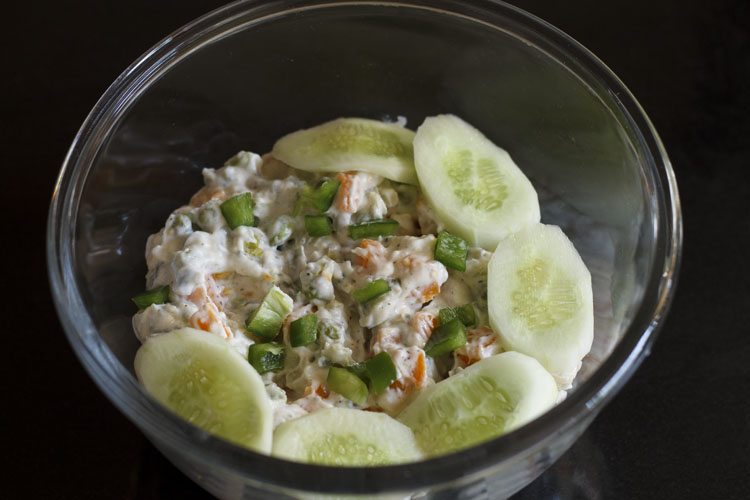 10. Enjoy the Russian salad right away while slightly warm or at room temperature, or refrigerate to serve cold.
This salad recipe keeps well for 1 day in the fridge as I have used cashew mayo. I would recommend finishing it on the same day.