Ingredients:
For Veg Sandwich
10 slices white bread or whole wheat, brown bread or any soft bread
2 potatoes – small to medium-sized, boiled and sliced into rounds
1 beetroot – medium sized, boiled and thinly sliced
1 cucumber – thinly sliced
1 small to medium onion – thinly sliced
1 medium tomato – thinly sliced
Butter softened and at room temperature, salted or unsalted, as required
chaat masala as required
black salt as required
roasted cumin powder as required – optional
freshly ground black pepper – optional
tomato ketchup or sauce to be served with the sandwiches
For Making Coriander Chutney
1 cup tightly packed coriander leaves (cilantro) Or ½ cup coriander leaves and ½ cup mint leaves
½ to 1 teaspoon chaat masala powder or add as required
1 to 2 green chilies you can also add 2 to 3 green chilies
salt or black salt as per taste
1 to 2 teaspoons water for blending or grinding, optional
Instructions:
Prepare Coriander Chutney
1. Rinse 1 cup of tightly packed coriander leaves (cilantro) and 1 to 2 green chillies in fresh water for a few times. Drain all the water.
Then in a small blender or a chutney grinder jar, add the coriander leaves, ½ teaspoon chaat masala powder and the green chilies (chopped).
You can roughly chop the coriander leaves and green chillies if you prefer. Finally, season everything with a few pinches of salt as chaat masala already has salt in it.
TIP 1: I usually add 2 to 3 green chilies as we prefer a spicy chutney.
TIP 2: You can also add half a portion each of coriander leaves and mint leaves instead of 1 cup of coriander. The mint leaves add a nice minty aroma to the chutney.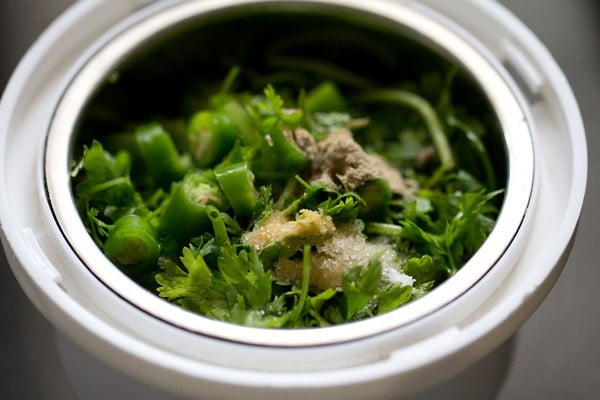 2. Blend or grind the chutney ingredients until smooth. Add 1 or 2 teaspoon of water if it is not blending. I did not add water as there was enough moisture from the rinsed coriander leaves which helped the chutney to blend smoothly.
Don't make this chutney runny or water by adding too much of water.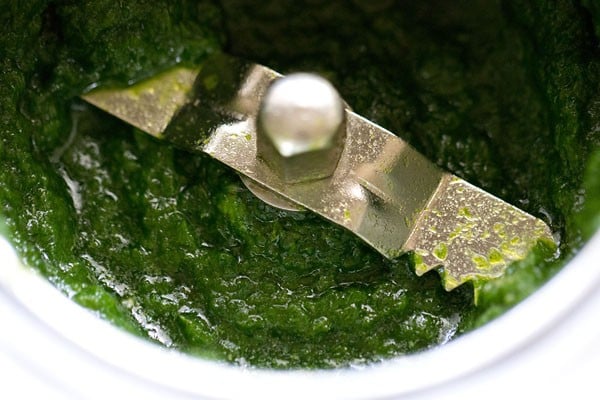 3. Add the coriander chutney to a bowl, taste it and add more salt if necessary. Cover and keep the chutney aside if you are making sandwiches immediately or refrigerate.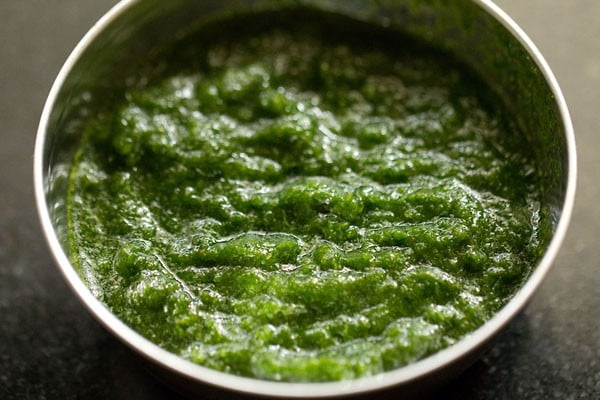 Preparing Vegetables
1. Steam or boil 1 medium-sized beetroot and 2 small to medium potatoes in a steamer or pressure cooker or Instant pot. If you are using a pressure cooker then cook them for 2 to 3 whistles.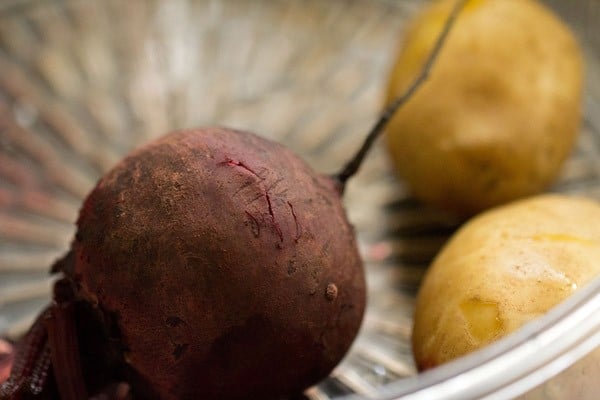 2. Thinly slice 1 medium sized tomato, 1 small or medium sized onion and 1 medium size cucumber.
TIP: Some times you may get bitter cucumbers. To remove the bitterness from the cucumber I follow this method.

First slice the top part. Then add a few slits to the cucumber on top with a knife. Rub the top sliced part with the rest of the cucumber. You will see a froth-like substance on the cucumber.

Doing this gets rid of the bitterness in the cucumber. Slice the frothy part of the cucumber. Rinse and peel it and then thinly slice.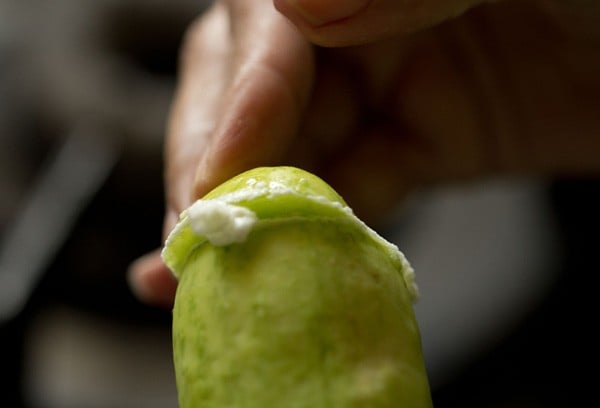 4. Here's all the thinly sliced veggies on a plate. In clockwise order, there are sliced tomatoes, cucumber, onions, boiled potatoes and beetroot.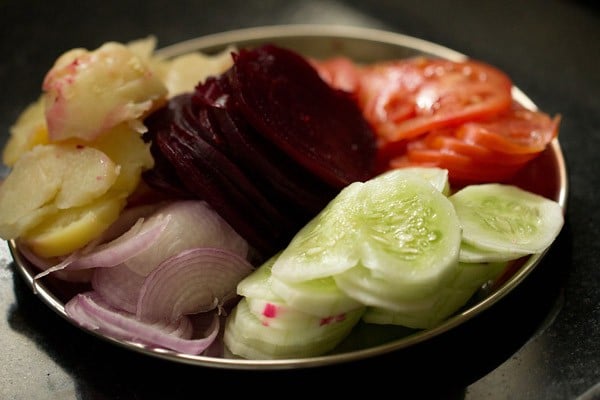 5. Use good quality fresh and soft bread. If you have a loaf then slice it equally. I used homemade White Bread. Slice the edges off if you want. I did not because my homemade bread was soft.
You can also use whole wheat bread, brown bread or multigrain bread or ragi bread (finger millet bread) or rye bread.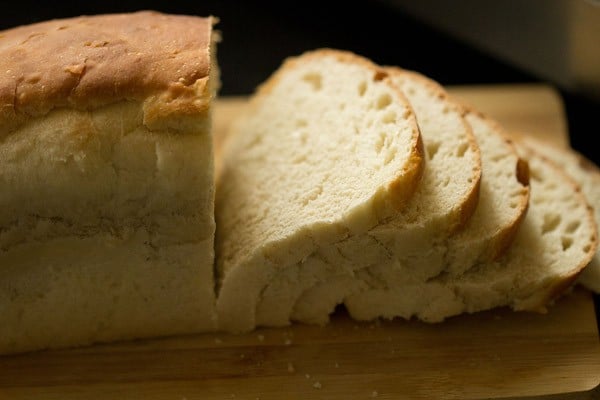 6. Spread a generous amount of salted butter on 8 to 10 slices. If you don't add enough butter then the chutney will cause the bread slices to become soggy.
Note: You can use both salted or unsalted butter. The butter should be softened and at room temperature.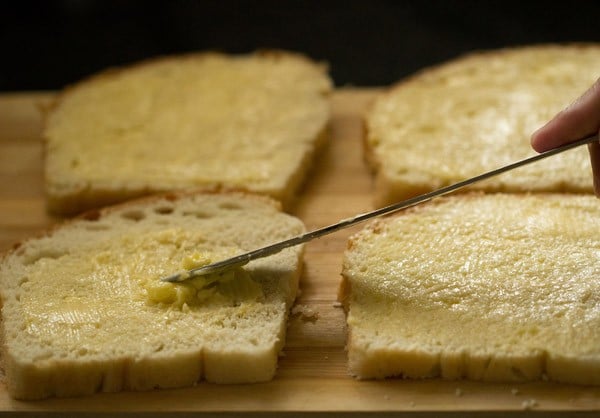 7. Spread the coriander chutney now.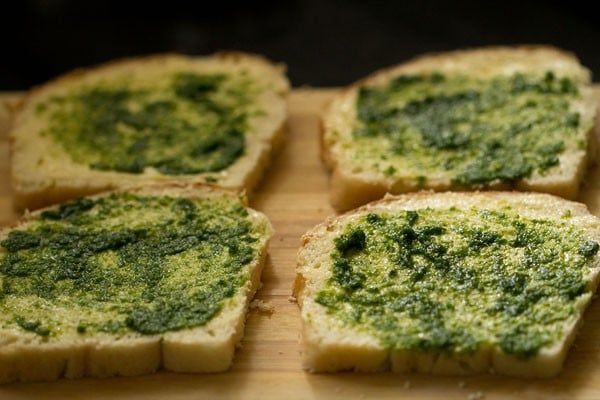 8. Place 2 to 3 boiled beetroot slices on 4 to 5 slices of the bread.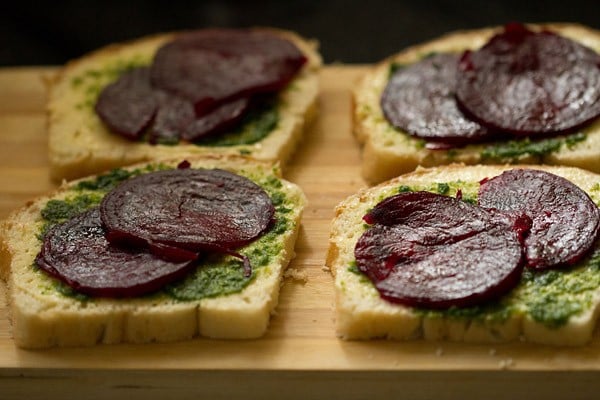 9. Sprinkle a pinch or two of black salt or regular salt, roasted cumin powder and chaat masala on the slices.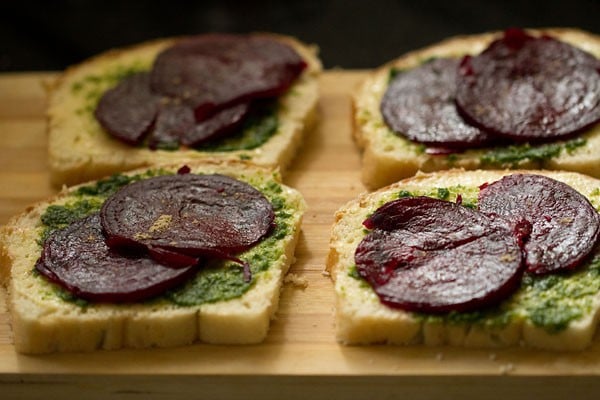 10. Place 2 to 3 tomato slices on the bread.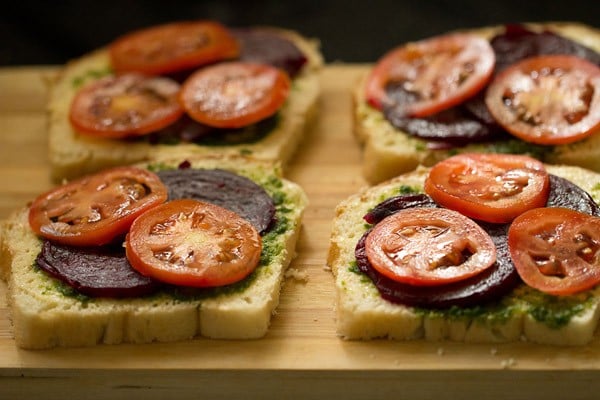 11. Then place 3 to 4 cucumber slices on top of the tomato slices. Then, sprinkle a pinch or two of black salt or regular salt, roasted cumin powder and chaat masala on the cucumber slices again.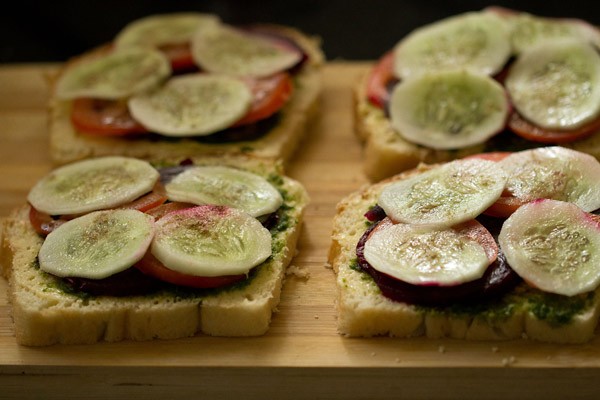 12. Place 2 to 3 thinly sliced onion slices.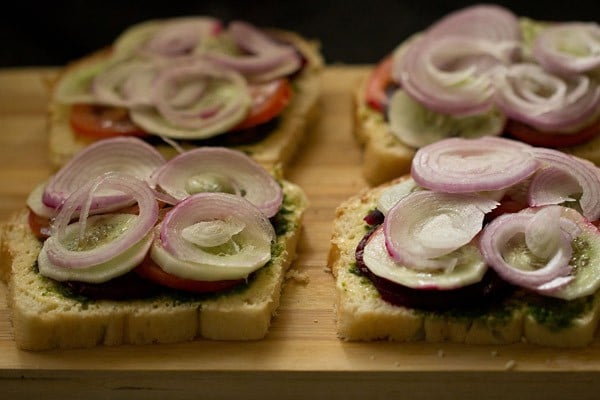 13. Sprinkle a pinch or two of black salt or regular salt, roasted cumin powder and chaat masala again.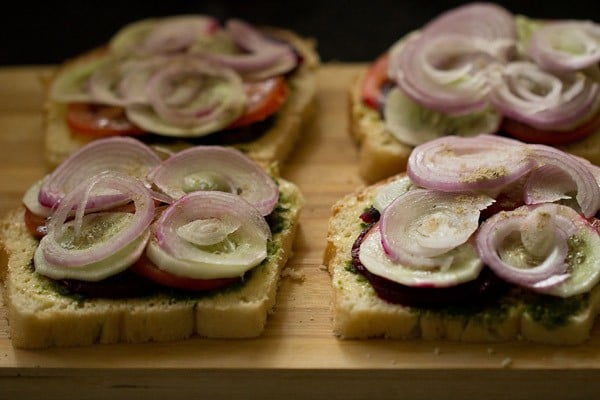 14. Now add a layer of 2 to 3 boiled potato slices.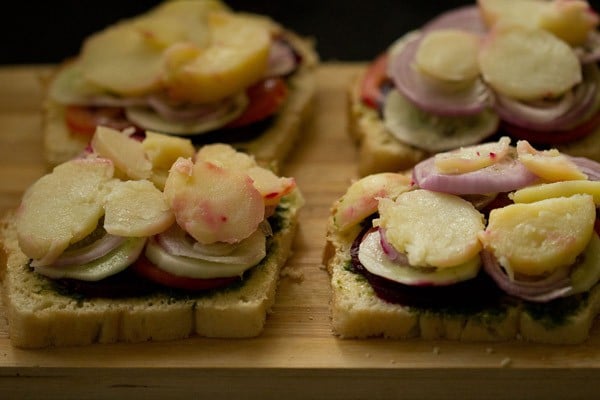 15. Sprinkle a pinch or two of black salt or regular salt, roasted cumin powder and chaat masala again.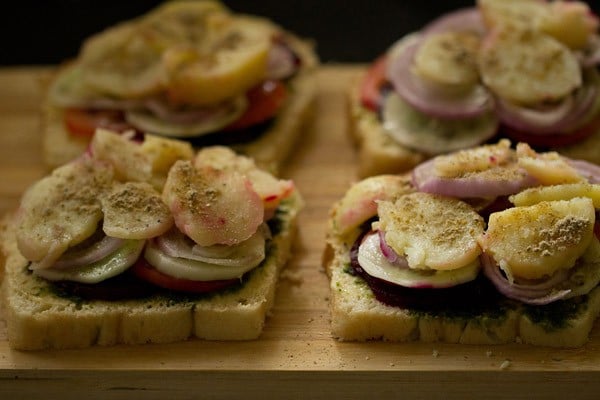 16. Cover with the bread slices with the butter and chutney.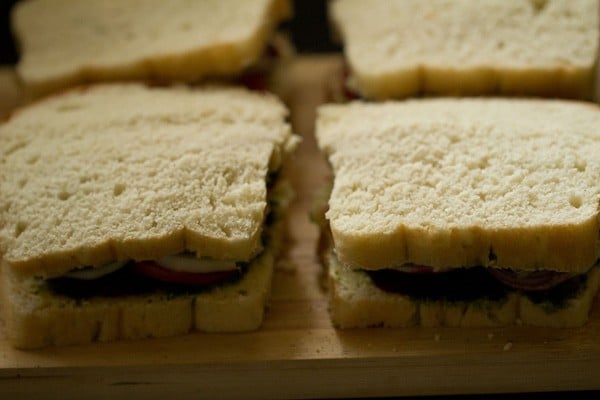 17. Slice sandwich into four pieces of rectangles or triangles. If you have larger slices of bread then slice the sandwich into 6 pieces.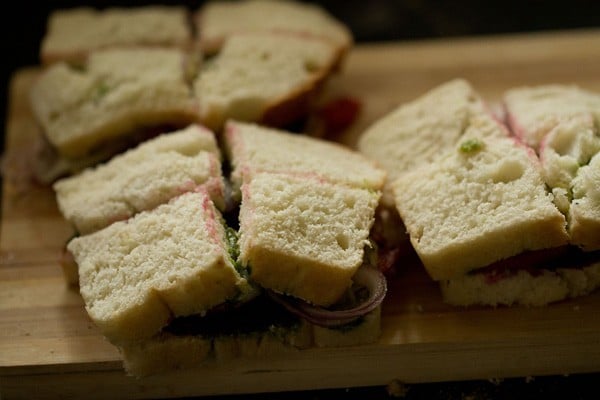 18. Serve veg sandwich immediately with extra chutney and Tomato Ketchup. You can also sprinkle fine sev (thin fried gram flour vermicelli) on top when serving.
In Bombay these veg sandwiches are served with tomato ketchup or pumpkin ketchup and the green chutney. You can also enjoy them as it is without any side condiments.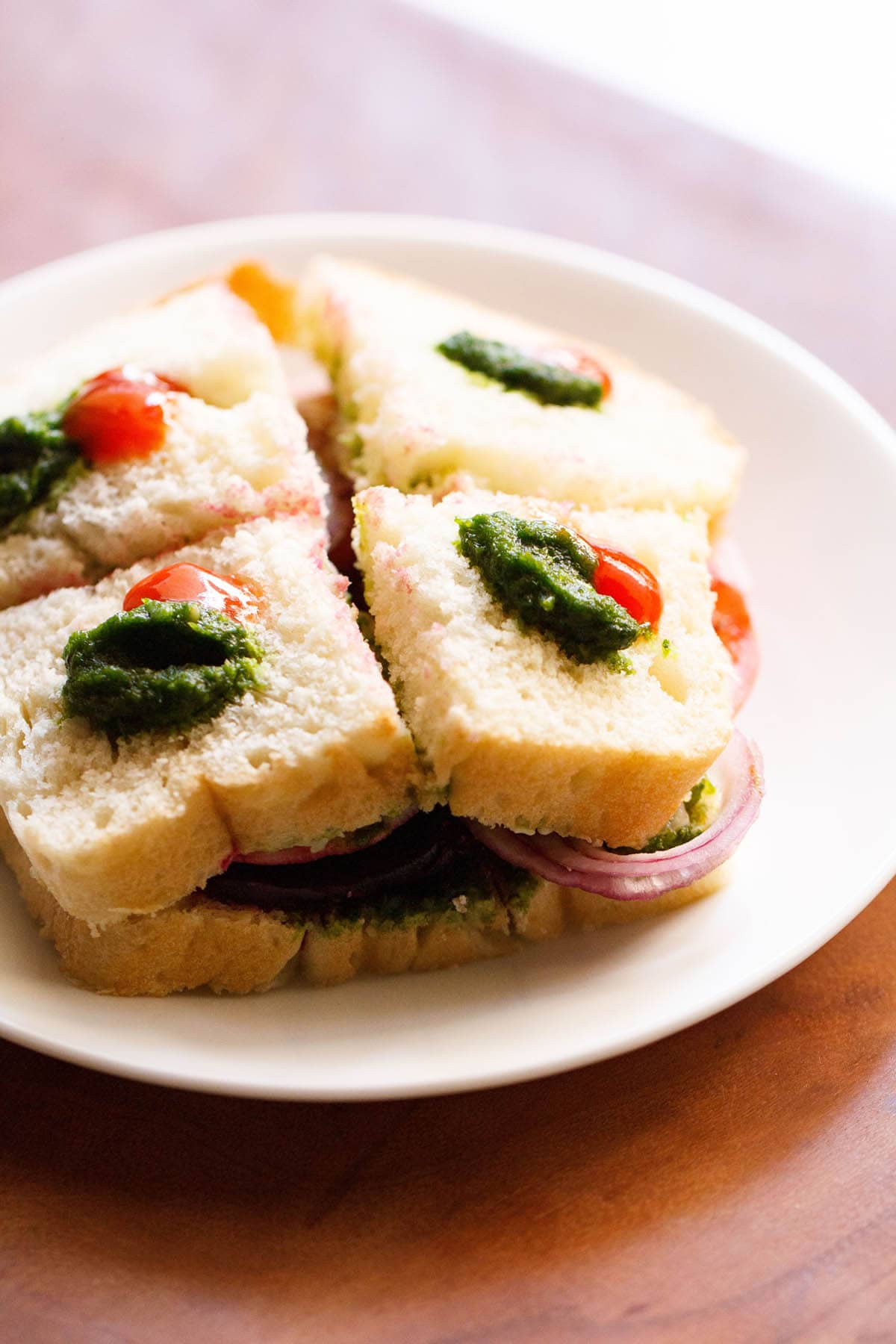 Notes
You can cook the potato in the microwave. Wash the potato well. Prick the potatoes with a fork and microwave in the oven for 4 to 5 minutes.
When the beetroot and potatoes are getting cooked, you can slice the other vegetables and make the chutney.
You can use whole wheat bread or brown bread or multigrain bread or white bread. But the best taste in veg sandwich comes with white bread and this is how it is made by the street food vendors in Mumbai.
Dairy butter is used in these veg sandwiches. But you could easily use vegan butter.
You can also toast these veg sandwiches if you prefer.