When it comes to driving traffic to your website, there are a variety of ways to get visitors. The primary two that individuals and businesses almost always have a struggle with investing their time and money into are search and social. Sometimes the issue is convincing people why these are a necessity for a thriving business. Other times, the conflict is whether to invest in one marketing strategy more than the other, or to only pursue one marketing strategy but not the other.
How Search Beats Social
First of all, let's look at the reasons why you might want to choose search engine marketing over social media marketing.
More People Look for Business on Search
Think about your own habits. Whenever you are looking for something, from an air conditioning repair company to a zumba instructor, where do you go first? Most likely, you will go to a search engine – Google, Yahoo, Bing, Ask, AOL, Blekko, or one of the many other options available.
A report by Econsultancy found that 61% of consumers use search engines to help them in product research before making a purchase. This means that if you want to get discovered, you will want to rank well for your target keywords.
Know What People Are Searching For
When it comes to search engines, while the numbers might not be exact, you have a lot of great tools to use in your research of what people are searching for. Google AdWords Keyword Tool is a great start in this process. While "pet supplies" may not actually get an exact one million searches per month, you will know that "pet supplies" is a more popular keyword phrase over "pet supply" that comes in at only 368,000 monthly searches.
Buy Your Way into the Results
If you can't make it to the top of organic search results, you can always buy your way into the sponsored links section of Google using Google AdWords.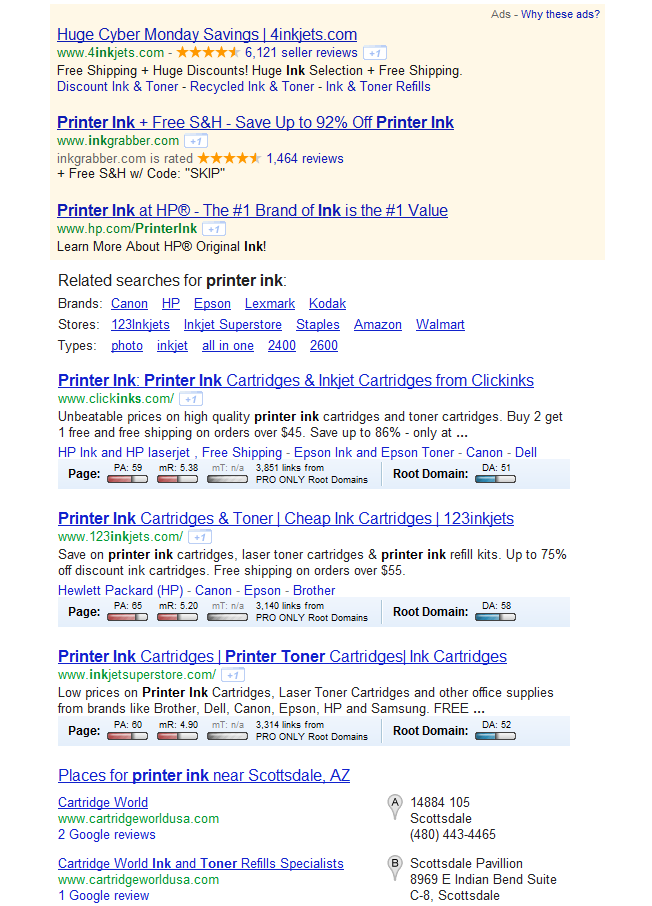 In a search for "printer ink," two domains that are not in organic search results appear in the top two spots. Even though organic search results might get more clicks, having any presence on the first page is still better than having no presence at all.
The bonus of paid search listings is that you can customize your appearance in search results. Instead of your usual website's title and description that is used in organic results, you can use something that calls out to a specific sale in sponsored results. As an example, the company ranking 2nd in organic search also shares its Cyber Monday sale in the sponsored listings to the right.