I've always played the long-term entrepreneurial game, and I believe it's the way to go. However, this isn't the case with everyone. Some people would rather take the quick gains and move onto something else.
When it comes to SEO, going for quick gains is often referred to as "black hat SEO." People who implement black hat SEO tend to use sneaky tactics like keyword stuffing and link scraping to rank quickly. It might work for the short-term and get you some traffic to your site, but after a while, Google ends up penalizing and even blacklisting your site so you'll never rank.
On the other hand, white hat SEO is the way to build a sustainable online business. If you do SEO this way, you'll focus on your human audience.
You'll try to give them the best content possible and make it easily accessible by playing according to the search engine's rules.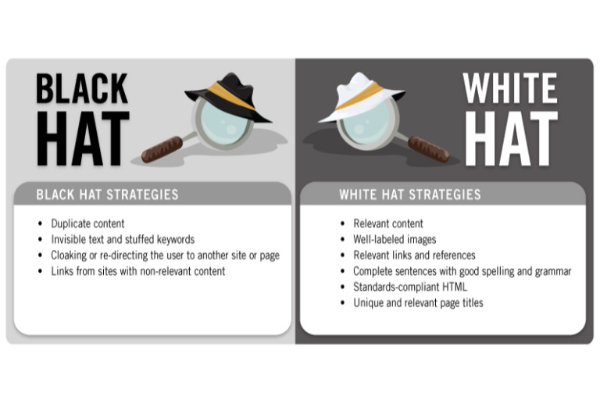 This image from Inbound Marketing Inc. does an exceptional job of breaking it down, but let me shine some additional light on these topics:
Duplicate content: When someone tries to rank for a certain keyword, they might duplicate content on their site to try and get that keyword in their text over and over again. Google penalizes sites that do this.
Invisible text and keyword stuffing: Years ago, a black hat strategy was to include a ton of keywords at the bottom of your articles but make them the same color as the background. This strategy will get you blacklisted very quickly. The same goes for stuffing in keywords where they don't belong.
Cloaking and redirecting: When it comes to redirects, there's a right and wrong way to do it. The wrong way is buying up a bunch of keyword-rich domains and directing all the traffic to a single site.
Poor linking practices: Going out and purchasing a Fiverr package promising you 5,000 links in 24 hours is not the right way to build links. You need to get links from relevant content and sites in your niche that have their own traffic.
Since Google penalizes sites that do these things, you'll only hear me talk about white hat SEO.
There is such a thing as gray hat SEO, though. That means it's not as pure or innocent as the whitest of white hats, but it isn't quite as egregiously manipulative as black hat techniques can be. You're not trying to trick anyone or intentionally game the system with gray hat. However, you are trying to get a distinct advantage.
See, Google's standards aren't as clear-cut as they'd like you to believe. Many times, they might even say contradictory things. For example, Google has said they're not a fan of guest blogging to build links.
Now, what about guest blogging to grow your brand? What if you do it to build awareness, generate high-quality traffic back to your site, and become a household name in the industry?
In the SEO world, it's not so much about what you do but how you do it. If you're purchasing guest posts on sites that have nothing to do with your niche and spamming a bunch of links, you're going to get penalized. If you're creating unique guest posts that provide value to readers on sites that are relevant to you, you'll be fine, and the link juice will flow nicely to your site.