For the right upper quadrant and left upper quadrant views. Remember to look free fluid both above (hemothorax) and below (hemoperitoneum) the diaphragm.
eFAST RUQ View: Does my patient have free fluid in the abdomen or right thorax?
Since the liver is the most commonly injured organ in blunt abdominal trauma, the right upper quadrant is usually the most sensitive view of the eFAST exam.
RUQ Probe Position and Hand Placement
Orientate the probe indicator towards the patient's head.
Anchor your probe in the midaxillary line at the 10th intercostal space.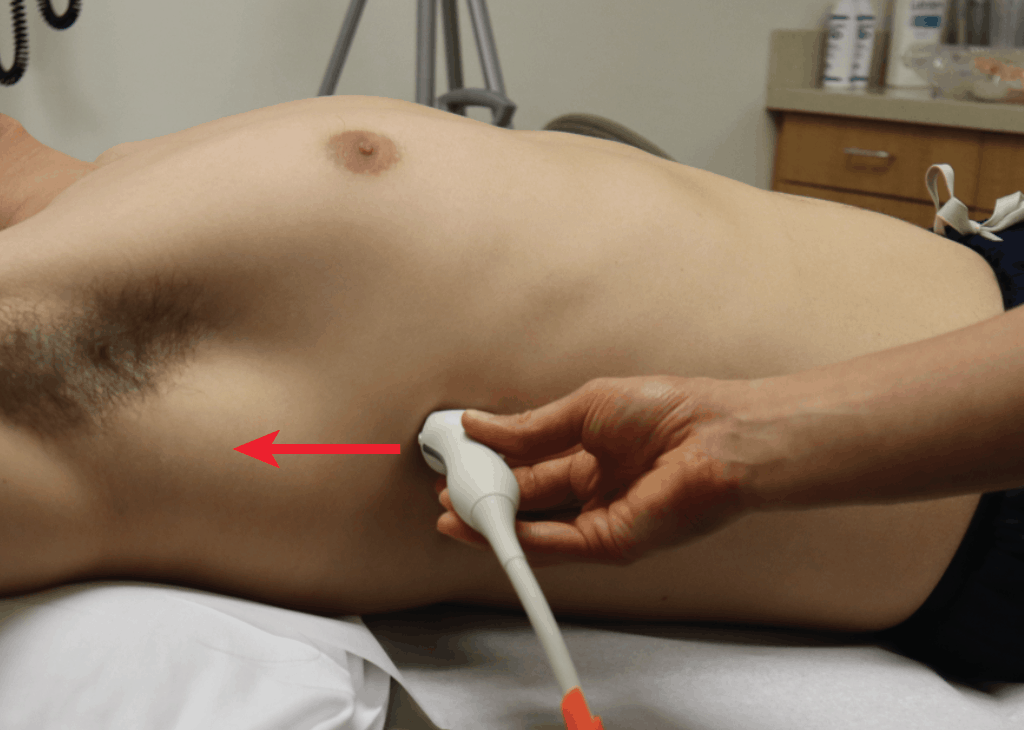 RUQ Normal View and Structures
Using the liver as an acoustic window, identify the lung, liver, Morison's Pouch, diaphragm, and the long-axis of the right kidney.
Morison's Pouch is where you usually identify free fluid in the RUQ view.
A Mirror Image Artifact is a normal finding signifying there is an aerated lung above the diaphragm.
You may have to slide up or down a rib space to identify the structures.

Tip: these structures move as the diaphragm contracts and relaxes during the respiratory cycle. Consider asking your patient to hold their breath to keep the desired organs from moving. Also, consider slightly rotating the probe counterclockwise towards the bed so that the probe fits better between the rib spaces.