eFAST Pelvic View: Does my patient have free fluid in the abdomen or pelvis?
When looking for free fluid in the pelvis it's important to consider the sex of your patient, as free fluid has a tendency to accumulate in different locations depending on the patient's gender. Additionally, females may have a scant amount of normal physiologic fluid accumulation in the pelvis (pouch of Douglas).
Ideally, scan your patient with a full bladder (so the bladder can be used as an acoustic window). Therefore, try to initiate the scan prior to foley catheter placement.
Machine Depth: 10-15 cm
Pelvic Ultrasound – Longitudinal View
Place the transducer with the indicator pointing towards the patient's head in the patient's midline, right above the pubic symphysis.
Rock the probe so that it points down towards the pelvic cavity.
Tip: One of the most important things to remember when performing pelvic ultrasound in the eFAST scan is that the bladder is directly posterior to the pubic bone/symphysis. If you are unable to get proper images, most likely your ultrasound probe is placed too superiorly.
In males, identify the bladder (immediately posterior to the symphysis), prostate/seminal vesicle, and rectovesical pouch in the longitudinal view.
The rectovesical pouch is where free fluid will accumulate in the male pelvis.
In Females, identify the bladder, uterus, and Rectouterine Pouch (also called the Pouch of Douglas).
The Pouch of Douglas is where free fluid will accumulate in the female pelvis.
In all patients (male or female), observe the lateral borders of the bladder to identify free fluid by tilting/fanning the probe left and right.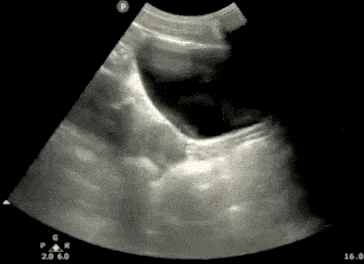 Pelvic Ultrasound – Transverse View
Next, center the bladder and then rotate the transducer 90 degrees counterclockwise. The indicator should now point to the patient's Right side.
Make sure to tilt the ultrasound probe so it scans into the pelvic cavity.
In the transverse view, identify the Bladder, Uterus (females), Prostate (males), and Rectum.
Tilt/Fan the probe to examine the entire pelvis from superior to inferior.