Ingredients
For Cooking Rice
1 cup basmati rice or long grained rice
4 cups of water for cooking the rice
2 to 3 drops of oil
salt as required
Other Ingredients For Tawa Pulao
1 medium green bell pepper (capsicum) – chopped
2 large tomatoes or 150 grams tomatoes – chopped
1 medium onion or 50 grams onions- chopped
½ inch ginger + 2-3 garlic – made into a paste in a mortar-pestle or 1 teaspoon ginger garlic paste
¼ teaspoon red chili powder or add as required
¼ teaspoon turmeric powder
2 teaspoon Pav Bhaji Masala or add as required
½ teaspoon cumin seeds
2 tablespoon Butter or oil or half-half of both
1 small to medium carrot – chopped
1 medium potato – chopped
½ cup green peas – fresh or frozen
½ teaspoon lemon juice or as required
a few chopped coriander leaves (cilantro leaves) or parsley leaves
salt as required
Directions
Cooking rice
1. Cook 1 cup basmati rice first in 4 cups of water to which some salt and 2 to 3 drops of oil are added. The rice should be cooked well and the grains should be separate.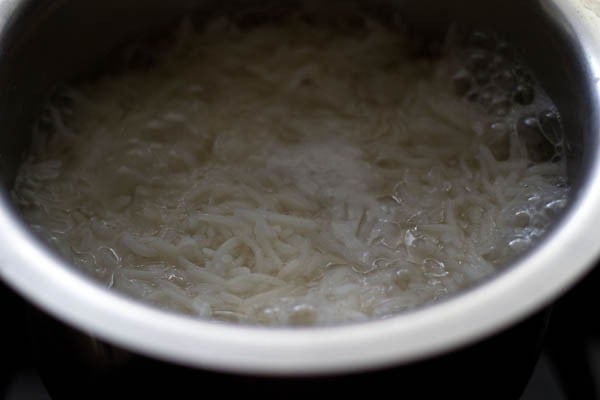 2. Drain the rice in a colander. Please do read the recipe details above on cooking the rice. let the rice cool completely before you add to the veggies.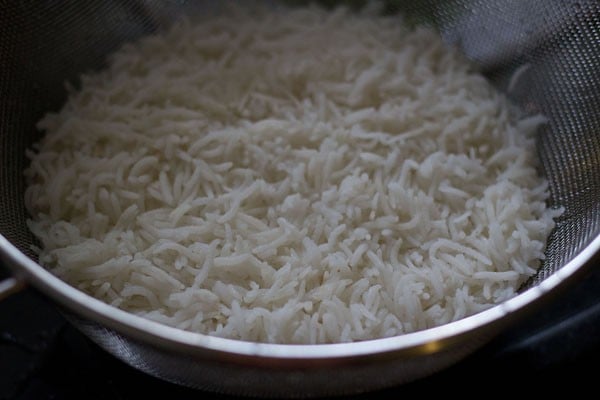 3. Melt 2 tbsp butter in a pan and saute ½ tsp cumin till they get browned.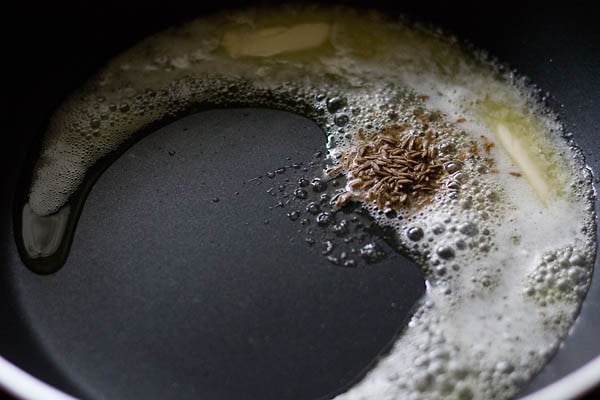 4. Add chopped onions (1 medium onion – 50 grams) and saute till translucent.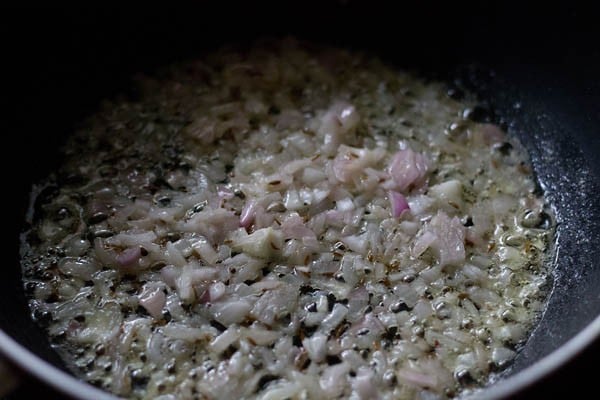 5. Add ginger garlic paste (½ inch ginger + 2-3 garlic), made into a paste in a mortar-pestle or 1 tsp ginger garlic paste).
Saute till their raw aroma goes away. The ginger-garlic paste has to be sauteed well. Otherwise, the raw aroma is felt even later and might not go well with some folks.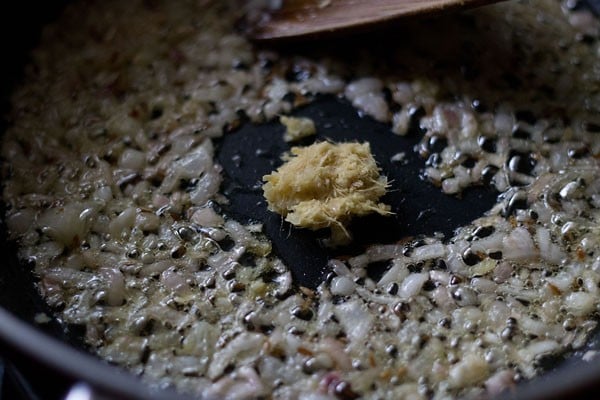 6. Add 2 large chopped tomatoes (150 grams tomatoes) and 1 medium chopped green bell pepper (capsicum).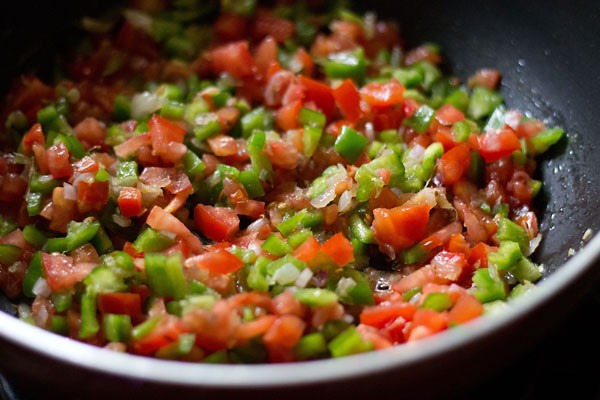 7. Add 2 tsp pav bhaji masala, ¼ tsp red chili powder and ¼ tsp turmeric powder.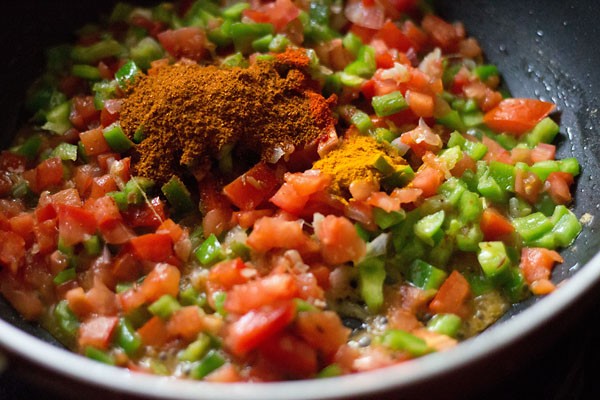 8. Stir and saute till you see the butter leaving sides of the pan. About 6 to 7 minutes on a low flame. Even if the bell pepper has a slight crunch, they taste good.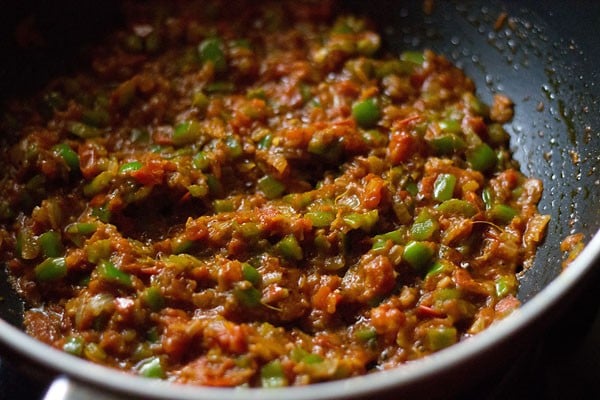 9. Add the chopped steamed veggies – ½ cup peas, 1 small to medium chopped carrot, 1 medium potato and salt as required. You can even add french beans and cauliflower.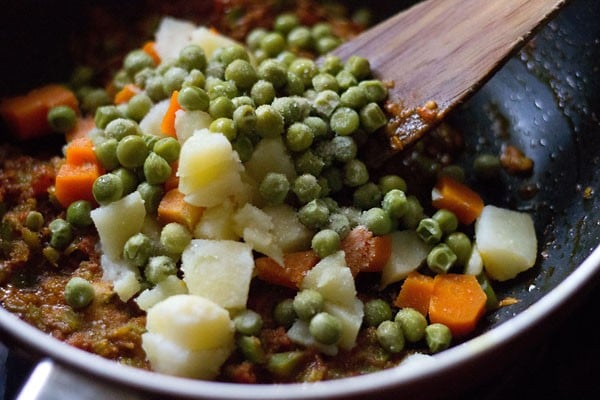 10. Stir and then add the drained cooked rice.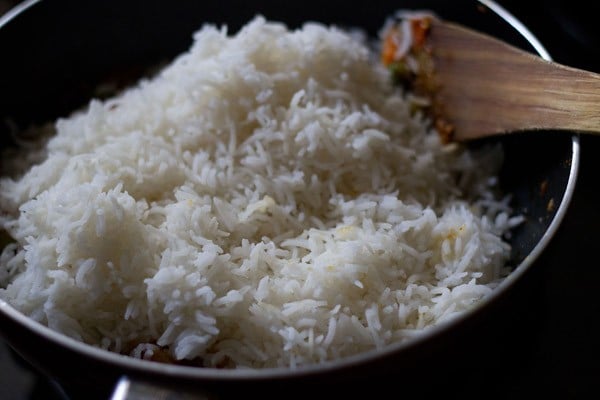 11. Stir and mix gently and uniformly.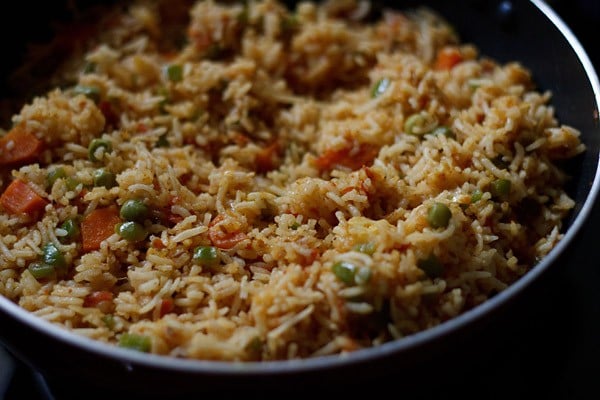 12. Garnish tawa pulao with chopped coriander leaves and drizzled with a few drops of lemon juice (½ tsp). serve tawa pulao with onion-lemon salad or yogurt or onion tomato raita accompanied with roasted papad and pickle.